We have our championship game contenders locked in now with Baylor vs Oklahoma now preparing to reprise their fascinating battle from the other week. Interestingly, both teams leaned very heavily on the QB run game to make round one a close battle and both teams continued to lean on that dimension of their offense to get through this last week.
Jalen Hurts tallied another 28 carries (including sacks) while running for 173 yards on TCU while Charlie Brewer had 18 carries (including sacks) for 75 yards, a touchdown, and maybe a concussion against the Longhorns. The Bears have been pretty quiet about Brewer's health all year despite some rather obvious signs of wear and tear so I don't know if we'll get word or not on whether he's in the concussion protocol.
When a player is in the protocol, it's normally a lock that he'll miss the following week. The average concussion takes 7-10 days to heal from and it's very difficult to get through the whole protocol in time to be cleared for the following week. You'll find coaches being coy about whether a player might be cleared or not in time, they virtually never are. We don't know currently whether Brewer had a concussion and there's little reason for Baylor to announce it if he did.
Given the hit and the fact that the officials were like, "hey son, you should go check that out" combined with Brewer having to go from the medical tent to the locker room, I think the best guess is that he was demonstrating some symptoms of a concussion and will be protocoled. The good news for Baylor is that very little rides on them having Brewer on the road at Kansas this coming Saturday.
Unless you think that Baylor was going to sneak into the playoffs then they don't have much at stake in this season finale save for avoiding the shame of losing to the Jayhawks. I think their bowl status will hinge more on whether or not they win the rematch against Oklahoma and bring home the program's third Big 12 title than if they are 12-1 or 11-2.
Btw, here's the current standings on Big 12 championships: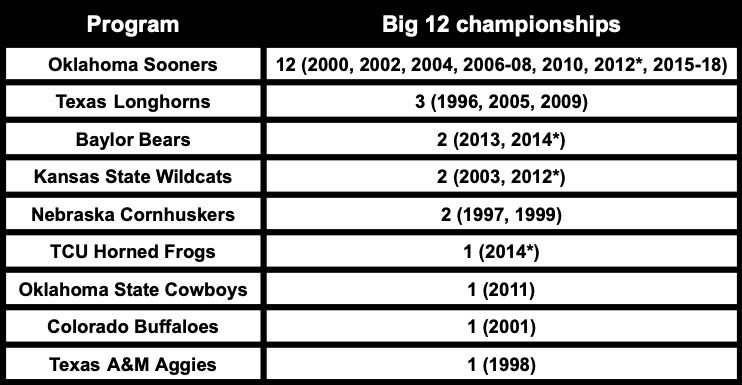 Maybe the Bears should just rest Brewer regardless of whether he's having concussion symptoms. To break even with the Texas Longhorns in Big 12 trophies would be a significant achievement.
Contrar-Ian says the glass is half full
Heading into this season I had a lot of takes on the Oklahoma offense with Jalen Hurts and the difficulties confronting Alex Grinch in retooling the defense without the sort of personnel at safety he preferred. That's all borne out now, but a spectacular coaching job by Lincoln Riley and his staff have mitigated the issues and allowed them to keep on keeping on.
Currently there's a growing "hey, Jalen Hurts just isn't as dominant a player as the previous guys" sentiment growing across the Sooner Twitter-verse and a reckoning of the fact that this team doesn't have the same kind of overpowering force that previous Oklahoma teams had. There seems to be some disappointment out there, but to me this has everything to do with expectations.
I was of the opinion that three years at Alabama had given us plenty of data points on who Jalen Hurts was and I didn't see anything from the Sooners' early games to change my assessment. But the Sooners were also running roughshod over a weak slate of opponents and confounding teams with their new pressuring defense, so they generated a lot of overpowering results that looked comparable on the box scores to what they'd done in previous years. Now as teams have worked out their new strategies and are game planning them more effectively, the Sooners have come back down to earth.
Oklahoma fans and commentators that got a little high on Hurts' 17.3 ypa vs Texas Tech are a little hungover, but since I never expected Hurts to match what Murray or Mayfield could do in this offense I've mostly been impressed with what they've achieved this season. Hurts, the relentless, is going to Bedlam next and he's liable to carry the ball 20+ times again while methodically pounding the Cowboys and then may very well do it again the following week against Baylor to bring home another Big 12 championship. That's really impressive, even if this team has little to no chance of competing with any of the playoff teams, winning a third consecutive Heisman, or accomplishing any of the ridiculous goals that started to materialize before Kansas State demonstrated how to stop the power-option.
Back when I was going to write "The 10 greatest QBs in Big 12 history" before that project instead evolved into this book…
…I went back and watched some of the big games in 1998 featuring Michael Bishop at Kansas State. The dude was a powerful athlete that did a ton of damage in the run game, mostly in the single-wing stuff that came to define the Wildcat offense afterwards that seemed to have been lifted from Tom Osborne's playbook (detailed in the book). However, he was also turnover prone (particularly with fumbles) and while he was effective as a passer on 1-read concepts, if you took that away he defaulted to scrambling or even throwing it up for grabs. I think Hurts is basically a new iteration of Bishop, playing with a few more talented skill players. That guy wasn't going to be in my top 10, but that doesn't mean he didn't scare you as an opponent.
On the year, Hurts has thrown six INT and fumbled seven times, with opponents recovering five of those fumbles. Those aren't the worst numbers you'll ever see, but the timing of his turnovers is often pretty terrible which always makes it seem worse. And in a sense, it is worse, the guy doesn't protect the football in key situations. He plays hard all the time though so it tends to work itself out.
Btw, TCU's zone-read defense in this game was still not very good. At least early it wasn't…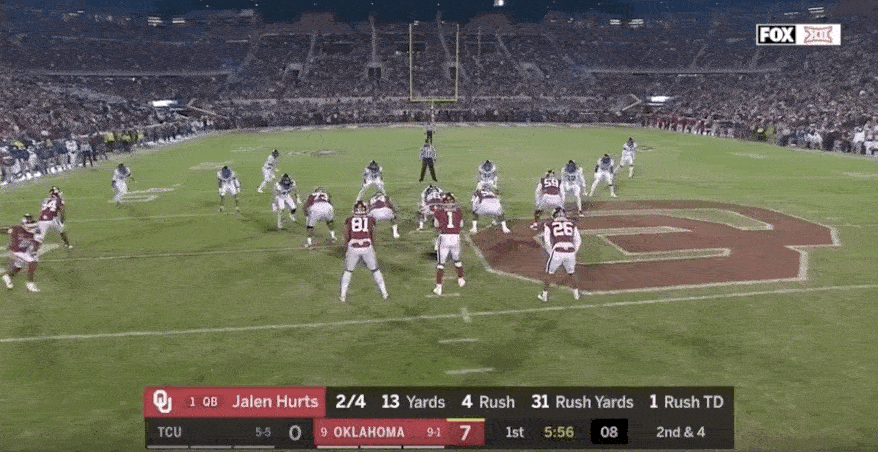 The DE goes wide to contain but then, as I've explained a few times now, you're just containing the ball inside where OU's mammoth OL is bearing down on your LB corps of converted safeties, or your actual safeties.
Later on, the Frogs started using more 3-down schemes and spilling the ball more to the DBs they'd inserted all over the field.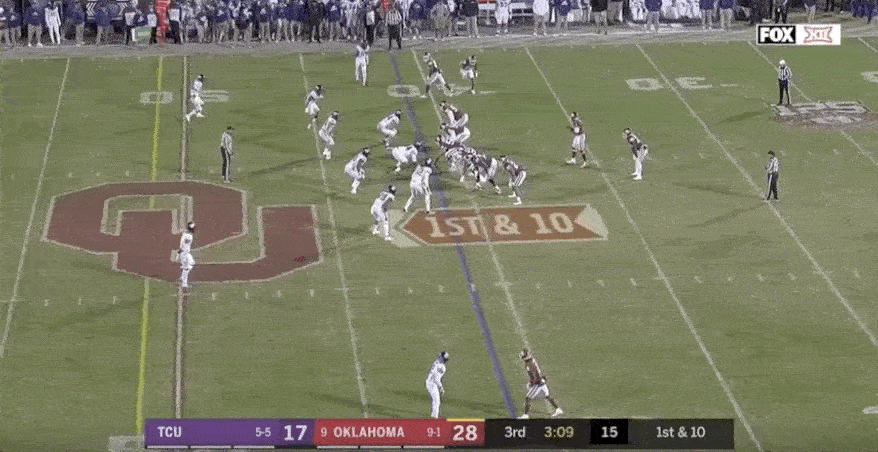 That was instrumental in setting up the Frog comeback, which wouldn't have been possible had OU continued to just run them over while draining clock. That still happened some, but TCU had marginally better results from this approach. They also had that pick-6 and the late fumble by Hurts came on a zone-read play where they spilled him wide, the LB wasn't there in pursuit, but Nook Bradford came out of nowhere to pick Jalen's pocket.
For all of Hurts, the relentless, and OU's issues this season, it's possible that they're going to win the league again simply via sheer force of will. If this whole thing comes down to which of Hurts and Brewer can take more punishment and keep going then who's your money on?
Contar-Ian says the glass is half empty
TCU has been putting together a pretty scrappy finish to their season, nearly pulling out that win against Oklahoma on the road and currently heading into their season finale against West Virginia with a chance to reach bowl eligibility again.
Additionally, the TCU defense relied on the following players in that game:
Ar'Darius Washington (RS freshman), Kee'yon Stewart (freshman), Trevon Moehrig (sophomore), Wyatt Harris (freshman), Ochaun Mathis (RS freshman), and Nook Bradford (freshman).
Cornerbacks Julius Lewis and Jeff Gladney are the only major contributors on the Frog defense that are a guarantee to be gone next season. Maybe they'll also lose Ross Blacklock, the NFL hasn't had much respect for Big 12 nose tackles in recent seasons although maybe that will finally adjust.
Max Duggan has also proven himself to be a four-star talent, running hard in these late November games while playing with known injuries and demonstrating some above average arm talent. He'll probably go 6-2, 210 next year and be more comfortable after having been through the wars of the round robin schedule.
So the future in the Fort would appear to be pretty bright, but I have some hesitations. In particular, Riley just seems to have Patterson pegged and his option defense completely worked out.
You can look around and build a case for lots of Big 12 teams getting significantly better in 2019.
Oklahoma State: Sanders is back and gets another offseason to learn defenses (or their own offense) and DL could be better with all their youth.
Baylor: OL will be much better in all likelihood, every other dimension to this team that involves physical development and physicality has improved every year so you figure the OL is just lagging since it's a more developmental position. Brewer is back, lots of speed is back, Rhule is proven as a developer on D, etc.
K-State: Most of the best players on D are back, Skylar Thompson is back, Klieman's speedy young recruits will be better.
West Virginia: Jarrett Doege is actually pretty good, WVU's OL will be mostly back, WVU's exciting young WRs will be back, Stills bros are probably back.
Texas: May hire entirely new staff and then God knows what happens. This is probably the most talented team in the league though and will return an enormous percentage of the team. There's a lot to watch in Austin right now, which is currently on fire, it's definitely possible that what emerges from the flames will be formidable. Or it may be a charred, dying hunk of beef, we'll see.
Iowa State: PFPurdy is back, most of the offensive weapons (all, Kolar?) are back, the defense still returns a big chunk of proven contributors and a few stars, etc. So long as Campbell remains they'll be in the mix and threatening to break through another ceiling.
Oklahoma: This is the big one I'll likely be emphasizing all offseason. The Sooners figure to return every one you'd like to count as a "starter" on the offensive line, all these terrifying young wideouts and tight ends, and about half the defense under a better new coordinator. Most importantly, they'll be going from Jalen Hurts to Spencer Rattler at QB, the latter of whom compares not to Michael Bishop but to someone like Pat Mahomes.
This season with Hurts has been OU maintaining relevance and staying competitive while rearming behind the scenes for another run at a national championship. If you can't figure out Oklahoma this year, don't assume it can happen next year because they might be significantly improved on both sides of the ball.
Given Patterson's continuing struggles with Riley, I can't buy in too heavily on the Frogs' future.
Who won week 13 in the Big 12?
Rhule, the stoic, is your big winner.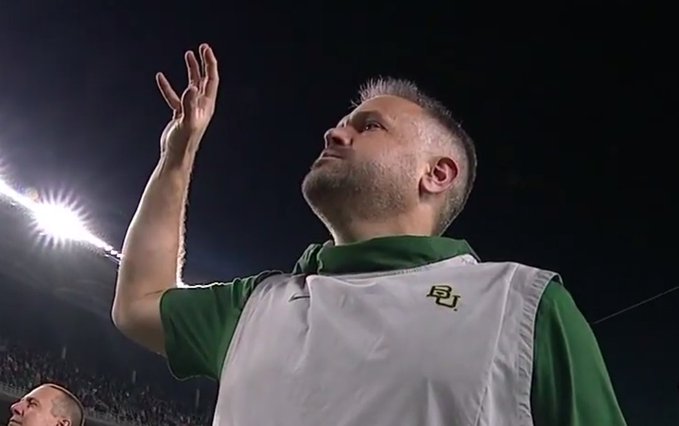 This has been a fascinating process to cover on this blog. When it became apparent that Art Briles was going to lose his job over the villainous details coming out of Waco I started writing with great interest on what was going to happen with the Big 12's rising program. Before they hired him I thought the best move would be to go more defensive, since they weren't likely to find a better offensive coach than Art Briles to try and stand out in the league that way.
When Rhule was hired, I broke down the process ahead of him in terms of rebuilding the roster, defending the Big 12, and building a power offense. The Bears have slowly been getting there in all three areas, save for building a power offense. They definitely ran some power on Texas the other week but they aren't quite there yet overall. The roster is getting stacked with high upside athletes though that Rhule is proving capable of molding into hard-nosed football players and he finally got the formula right on defense this year in his third try.
Winning 10 games at Baylor used to be unthinkable, playing in the Big 12 championship game impossible (although that used to mean finishing higher than OU for Baylor), and yet here we are. The Baylor athletics programs decided to put an emphasis on winning in football and after that nearly fell apart with Art Briles, they were able to cut their losses and recoup in a remarkably short timeline. Now Rhule has a chance to bring Baylor even with Texas in total B12 titles, and then to do something Art Briles never could and win a big NY6 type bowl to help establish some credibility outside of the league.
Then maybe he'll go to the NFL, who knows? But even if he did, this program is now stocked with good athletes and have shown they'll invest into the product and can pick winners.