You can check out my preseason list here. I like to use different categories than the official ballot when I make my own team. The goal of the media/coaches selections is primarily to recognize the best players in the conference in a given year.
I like to make designations that reflect the sorts of roles that exist on today's teams. So my first team D doesn't have five DL and my first team O doesn't line up in 21 personnel. One of the biggest changes to the modern game is that instead of having one feature RB that is the main focus of your offense, most teams instead have two WRs that accomplish that purpose. Typically an outside guy that can punish man coverage and then a slot that causes problems running up the seams against LBs and Safs.
Another change is that who plays inside and out can look pretty different, people often view these things far too rigidly. Some modern TEs are best as outside guys, LSU's 2019 offense exploded in part because they moved 6-3, 192 pound Justin Jefferson inside to the slot.
Alright, let's start on O and get some of the crazy stuff out of the way.
Offense
Quarterback
1st team: Sam Ehlinger, Texas
2nd team: Jalen Hurts, Oklahoma
Alright, this is the big one. The official conference team went Hurts at no. 1 and Brock "pump fake" Purdy at no. 2. Here's the problem, Purdy's numbers aren't as good as Ehlinger's and his context isn't much better either. With Collin Johnson out for most of the year and Charlie Kolar building an NFL draft resume, the skill talent around PFPurdy was comparable to what Texas had around Ehlinger.
Additionally, Texas ran power-spread schemes without a good TE on first and second downs this season before asking Ehlinger to bail them out on third and long. Despite that disadvantage, Texas finished 9th nationally in third down conversion percentage. Meanwhile the Cyclone staff was mixing all kinds of multi-TE packages and motions to create matchups and cleaner reads on early and later downs for PFPurdy.
Finally, after removing sack yardage Ehlinger had 120 carries for 770 yards at 6.4 ypc with six rushing TDs. PFPurdy had 73 carries for 254 yards at 4.8 ypc with eight rushing TDs. The Cyclone QB just couldn't hold up to the same kind of treatment.
As for Jalen Hurts, his stats are unassailable in comparison to these other QBs, but they don't look as good when evaluated in the context of a Lincoln Riley offense. Hurts had 198 carries for 1396 yards at 7.1 ypc with 18 rushing TDs, which is fantastic, but what would those snaps have looked like had the Sooners been fielding Ehlinger or PFPurdy?
Let's put it another way. Here's CeeDee Lamb's stats from 2018 as the no. 2 option in the passing game: 65 catches, 1158 yards, 11 TDs.
And in 2019 as an improved player and the no. 1 option in the passing game: 58 catches, 1208 yards, 14 TDs.
The new no. 2 option was Charleston Rambo with 42 catches for 734 yards and five TDs.
It was obvious to careful observers that Oklahoma's passing game was diminished this year. Heck even the run game. Kennedy Brooks had 145 carries for 976 yards at 6.7 ypc with 10 TDs one year after turning 119 carries into 1056 yards at 8.9 ypc with 12 TDs.
Some of this was the decline in the play of Oklahoma's OL, some of it was lacking anywhere near the same kind of passing dimension they had with Baker Mayfield and Kyler Murray. It was still a potent offense that helped carry them to another Big 12 title, but a lot of the credit for that is Lincoln Riley and some of it is Hurts' tremendous quality as an inside runner. I wrestled with listing Hurts as a RB since his running was so fantastic, but that would be a disservice to what he did do as a passer, which certainly wasn't nothing.
Ehlinger when playing without a governor in an up-tempo passing attack was the most dangerous player in the conference. He torched the LSU from that set, managed a comeback despite bad protection against OU, and had two 80-yard TD drives that put Texas on top on the road against Iowa State before Tom Herman gave the game away. Had the Longhorns played for shootouts this year rather than trying to control games and win with defense, Ehlinger and kicker Michael Dicker probably push Texas to at least 10 wins.
Consider PFPurdy the first runner-up.
Running back
1st team: Chuba Hubbard, Oklahoma State
2nd team: Pooka Williams, Kansas
It's funny to me that the official list included like four RBs, as though the league had that many guys that needed to be recognized at this position. Chuba Hubbard was the runaway no. 1 guy, Jalen Hurts was really the second best runner in the league and also the second highest by carries if you don't remove sack yardage.
Hubbard was really impressive this season, holding up to getting 309 carries that he turned into 1936 yards at 6.3 ypc with 21 TDs. His season was a testament to the limited power of the RB, Oklahoma State was 8-4 despite this magical season and Hurts was unquestionably more effective as a feature runner because so many of his carries included pass or hand-off threats that more directly helped his teammates.
Still, a great year for Hubbard and he's a lock to surpass 2k yards unless he sits out the bowl game for the NFL draft. Also, introducing the winner of the 2018 Darren Sproles water bug trophy for most outstanding tiny person……………………………………….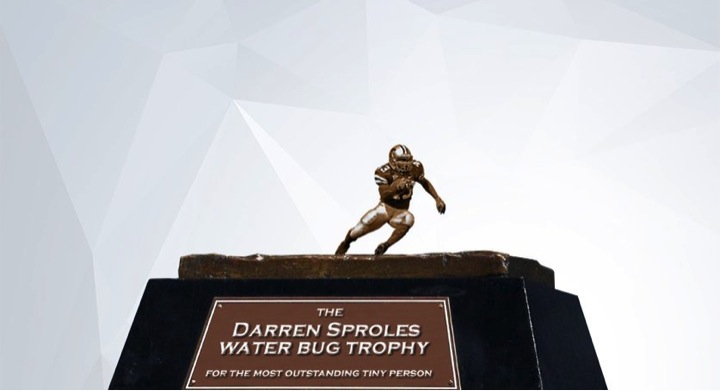 Pooka Williams!
"Isn't he tiiiiiiiiinyyyyyyyy?? Isn't he woooondeeeeeeerfulllllll??"
Williams was again the feature back for Kansas, albeit on a stronger team that now better incorporates RPOs and play-action from the spread and is developing some 21 personnel packages to help him out. At 5-10, 170 he had 203 carries for 1061 yards at 5.2 ypc with three rushing TDs, then 27 catches for 211 yards and two more TD catches.
Both Hubbard and Williams impressed me by carrying heavy loads for their teams despite relatively small frames (Hubbard is 6-1, 207).
If we had an Ironman award for toughness and durability it'd probably go to Hurts or Ehlinger but these guys would certainly be finalists. Let's give a nod to Charlie Brewer here as well, who attempted 348 passes, had 109 carries, and took 29 sacks. Brewer hung in there as long as he could before the officials finally intervened and got him in the trainer's room.
Ancillary
1st team: Dylan Soehner, Iowa State
2nd team: Logan Long, Kansas State
The ancillary is the thankless FB/TE hybrid that moves around to block for his teammates, catches the occasional POP pass, and basically does all the dirty work that allows skill talent to look good. True fullbacks are also eligible here but they need to play a significant role, the best ancillaries stay on the field the vast majority of the time because their teams need them.
Tight ends that are really skill talents do not count here. Congrats to Kolar for his handful of blocks this season but his real contributions are best measured elsewhere.
It was a down year for ancillaries, lots of teams used them but not many were regular contributors. Oklahoma made ancillaries out of Jeremiah Hall, Brayden Willis, and even Rhamondre Stevenson at times. None of them were an every down fixture. K-State had like three or four of them, Long stood out to me as the best blocker of the bunch. The official All-B12 team recognized Nick Lenners who mixed in some route running. Soehner is the closest to an every down ancillary guy that we had in the league and even he got some pine for Charlie Kolar in that role at times.
Vertical receivers
1st team: CeeDee Lamb, Oklahoma/Denzel Mims, Baylor
2nd team: Tylan Wallace, Oklahoma State/Sam James, West Virginia
The first two are kinda obvious. CeeDee Lamb was a god of war this season for Oklahoma, destroying isolated corners in the red zone and breaking tackles any time (all too often) that opponents let him catch short passes in space. Tylan Wallace was similarly destructive but we have to ding him for missing a chunk of the season.
Mims was fantastic and closer to his 2017 form, probably due to better health. He had to play through a few things this year but he was able to stay on the field, Moss DBs on jump balls, and also do damage running routes elsewhere on the field. Jalen Reagor may be more talented but Sam James was the one who made the most of this season. He'll be a guy to watch in 2020 and had 14 catches for 223 yards against Tech in Jarret Doege's first game. Collin Johnson would like have ended up here but missed too much season. Tyquan Thornton is a narrow cut here as well and probably beats out James if Brewer had stayed healthier. He's another one to watch for 2020.
Possession receivers
1st team: Devin Duvernay, Texas
2nd team: Charlie Kolar, Iowa State
Duvernay had a spectacular season, serving as Texas' main answer for passing downs and moving across different slot positions to find matchups where he could beat coverage and find open space. He was also an extended part of the run game, catching screens and slants on RPOs and doing a lot of damage after the catch with his 210 pound frame and 4.4 speed. Duvernay helped illustrate what "flex RB" is going to mean in the future in 2019. At some point more teams are going to wonder why they're sticking the best and most durable skill athlete on the team at RB rather than putting him in the slot.
Kolar also had a phenomenal season executing a similar role with the flex TE skill set. Deshaunte Jones narrowly misses the cut here, I was really impressed with his shake and durability doing Duvernay-type things without the bulk and breakaway speed.
Left tackle
1st team: Sam Cosmi, Texas
2nd team: Travis Bruffy, Texas Tech
Not a great year for left tackles in the Big 12. Cosmi got off to an elite start but I think he got injured midway through the year and fell off his pace. Still, any other team in the league would have traded for him. Bruffy had a strong season for a team that took a lot of vertical shots in the passing game. Next year will be stronger at tackle and QB.
Left guard
1st team: Marquis Hayes, Oklahoma
2nd team: Marcus Keyes, Oklahoma State
Hayes was a fixture all season to the Sooners' power-option run game that won them the league title. Keyes was a big and consistent part of Hubbard's phenomenal season. Tecklenburg was also solid all year and got involved at center when Jake Fruhmorgen was injured so props to him as well.
Center
1st team: Creed Humphrey, Oklahoma
2nd team: Zach Shackelford, Texas
This looked for a spell like it might be a close battle and then it very much wasn't. Humphrey anchored an interior OL that brought Oklahoma their 5th straight title and was phenomenal all year. Shackelford was solid but also led an interior OL that gave up some pressures in big games and couldn't assert their will in key games.
Right guard
1st team: Tyrese Robinson, Oklahoma
2nd team: Josh Knipfel, Iowa State
Credit to Robinson for mixing in some time at RT this year when the Sooners were beat up at that position. Granted, he wasn't great at it, but his flexibility was big for OU this year. At guard he was great and part of the nasty inside trio that powered their run game. Knipfel continued to be a solid run blocker for the Cyclones that came alive when they got their outside zone game going this year with Breece Hall.
Right tackle
1st team: Teven Jenkins, Oklahoma State
2nd team: Adrian Ealy, Oklahoma
No one was great here. Derek Kerstetter for Texas was solid. Jenkins missed some time but he was a good run blocker for the Sooners on their stretch run game that propelled Chuba Hubbard to great things. Ealy had some moments, he was better as a run blocker than in pass protection.
Defense
Anchor end
1st team: James Lynch, Baylor
2nd team: Ronnie Perkins, Oklahoma
This is a guy who may play at DE at times but his main role in the structure of the defense is to hold the edge and point of attack against the run. Basically your strongside end. Lynch did this a lot for Baylor this season and was very effective. Perkins could also qualify for another position later on this list but he spent a lot of time anchoring things for the Sooners' bear fronts. Eli Howard misses out here because of these other guys, as does Texas' Malcolm Roach.
Nose tackle
1st team: Bravvion Roy, Baylor
2nd team: Ray Lima, Iowa State
These are the tackles who's main job on the defense is to hold the point of attack, take on double teams, and keep smaller players clean to make plays. Good job by Ross Blacklock this season but Roy and Lima anchored three-man fronts this season and were exceptional.
Attack DL
1st team: Neville Gallimore, Oklahoma
2nd team: Dante Stills, West Virginia
I'm inventing this position for this year to try and reflect guys that might be 3-techniques in another league or era but in today's game move around to different positions and get to attack the OL and try to make plays in the backfield.
It's hard to distinguish between the Stills bros, who each did a great job here, but Dante got a few more numbers. Corey Bethley was good again this season in a role like this and Keondre Coburn needs to be mentioned somewhere (here or nose) as a menacing force that Texas couldn't maximize due to poor play elsewhere.
Gallimore was a nose tackle but he also slanted and stunted a ton either to get into the backfield or tie up OL so others could. Jalen Redmond was also good and could be mentioned here or at anchor end.
Edge-rusher
1st team: James Lynch, Baylor
2nd team: Wyatt Hubert, Kansas State
When he wasn't anchoring a B-gap as a 4i-technique or setting the edge against the run, Lynch was also lining up outside on tackles and rushing the passer like an OLB or weakside end. What a remarkable season by that guy.
Hubert was the next best in the league, even though he did this full-time rather than moonlighting here like Lynch did. Normally TCU would have some competitors here but they weren't up for it this season.
Shock trooper
1st team: Kenneth Murray, Oklahoma
2nd team: Amen Ogbongbemiga, Oklahoma State
These are your linebackers that spend a lot of their time on the attack, blitzing from different angles. Kenneth Murray was almost an OLB this season for all the ways that Grinch got him on the move and flying downhill. Obgongbemiga got used in a similar fashion, as did Texas' Joseph Ossai. O'Rien Vance had a promising start here before tailing off over the course of the season.
Murray was the best, he's a fantastic athlete who really dominates games when he's either on attack mode or cleaning up in chase mode. How many QBs thought they had positive gains on scrambles or time to throw this season only to be chased down by Murray? Probably all of them.
Inside-backer
1st team: Terrel Bernard, Baylor
2nd team: Garrett Wallow, TCU
Wallow suffered this year from having to play in some of Gary Patterson's "box and boss" schemes against QB-read run schemes where the DE's would play contain and ask the ILBs to play downhill against free-releasing tackles. Normally "spill and kill" is the method you want to employ when you're defensive backfield is defined by speed. Nevertheless, it was a solid year for Wallow.
Bernard was fantastic this year and finished with over 100 tackles after replacing Clay Johnston (who would have a lock to end up on here somewhere) after he went down with injury. Marcel Spears Jr was strong here once again, Mike Rose would have been a lock but he was used elsewhere.
Jordyn Brooks was tough to sort out here. He had some "shock-trooper" dimensions to his game but he also played a lot of traditional inside-backer and was pretty solid between the tackles as a downhill plugger and wasn't awful in coverage either. Good player to have on your team but if I'm building a B12-D I'd rather have Bernard or Wallow first. Malcolm Rodriguez is another option here who had a strong year.
Space-ranger
1st team: Blake Lynch, Baylor
2nd team: Mike Rose, Iowa State
Guys asked to patrol space, cover ground, and make tackles. Rose did a great job this year as a sam linebacker working to make the field side inaccessible for offenses, as did Blake Lynch in a similar role for Baylor.
The big difference is that Lynch often had to cover even more ground and was able to inflict more damage because of his superior speed and range that allowed him to make more plays.
Box safety
1st team: Brandon Jones, Texas
2nd team: Chris Miller, Baylor
Unless you included him as a space-ranger, a reasonable designation, this was Greg Eisworth's spot to lose. He lost it due to some injuries that forced him to play as more of a support safety where he was still effective but not as an eraser around the box. Brandon Jones played every position in the secondary for Texas but when he got to play around the box he was at his best. He lead the team in tackles with 86 and would have had well over 100 had he played as the middle safety in the inverted Tampa 2 all year.
Miller did play all year as a middle safety in the inverted Tampa 2 and had a solid season. He was good at limiting damage from opposing rushing attacks by closing on the ball with aggression as a tackler, he wasn't necessarily a dynamic playmaker. Look for this spot to be filled up next year as more teams adopt these tactics and develop their better DBs to thrive here.
Cover safety
1st team: Grayland Arnold, Baylor
2nd team: Ar'Darius Washington, TCU
I'm using this designation for guys that were basically corners that played on inside receivers. You might say nickel but not everyone uses their nickel that way.
TCU's scheme often asks their weak safety to be a down safety in man coverage, or even a deep safety in off man coverage. They ended up promoting Washington to the full-time starter at that spot because he was so good at making plays on the ball they couldn't keep him off the field. He finished with five picks.
Support safety
1st team: Kolby Harvell-Peel, Oklahoma State
2nd team: Trevon Moehrig, TCU
This is our term for guys that were great at hanging back and making plays on the ball from deeper zones. Man did Kolby Harvell-Peel ever have a season in this role. My man had 13 pass break-ups and five INT and it wasn't all just cleaning up behind good coverage by athletic backers like Ogbongbemiga and Rodriguez either, Peel was very positionally sound and knew how to find the ball. Oklahoma State's defense next year after they improve along the DL is going to be fascinating.
Moehrig had a nice year at the difficult free safety position for TCU this season, picking up slots when the strong safety was getting involved in the run or blitzing, and picking off four passes while breaking up 11 more.
Cornerback
1st team: Jeff Gladney, TCU/AJ Green, Oklahoma State
2nd team: AJ Parker, Kansas State/Parnell Motley, Oklahoma
Parker would have been first team had he not been injured for a big chunk of the season. Motley had a solid year, grabbing and abusing receivers all year in press-man but then also using his hands to break up 11 passes and force four fumbles. I don't think he was one of the better cover corners in the league but he was solid and he had a huge additional impact with his turnover creation.
For trying to lock someone up in man you wanted Gladney or Green, lots of other guys had some pretty solid overall seasons. Keith Washington was good at West Virginia, Jalen Green and Anthony Cook flashed for Texas but also had bad moments, D'Shawn Jamison showed playmaking and busts as well. Jameson Houston and Raleigh Texada had nice years at Baylor.
B12 MVP: James Lynch, Baylor
Unbelievable season.
OPOY: Jalen Hurts, the relentless, Oklahoma
The Sooners played an almost HS offense, focusing the ball in this athlete's hands and letting him make plays. I've covered the flaws, but it was still impressive what he did as the centerpiece of their offense.
DPOY: James Lynch, Baylor
COY: Matt Rhule, Baylor
Lincoln Riley did an amazing job in the offseason with the Alex Grinch hire who was adaptable to the OU roster and put together a solid year and then figuring out how to retool the offense and keep it going without as much of a passing dimension or those four departed OL starters. Rhule for the win though after transforming Baylor and adopting his own defensive strategy in the offseason to the inverted Tampa 2.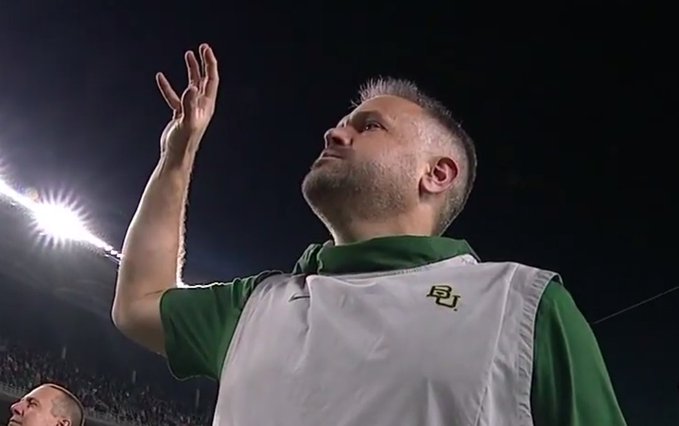 ********
For more takes on the players that have defined the Big 12 conference's history, read my book: