Obviously Oklahoma won the Big 12 championship in 2019. This was the fifth consecutive time they've done that and the sixth time this decade (2011-2019). It's also worth pointing out that Oklahoma drew a playoff berth as a result of finishing 12-1 and that this is the fourth time in five years that they've been invited to the playoff.
The last five years at Oklahoma are best defined as the Lincoln Riley era, since that's when he came to Norman. It's easy to see why Riley was so quickly ushered into the captain seat, the Sooners knew they had something extremely special in the young hire and they locked him down as head coach. If Jerry Jones has any brains he'll agree to anything Riley wants in exchange for putting him in charge of the Dallas Cowboys, if Riley is interested in that venture and has any brains he'll make extensive demands. You hear rumors now and again but if I'm Riley I'd be in no rush and might stick around in Norman to chase a National Championship with Spencer Rattler and Alex Grinch.
Oklahoma's dominance in the Big 12 this decade has really only been seriously tested by one other program, the Baylor Bears. Texas has regularly tested the Sooners in the Cotton Bowl but not really in the standings or at Jerry World. Fittingly, the Bears re-emerged to give the Sooners at least one more good go this decade and once again pushed them to their limits.
The Big 12 title game
My suspicion since their victory over Oklahoma State was that Baylor was potentially the best team in the conference IF Charlie Brewer could stay healthy. Shortly after that, Brewer started to demonstrate some wobbly throwing when trying to push the ball down the field or outside the far hash mark. With that limitation combined with Baylor's injuries across an already young OL, the Bear vertical passing game was diminished and Oklahoma was re-established as the stronger team by a narrow margin.
Then things got sort of interesting.
-Against Texas on November 23, Charlie Brewer took the crown of Chris Brown's helmet to the side of his own. He was whacked pretty good and looked potentially dazed, the field officials gave him a look and told him to head to the Baylor sideline to get checked out.
That's kinda weird. Normally when a player, particularly your star QB, gets hit really hard in the head you have the training staff come out and look him over. Baylor did so after the officials got a hold of him and sent him to the sideline. This wasn't horrifying at the time, trainers don't always rush on the field every time a player looks like he might have had his bell rung unless he or someone else calls them out.
Once on the sideline, Brewer was seen on TV being examined by the trainers and led to the locker room for a better look. My guess was that he had received a concussion, was going to be in the protocol, and would miss the following week against Kansas because most concussion protocols I'm aware of are really hard to clear in a single week. I don't know the Baylor protocol but I imagine it's pretty normal.
-The following week at his presser, Matt Rhule said that Charlie came out of the Texas game after "rolling his ankle" and that he "probably could have gone back in" had the game warranted it. The Bears had a comfortable lead late in the game when Brewer took the hit.
Upon hearing that, I immediately looked back at the video of Brewer getting hit.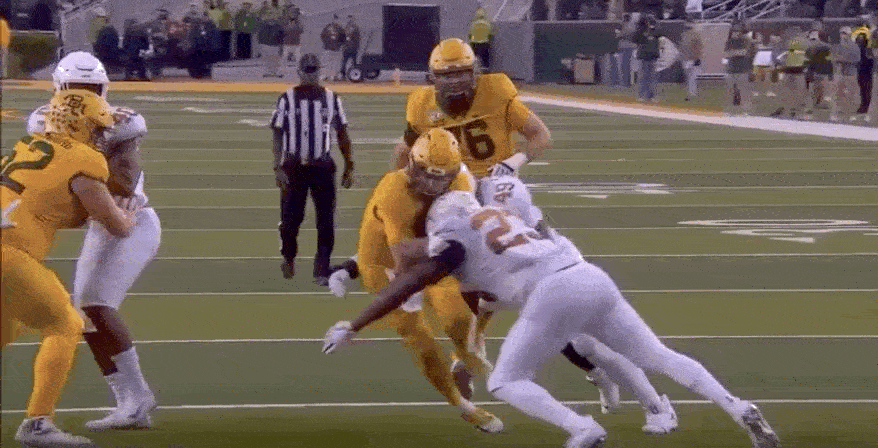 If you watch that a few times you can see his ankles and they are not rolled up on this play. There's a step before the hit where one ankle turns a little but with the foot flat on the ground. Is it impossible that Brewer hurt an ankle here? No. But he also got hit really hard in the freaking head (which then bounced off the turf) and that seemed to be the bigger issue on the field.
My next assumption was that Rhule was displaying some gamesmanship, not announcing injuries to the public or their next opponent, but that Brewer would be held out the following week and in a concussion protocol.
-On November 30, one week later, Brewer took the field against Kansas and played in that game. I didn't watch much of this one except some highlights while scouting how his arm looked. At this point I thought, "okay, maybe they checked him out and he didn't have a concussion."
That still made it strange that Rhule claimed he rolled an ankle and that was the reason he didn't return against Texas. It seemed far more likely that they were being cautious with a potential concussion and didn't want to announce that. But even if they were obscuring that he'd been removed because he took a big shot to the head, it was still possible that he hadn't shown any symptoms upon evaluation and hadn't had to undergo any kind of serious protocol that would keep him out against Kansas.
-On December 7th one week after that, Brewer of course started against Oklahoma and this happened.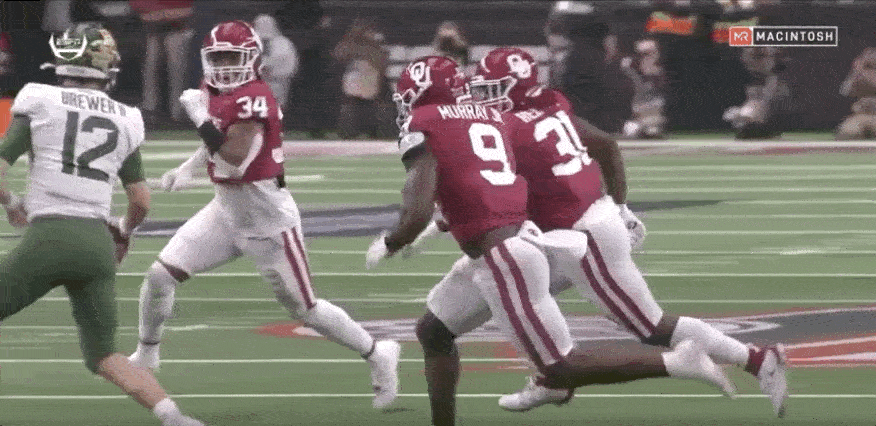 Having watched my share of QB concussions, this is often what they look like. The hit by Texas looks worse because he gets whacked in the head and you see the sort of whiplash effect, but the ones that knock guys out are typically when the head goes into the turf and the brain eats the impact without the energy being dispersed somewhat by said whiplash.
Brewer was clearly wobbly after this one and the expectation by the announcers was that he would be done. Instead he came out the next drive and played before the official told Rhule he needed to be checked out because he "sounded off." So Baylor took him out for evaluation and evidently discovered something that suggested he shouldn't play anymore.
Probably a concussion.
Here's what's fishy. Why didn't the Baylor training staff evaluate Brewer after either hit before being advised to do so by the officials? What did they find when he was examined after the Texas hit? Was it really a "rolled ankle" or did he incur two concussions in three weeks?
We don't know the facts and as a private university, Baylor doesn't have to reveal them to us. That's all a mistake and this look awfully fishy. It really looks like Baylor might have been negligent here. Getting a second concussion before a prior one heals properly is the right way to incur a serious brain injury, see Ash, David. In the future there should be mandated protocol for concussions and something more like the NFL's independent process.
Rhule praised the official for helping them notice Brewer might be hurt, he should be shredding his training staff for not examining him after he got up wobbly and he should be facing some questions as to how many concussions Brewer took and whether Baylor's actions in these two games is in compliance with their own policy for concussions.
At any rate, after another failed drive by Brewer he was pulled and the Bears were in real trouble from then on out. They had a few bombs executed by both Gerry Bohanon and Jacob Zeno, both of which pointed to Baylor's championship potential had their vertical passing game stayed healthy and on form all year.
Even had Brewer been healthy, the real problem was his struggle to hit throws down the field. Oklahoma predictably game planned for his arm strength issues in this game, playing some cover 2 on the boundary and cover 2 robber to the field and the boundary. Here's the cover 2/robber combination: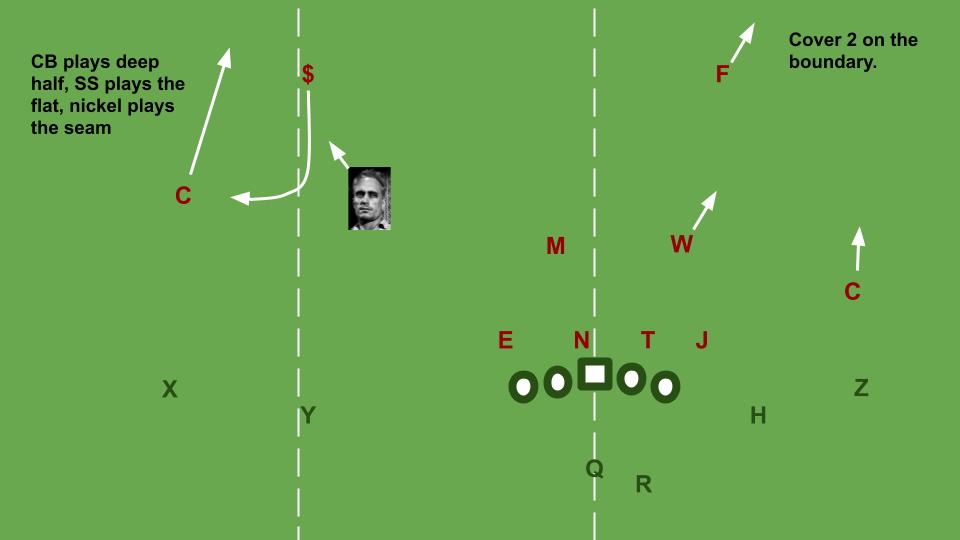 At times Oklahoma played 2-robber to both sides, with the corners bailing to play the deep halves while the LBs and safeties jumped routes underneath. That was dangerous for Baylor to navigate those robbers underneath, it was dangerous for Oklahoma only if Baylor had been good at pushing the ball down the sidelines.
Without a vertical passing dimension or a good run game (been missing all year), Baylor's success pushing this game into overtime came down to three factors.
Jalen Hurts turning the ball over. This fellow tends to do that a lot in this offense against good teams. He simply has the ball in his hands a ton and doesn't make good decisions when you force him past his first few reads. That's why Alabama replaced him with Tua Tagovailoa (and immediately won a Championship) and it was never going to change. Hurts turned it over twice in this game, both on OU's side of the field and both leading to Baylor points (10 total).
Oklahoma's offensive tackles couldn't block James Lynch or James Lockhart. Lynch is an amazing talent and Oklahoma's tackles this year were frankly overrated. It was the Sooner interior OL that really powered the offense in 2019.
The Jacob Zeno power hour.
Gerry Bohanon simply isn't very good. He's only a redshirt freshman so the verdict is still out on what he can be with a few more years of time but right now he's not great and his play was certainly a limiting factor against Oklahoma. So in the fourth quarter they trotted out third string QB Jacob Zeno, who's more of an Art Briles-profile passer who excels with simple reads but has some burst as a runner and can push the ball down the field.
The Bears punished OU's 2-robber with a concept that the New Orleans Saints used to use to loose Darren Sproles. Double smash combinations with the RB running a vertical up the middle.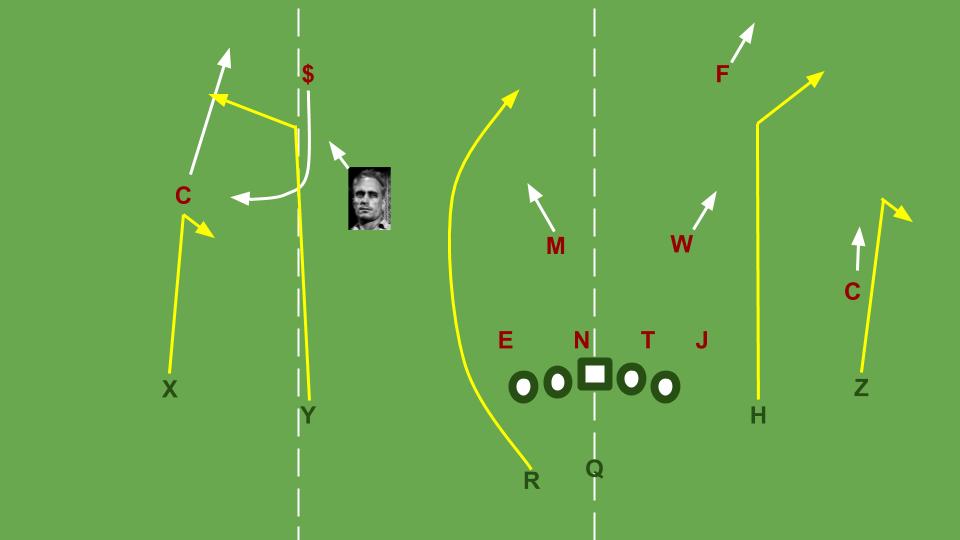 Kenneth Murray wasn't really looking for that one and didn't get enough depth, so Zeno hit Trestan Ebner cutting behind him for an 81-yard TD pass. Then Zeno hit a sucker route where his slot faked a block and ran a go outside the numbers that Zeno hit in stride for a 78-yard pass that set up the game-tying field goal and forced overtime.
If and when Zeno is ready, he's going to be the successor to Charlie Brewer at Baylor. He throws a better vertical ball than Bohanon and has a better feel for the RPO and play-action game that will make the most of the talent and playbook that the Bears have been building. Eventually this team will have a better power run game to go along with the RPO/PA passing game and Zeno's talent will be even more apparent.
In overtime though it came down to a tired Baylor defense withstanding the Sooner interior OL and power-option run game and then Zeno navigating a crowded field in the Baylor passing game. That predictably went the Sooners' way.
Who lost the 2019 season in the Big 12?
The biggest loser was Texas, whom I projected to win the league. The Longhorn season started to go awry when they lost narrowly at home to potential 2020 National Champion LSU Tigers. They were down 37-31 with 2:27 on the clock and had scored on every second half possession with the Tigers facing 3rd-and-17. Then Texas brought a zero blitz that Joe Burrow avoided before hitting Justin Jefferson for a 61-yard TD pass that clinched the game.
From there, Texas tried to rebound in the RRS against Oklahoma only to see their offense fall apart against OU's 46 nickel pressure D. Injuries, lame gameplans, and a steady decline in morale took their toll from there with the Longhorns finishing 7-5 and entering the offseason looking for new coordinators on both sides of the ball.
Gary Patterson's TCU Horned Frogs were also big losers. They went 5-7, missed a bowl game, and came up empty against SMU, Baylor, and Oklahoma. They did secure a win over Texas and established freshman QB Max Duggan (and some other freshman) as players to watch for future seasons. The glass is only half empty for the future, but this year was unimpressive and coming off another unimpressive season.
Currently the hope in the Fort is that Patterson will hire Chad Morris and also bring in his son Chandler at QB as a sort of package deal. I don't know how that works out legally with the NCAA though and there's also rumors now tying Morris to better jobs such as the Auburn OC gig.
Patterson is now 0-6 against Lincoln Riley which is the main reason for pessimism in the Fort. Balanced spread offenses that can utilize RPOs and play-action are a serious problem for his defensive methodology, which is about sorting out your tendencies and then using flexible, fast personnel to swarm to the ball. There aren't as many tendencies in smashmouth spread offenses, the ball goes where you ain't. That's the same reason Briles often used to own Patterson as well.
Oklahoma State, Iowa State, and others didn't quite have the seasons they wanted but they didn't experience anything like the letdown that Texas and TCU took.
Who won the 2019 season in the Big 12?
You know, besides Oklahoma.
Baylor definitely claimed a "narrative win" in flipping in year three from 1-11 to 11-1 and then going to the Big 12 championship. They also played Oklahoma within three points at home and then into overtime at Jerry World. Remarkable season for Rhule and the Bears and I think there's a fair consensus that the Bears aren't going anywhere so long as Rhule stays and doesn't end up as the one that takes that Cowboy head coaching job (or another NFL vacancy).
I have some questions for the 2020 Bears we'll get into as the offseason progresses, but I do think Rhule clearly knows what he's doing and that they have some areas of growth potential. Brewer could learn to take better care of himself behind an improved OL, the power run game could materialize, and the offense could make a big stride. On defense I think they'll have to replace most errbody and I'm not sure if they can stay in the 3-3-5 inverted Tampa 2 or not with the new personnel, we'll cover that later though.
Kansas State was another big winner in 2019, going 8-4 and winning Farmageddon against Iowa State and dealing the Sooners their only loss of the season. Great initial season from Klieman, I'm really curious to see what he tries to do in year two after losing a ton of seniors but returning Skylar Thompson at QB.
We'll hit my All-B12 team later this week and put more bows on the 2019 season, including with an announcement of the Darren Sproles water bug trophy for most outstanding tiny person!
********
Speaking of putting bows on things, you need to buy Christmas presents for family members and I have just the thing!