Some of these breakdowns will include single teams, others will pack together multiple squads. I intended for every post to be the latter but the Jayhawk posted ended up longer than expected.
Building a Big 12 contender from the Midwest is something that has rarely coincided with using "space force" tactics. Mark Mangino got the Kansas Jayhawks atop the Big 12 North running the spread in 2007 but that took place via a combination of savvy recruiting, being ahead tactically, and then K-State and Nebraska collapsing while ignoring the advantages of using spread tactics. Nebraska was never really a spread team, contending in the B12 either with the I-option or later on with great Bo Pellini defenses mixed with some pro-style and then spreadish-option schemes.
Whether under Bill Snyder or Chris Klieman, Kansas State has tried to be more of a neanderball team, running the ball and controlling the clock. They've tended to have some of the best infrastructure in the league but have lacked the athletes to put them over the top. I mean, this team won nine games once by featuring Jesse Ertz as a feature back playing QB.
Iowa State is a little more of a hybrid, blending the traditional Midwestern approach of recruiting some big local kids to help control the middle of the field while also utilizing spread tactics. Their big advantage has come from taking advantage of the Midwest's bigger share of tight end prospects. Undoubtedly what held them back in 2019 though and lead to several close defeats was the lack of NFL-caliber play at tackle, receiver, cornerback, or edge-rusher (once Jaquan Bailey went down).
The Kansas State Wildcats
Chris Klieman is running against the grain with the Wildcat strategy. They're trying to control games with a power run game and some bigger formations, smart defense, and then situational superiority. Having a smart and older team was essential to pulling that off in 2019. The new staff has tried to inject the offense with more speed, trying to get receivers that can ruin teams for loading the box against the run. Their formula does hinge on finding an NFL cornerback that allows their defense to move pieces around and attack with the safeties without getting torched over the top from a bad 1-on-1 matchup outside.
Here's what Klieman did this year:
Offense
Tackle
Talor Warner: 6-4, 265. 3*** from Gardner Edgerton HS (KS)
Warner probably won't end up at tackle. He's pretty quick, as you'd hope to see from someone that's still only 265, and he also has some nice clips where he changes direction and finds guys at the second level. Ultimately though I think the lack of reach keeps him inside or at least not on the blindside.
Carver Willis: 6-5, 260. 3*** from Durango HS (CO)
Willis is pretty raw in terms of pass protection, he played some tackle on both sides of the ball in HS and utilized his size and a lightning first step to dominate competition. The athleticism is there, perhaps even moreso than with Warner, but he'll have to master the techniques in dropping back and I'm not sure how his reach is either.
Will Mitchum: 6-7, 250. 3*** from McKenzie HS (TN)
You know reach won't be the issue for this kid at 6-7 and he also demonstrates some power when he turns kids' shoulders and throws them to the ground. He's probably the best bet to end up at LT of this bunch because he'll end up being so imposing and long and he's quick like the others.
Summary
This is how Klieman turned North Dakota State into a perennial FCS champion and a nightmare that could dominate P5 programs in the trenches. By snatching up athletic and scrappy kids that are 40-50 pounds away and then bulking them up over time. I don't think OL will be a limiting factor for this program in pursuing B12 titles.
Receiver
Jaelon Travis: 6-0, 190. 3*** from Mansfield Summit HS (DFW)
Just one selection for K-State this year. In 2019 they took only 2-3 as well and the prospective starters in 2020 are all fairly young. The plan is to use a lot of multi-TE sets so there's less of a need to stock up on WRs.
Travis is solid, he's overwhelming his opponents with speed on his highlights but he was an 11.63 100m guy and what was exceptional athleticism in HS won't set him apart in college. He shows some really nice body control though and I think he could end up being a pretty reliable chain-mover in a few years.
Summary
K-State will do a lot of favors for their WRs with their scheme, the ones that actually see the field at least, between the play-action and all the safety attention they'll command. I don't think Travis is a guy that will keep good opponents up at night worrying about leaving their best corner 1-on-1.
Defense
This is a 4-down team that mixes in quarters, traditional tampa 2, and single high schemes. I think they'd like versatility from their DBs overall but there's no doubt that at ND State and then also at K-State last year they relied pretty heavily on having a lockdown corner they could leave alone deep so the strong safety could crash on run plays.
For 2020 they really need depth at DE opposite Wyatt Hubert, I loved Boom Massie out of HS but he's not yet shown he's ready to maximize opportunities playing off Hubert. They also need to replace Hubert down the line, which is a scarier prospect.
Edge rushers
Kirmari Gainous: 6-4, 255. 3*** from Hutchinson CC (KS JUCO)
Gainous looks like the no. 1 contender to start opposite Hubert. He's a pretty good pass-rusher, not the kind you panic about but also not the kind that you can afford to ignore if you're always weighting your protections to the other side. Gainous is also pretty sturdy against the run and is hard to block with a TE on the edge.
Ronald Triplette: 6-2, 260. 3*** from Shadow Creek HS (HOU)
Triplette was a DL for the new emergent 5A super power in South Houston,(Pearland) Shadow Creek HS. He played as a 4i and 3-technique for them and I tend to think that in college they'll try to see if he can be a pass-rushing 3-technique at 280. He's got a great first step and can loop wide, which is intensely valuable for their scheme, and as thick as he already is most high schoolers can find places to pack 10-20 extra pounds of muscle on.
Tyrone Taleni: 6-3, 245. 3*** from Mt. San Antonio College (CA JUCO)
Another JUCO DE meant to boost the depth after losing Kyle Ball and Reggie Walker from the rotation at that position. I think he's less promising as a true DE than Gainous but he has some JUCO snaps where he rushed the passer from an inside slot and he could be valuable there in a third down package.
Felix Anudike: 6-4, 220. 3*** from Lee's Summit HS (KC)
Anudike is a blueshirt, meaning he'll show up to school in the fall and then be put on scholarship so that he counts towards 2021 rather than 2020. He'll surely redshirt that season as well and be part of the long-term plan to replace Hubert. He's quick off the ball and uses his hands and reach violently and effectively to whip OL in the pass-rush.
Nate Matlack: 6-4, 220. 3*** from Olathe East HS (KS)
One of the prize jewels of K-State's 2020 class. Check this out…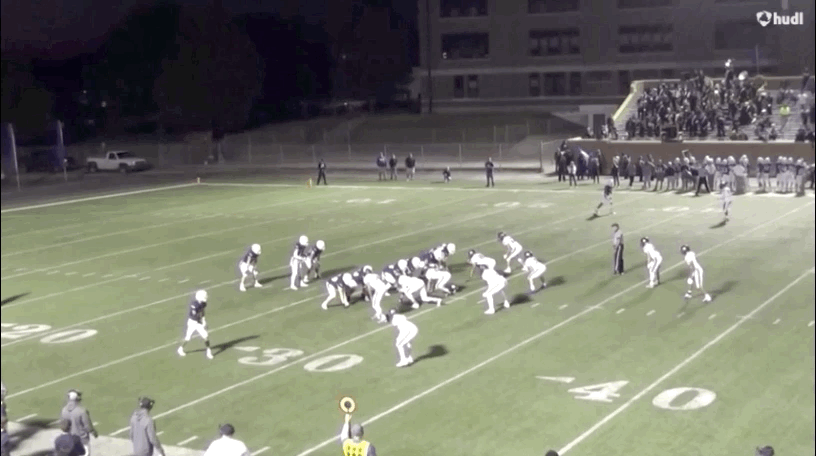 He's not the DL getting solid pressure on the stunt, he's the MLB closing and swatting away that pass. He played mostly MLB last year at 6-4 and made a lot of plays in coverage or running plays down because he has NFL athleticism and quickness despite his height. When they put him on the edge as a pass-rusher he was impossible. He'll need a little time but he reminds me of some other local kids that turned into star pass-rushers with this program.
Summary
Matlack and Anudike are what you're looking for here, the other guys are there to fill out the rest of the roster (especially in the short term) with quality, not star power.
Cornerbacks
Tee Denson: 6-0, 178. 3*** from Cedar Grove HS (ATL)
Denson's film has a lot of examples where he does a great job as a trap corner in a 2-read scheme. He turns and closes on flat routes really well, so that translates nicely to his prospects in Tampa 2 schemes and maybe cover 3 as well if he can keep the ball in front of him and close. There's not as much here to make me think he can be a lockdown guy.
TJ Smith: 5-9, 183. 3*** from McEachern HS (ATL)
As I noted a week or so ago, Georgia was more of a national recruiter this last cycle. Consequently, everyone recruiting Atlanta and the burbs got to level up in terms of the caliber of players they could find. Klieman and K-State seems to have taken advantage.
I like Smith's potential to play press-man coverage, despite the lack of ideal size. He's really quick and strong and can match routes tightly underneath while having the speed to carry stuff vertical. He might be the guy that one day gets asked to hold up 1-on-1.
Justin Gardner: 6-2, 180. 3*** from Hutchinson CC (KS JUCO)
Gardner seems to have been brought in for depth/filling out the depth chart in 2021 after they lose AJ Parker and Walter Neil Jr. A guarantor of quality rather than a special, elite piece. He's pretty savvy though playing some press coverage on film and playing off. He knows how to knock guys off their spot and has some length to contest when the ball arrives. He's not an elite athlete though and relies on his positional soundness to get the job done.
Summary
I don't see a Matlack in this group, although they don't look awful. This position is the one I'd worry about most as a K-State fan, simply because of how much they ask of their corners in this scheme.
Could the Kansas State Wildcats win a B12 title with these guys?
Their formula is quite a bit different than everyone else because they put so much more emphasis on bigger formations on offense, the run game, and winning in the trenches. They did sign a talented QB in this group though and might be able to protect him so some of these pieces may end up being a big deal down the line if they try to win featuring Will Howard down the line.
The Iowa State Cyclones
Matt Campbell has figured out two huge details in his pursuit of an unlikely B12 title from his seat in Ames, IA. First, he figured out how to build an effective bend don't break defense to slow down or even stop Big 12 offenses with the inverted Tampa 2. Baylor stole the designs last year and nearly won the league, so the proof of concept is there.
He's also working out how to field pro-spread teams with TEs, which gives the Cyclones a big leg up because a dominant flex TE is a nightmare to stop.
However, he hasn't managed to build the kind of OL that can protect a QB and enable the passing game to consistently win. They had trouble in several big games last year when facing teams with NFL caliber talent on the DL. They can't fix that with this class, but it'll still be instructive to see if they're getting better athletes.
Offense
Tackle
Hayden Pauls: 6-4, 280. 3*** from Emporia HS (KS)
Pauls was a sought after guy with offers from the Kansas schools and also Minnesota and Iowa that Campbell locked down. He's pretty light on his feet and uses his hands well, the reach isn't fantastic though. I think he has potential to be an above average player at a non-LT position.
Tyler Miller: 6-9, 300. 3*** from Greene County HS (IA)
Miller is a more obvious LT prospect at 6-9. Those guys tend to be pretty capable on the edge provided they aren't easily beat back inside or they aren't beat by powerful athletes that can get under their reach and drive them backwards. Arguably the most important details for guys that tall are learning to use their hands and throw jabs. Texas has had a few limited 6-8+ dudes that were generally fairly reliable in pass protection just because of how hard they were to get around with a good set. Tristan Nickelson was a pretty limited athlete and weak run blocker at 6-10 who nevertheless started a lot of games at tackle because he was the hardest guy to get around.
Miller is a basketball player and a fierce run blocker so he might end up being pretty darn good overall. At the least I think he could be a tackle that isn't a glaring problem area.
Brady Petersen: 6-5, 280. 3*** from Ankeny Centennial HS (IA)
Probably won't end up outside. He played guard and tackle in HS and his specialty was using his size to control or maul the guy in front of him, not to dance in space.
Sam Rengert: 6-7, 300. 3*** from Fairbanks HS (OH)
Another extra tall guy that Campbell beat out West Virginia for. I think he's similar to Miller, he looks like he has the athleticism to be solid and when combined with the sheer reach and size that really helps. Not a high level athlete though.
Summary
In three years of breaking down Campbell's classes (2017, 2018, 2019) their MO has been to sign a lot of guys with college size but who aren't amazing athletes. Incidentally, they've yet to field an NFL-caliber tackle, because those guys don't come out of HS at 300 pounds as only 3-star players. If they're 300 or so at 6-5+ then they're either going to be limited athletes or they'll be rated as blue chips and blue chips are hard to recruit to Iowa State. If there's one thing that holds Campbell back at ISU it's this, a failure to get a true athlete to mold into LT.
Receiver
TJ Tampa: 6-2, 171. 3*** from Lakewood HS (SFL)
Tested with a 4.76 40, 4.35 shuttle, and 33″ vertical at 6-1, 171 after his junior year. I think the speed numbers could improve a little with extra muscle mass added on to his frame. He's an explosive athlete who can finish at the rim on the hardwood or go over the middle and win a ball on the gridiron. I think for the Cyclones he'd be most effective in the slot.
Aidan Bitter: 6-2, 180. 3*** from Steinbrenner HS (CFL)
Bitter is really quick underneath changing direction and getting open from the slot. Iowa State has tended to build pretty good rushing and RPO attacks so they can make a lot out of quick guys like these in the slot. See Jones, Deshaunte.
Daniel Jackson: 6-3, 210. 3*** from Cibolo Steele HS (STX)
Now we're talking legit outside guys. Jackson is the younger brother of Mark Jackson Jr, and both are the sons of an NFL WR. Older brother (Mark jr) is transferring from OU after failing to win the edge-rushing job there in multiple years. Daniel nearly had his career ended by a bad car wreck that robbed him of his senior season.
At a SPARQ event he posted a 4.68 40, 4.64 shuttle, 35.4″ vertical at 6-1, 209. He's tough and has above average explosiveness and could be a nightmare outside because of his size and speed and he also has strong hands. He probably would have been much more highly recruited if not for the serious accident that saw him get a metal plate in his head.
Xavier Hutchinson: 6-3, 200. 3*** from Blinn College (TX JUCO)
Oops. Everyone realized late that Hutchinson was a must get and it was too late, the Cyclones already had a death grip on that recruitment much like with PFPurdy. They had to fend off Boise State from the beginning and then OU tried to swoop in late and poach him. Hutchinson can win over the top outside and gives them a chance to come closer to replacing what they lost when Hakeem Butler graduated than they got a year ago from Tarique Milton and LaMichael Pettway.
Summary
Iowa State's previous WR classes weren't really very impressive. They tended to be filled with guys who's ceilings were limited and that showed on the field last year then they were good at receiver but couldn't dominate all the 1-on-1s they could get like when they had Allen Lazard or Butler. These guys are much more dangerous.
Seriously, handling Hutchinson outside when Kolar and Milton are both inside is going to be very difficult for opponents in 2020. Their TEs can all flex out and run routes and so can RB Breece Hall, who caught 23 balls for 252 yards in like half a season. They must like their up and coming tackles because otherwise they have the pieces to be a truly nasty pro-spread team.
Defense
The Cyclones invented the inverted Tampa 2 scheme that is starting to take over across the game, but the system has high challenges for the DL. In particular, you need a DL that's a cross between a strongside end/tackle and a true edge-rusher in order to make the most of the 3-down structure. Jaquan Bailey could do it but he missed last year. He's back now and Will McDonald is setting in there as well, but the latter player is lighter and probably needs some time and hamburgers.
When the D has a three-man front that can get to the QB some they don't really need a lockdown CB because they can play three deep safeties. A lockdown guy certainly helps since they like to mix in blitzes and some quarters schemes but edge-rusher is the bigger priority.
Edge rushers
Johnny Wilson: 6-3, 260. 3*** from Park Hill HS (KC)
6-3 seems generous but the 260 is fairly believable, Wilson is stout. He's pretty athletic but on film what really stands out is how well he uses his hands and his overall motor, which allowed him to be wildly productive in HS when combined with his size and raw power.
He's definitely a good fit to be able to play inside of TEs or tackles now and again when he's not rushing the edge.
Summary
Wilson is an example of the sort of thing that Campbell's Iowa State does well. He's sort of a tweener who makes plays on the football field and their system will make the most of his ability.
Cornerbacks
Michal Antone: 6-0, 185. 3*** from Cardinal Gibbons HS (SFL)
Finding 2nd or 3rd tier skill athletes from Florida that will come up to the Midwest for a chance to star playing next to big brutes is a tried and true Midwest recruiting strategy and Campbell is no stranger to it.
Antone is a good fit for what they want, he has some upside as an athlete with size to be able to play some real press-man coverage but he's also physical and competent playing off in zone.
Summary
Antone is solid, they took three other DBs that are all classified as safeties. The lack of numbers here concerns me a little, certainly I don't think they took any future NFL draft picks. Things will turn on whether their system continues to grow and allow them to get by without elite talent though.
Could the Iowa State Cyclones win a B12 title with these guys?
Setting aside the obvious question of whether Campbell will stick around in Ames long enough to win when these guys are on the field, I think I'd tend to answer with a no. They've been much better at building better infrastructure and systems to win in the middle of the field and avoid 1-on-1 space battles than most any other school in the conference. That can help them punch above their weight but I don't know if it can carry them in the title rounds.
********
Don't forget to buy and read the book where I explain the rise of the inverted Tampa 2 defense as a solution for the devastating spread offenses in the Big 12: