Strategy > tactics. That was my prevailing thought watching the Super Bowl and reviewing some of the film and notes after the game.
In football tactics are your play-calls, play-designs, scheme, and all the details that go into creating advantages on a down by down basis for your team. The 49ers have some of the best offensive tactics in football, related primarily to the fact that they have three tremendous hybrids on their team in George Kittle, Kyle Juszczyk, and Deebo Samuel, all of whom can block and catch at a very high level.
Their strategy though is to out leverage teams on the ground in order to create easy throwing lanes on play-action for their QB Jimmy Garappolo, who somehow has a contract worth $137 million. On defense their strategy was basically to play good, base coverage behind a DL with some absurd pass-rushing talent. It's less about tactics there and more about personnel, such as having Nick Bosa, who would have been the rightful MVP had the 49ers hung on for victory. More on that later.
On either side of the ball, their strategy was to win in the trenches and they have some of the best personnel and tactics for achieving those goals in the league.
The Kansas City Chiefs have mostly evolved past trench warfare and their victories are based on their ability to attack teams in space with the passing game and then to deny opponents from doing the same to their own defense. Everyone tends to discount the KC run defense but they often made choices with their tactics to encourage opponents to try and match Mahomes by running the ball up until they faced Ryan Tannehill and Jimmy Garappolo and decided to shift the focus and make those guys beat them in pressure-cooker games.
Ultimately the Chiefs won this game with strategy. They did their normal thing on offense, keeping themselves alive against the pass rush with a few compromises here and there, such as having star flex TE Travis Kelce chip Bosa rather than racing down field or mixing in occasional runs to Damien Williams to pick up some of the yardage available from San Fran's anti-pass orientation. That was all failing though up until the end of the game when they finally mixed in better tempo with the HUNH spread looks and were able to tire out the SF pass rush some and create time for Mahomes to torch them down the field.
Then on defense they ultimately accepted the challenge to yield space to Jimmy G in the passing game and even dialed up a lot of pressure to make him prove he was ready and able to beat them in space. Once the game came down to execution in space, SF had little chance and ultimately lost by 11 points.
Damien Williams: MVP?
This is a really popular argument after the game, mostly from people that get overly caught up in the box score rather than the dynamics of the game.
Williams did have a great game, 17 carries turned into 104 yards and a touchdown and then he added four catches for 29 yards and another score. Two total touchdowns and 133 yards is pretty good production. The other part of the "Damien for MVP!" argument is that Pat Mahomes had some real struggles in this game, ultimately averaging only 6.8 ypa and throwing a pair of INTs while missing the timing on a few others.
Here are the problems with this argument. First, Williams' production is slightly inflated by his 38-yard touchdown run when San Franciso's pressuring "force a punt at all costs!" defensive tactics down 24-20 got creased and he broke free down the sideline. Most all of the big plays that made the game 20-17 San Francisco and then 24-20 Kansas City in the decisive moments were made by Mahomes. Outside of that cushion-building run he had 16 carries for 66 yards at 4.1 ypc. MVP numbers?
Secondly, the San Francisco gameplan was oriented around Mahomes. They were okay with Damien Williams doing a little damage here and there on the ground if they could just stop Mahomes from destroying them with the quick-strike passing game. Giving the MVP to Williams here would have been akin to when Andre Iguodala was made Finals MVP in 2015 after nailing some open threes in game 6 while the Cavaliers were swarming Steph Curry every time he touched the ball and Draymond Green was dropping a triple-double. And at least Iggy guarded Lebron.
Finally, here's how the Chiefs executed some crucial short-yardage situations:
4th and 1: With an old school, single-wing type play in which Damien Williams took a direct snap while the Chiefs feigned an option scheme the other direction. That 4th and 1, also, was created by a 3rd and 11 Mahomes scramble.
2nd and goal: This came after the 4th and 1 call, they converted with a classic option play where Mahomes took it in himself.
4th and 1: With a spread-option scheme in which the contain player sold out to get Mahomes and he got off the pitch to Williams to pick up a first.
1st and goal: After the DPI to Travis Kelce, the Chiefs ran PA and Mahomes rolled out and found Kelce alone in the back of the end zone.
If you remove Mahomes' three kneels at the end of the game, which the NFL hilariously counts towards QB rushing while not counting sacks, then the Super Bowl MVP had six carries for 44 yards at 7.3 ypc with a TD. His legs were the key in their short-yardage game.
Even some of Williams' best plays came on tosses to him out of the backfield that Mahomes nailed with brilliant accuracy that allowed him to get upfield and do his thing.
I will note that Damien Williams' ability to make moves in space is a fantastic component to this offense and the way they use their RBs in the passing game hints at the future of this game. He's not the engine of their success though, that'd be the guy who had to protect himself with his legs and distribute the ball in space against layered coverages.
Winning late with the pass game
Kyle Shanahan's coaching decisions, particularly with play-calling, are already under heavy fire. He didn't use timeouts before halftime and he threw the ball when he didn't need to in the fourth quarter. Incidentally, Shanahan was OC of the Atlanta Falcons when they yielded that 28-3 lead to the Patriots while failing to run the ball effectively in the second half.
The real problem though is that Shanahan coaches a system based on the all important, hallowed "run-pass balance." Shanahan is regularly praised for the fact that he subscribes to the "we want to beat you with either the run or the pass based on what's there," rather than foolishly maintaining 50-50 balance in a game when one is working. The goal of run/pass balance of the sort that Shanahan loves is to over stress the defense by having a complementary pass game that works off the run.
The challenge of that system, as I outlined in my preview, is what happens when a team can either match up honestly and stop your run or pass game, or what happens when they scheme a way to monkey-wrench your system?
For instance, Sean McVay's scheme got monkey-wrenched by the Patriots weighting their front to stop the wide zone play without having to get out of the man coverages they knew could stop the play-action passing game. Without the ability to run wide zone, or to burn the Patriots with play-action for how New England defended wide zone, there wasn't much left. Then it came down to Jared Goff's execution in the drop back game against New England's dime package and pass rush.
The San Francisco strategy failed on two fronts. One was that Jimmy G wasn't up for beating the Chief secondary and pass-rush when they started to just outnumber and blitz the run game. He missed some open receivers and couldn't find throwing windows while pressured, he had four passes batted down at the line of scrimmage by the Chief DL, three by defensive tackle Chris Jones.
It was akin to when Oklahoma played Baylor in 2015 by doubling Corey Coleman, outnumbering the run, and basically playing zero-man on the other receivers. Jarrett Stidham wasn't beating that, he was another Art Briles system QB who thrived punishing teams for how they tried to compensate for Baylor's balance and spacing.
The other regard in which their strategy failed was that it failed to account for the inevitable late game surge from the KC passing game. You can only hold down a great spread passing attack for so long. Eventually you commit a coverage bust and the other team connects for an explosive play or score, or your pass-rush wears down and all your flaws can be attacked, or you just get beat.
The 49ers basically lost this game on two plays. The first one was a mistake by the safety and a phenomenal play by Pat Mahomes and Tyreek Hill, just doing their normal thing: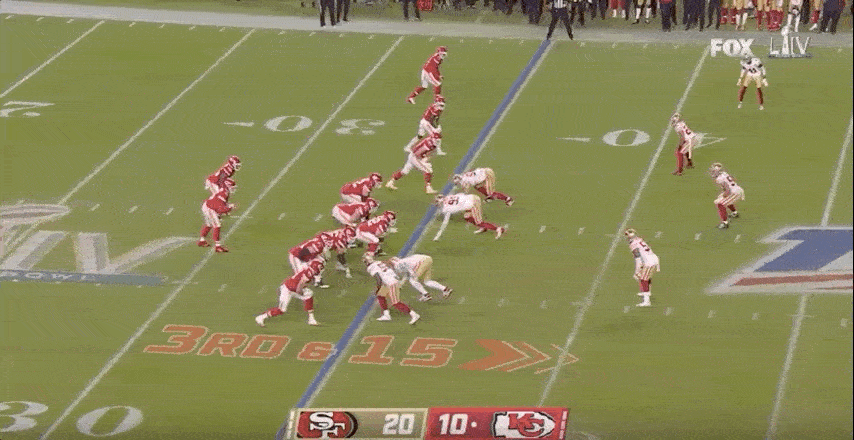 Mahomes knew the design here, he knew that he probably was going to take the Hill route, so he's backpedaling at the snap rather than taking a normal drop in order to give himself enough room and time to hit it.
The other play was the kind of thing that happens when you face a team like this and they get any sort of momentum. Shortly after the 3rd and 15 clutch shot above, the Chiefs hit this play: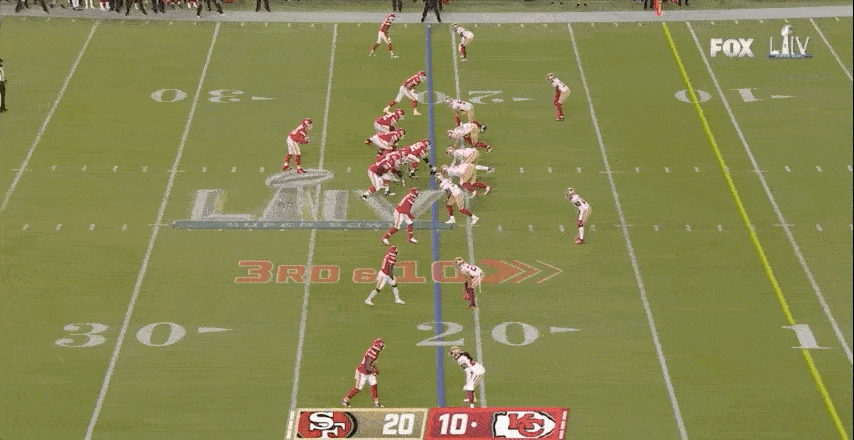 This is the play that the Patriots won the Super Bowl on last year, Hoss-Y juke. Outside receivers run hitch routes, inside receivers run slot fades, and then that clears out space underneath for the "juke" route.
Here's how it looks on the chalkboard: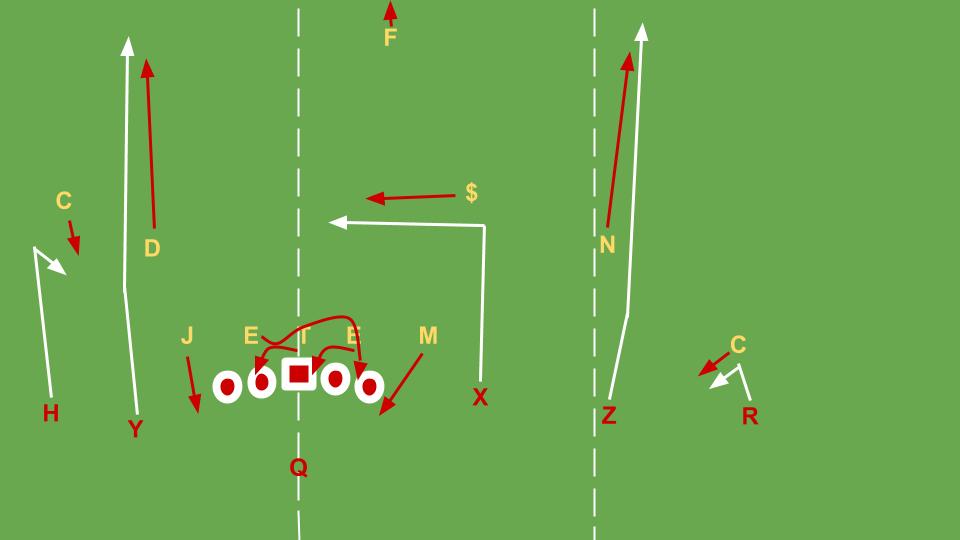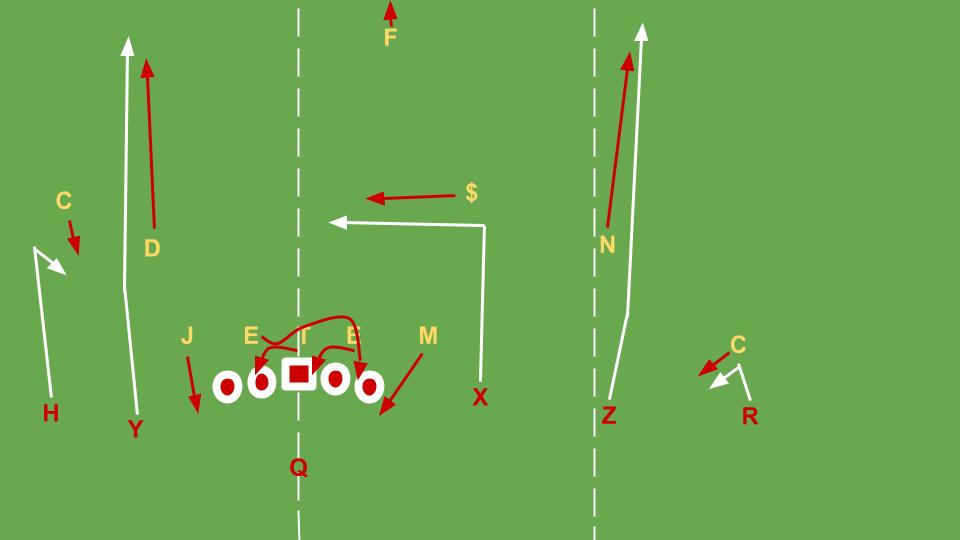 They had Mecole Hardman and Damien Williams outside running the hitch routes, Travis Kelce and Tyreek Hill running the fade routes, and then Sammy Watkins on the juke route underneath.
The 49er plan here is to bring five and play dime behind it so they don't have any glaring matchup problems with LBs trying to cover people. Bosa is the DE who long sticks over while OLBs hold the tackles and then DeForest Buckner and Arik Armstead slant over to hold the center and both guards. The pressure worked okay, but Bosa wasn't running too hot at this point and the ball just comes out too fast when you have five receivers running routes for a longer developing pressure to work out.
Additionally, the 49ers have their CBs locked into the outside slots so they run out of good sub-package DBs and end up with Tarvarius Moore on Kelce, which doesn't work. There's a high safety but he has to worry about Hill against the nickel outside one hash mark and also be ready to close and tackle Watkins if he wins underneath on that juke route. All of those options are plausible so he can't guess, all he can do is watch Mahomes' eyes which go to Kelce after checking other options.
Defensive pass interference, first and goal.
Space strategy
The Shanahan system is at an inherent disadvantage in a game like this. San Francisco wanted to win this game in the trenches, Kansas City wanted to win the game in space. For most of the game, San Francisco won their battles in the trenches, but they lost a couple of battles in space and that was that. And that's why spread passing is the ascendant strategy and no matter how clever you are about running the ball, it's just not as effective.
Make one mistake and Kelce is mossing you in the end zone, or Hill or Watkins are running free for a score. Over compensate for that and at that point Mahomes or Williams can actually find some room to run for a few first downs. But when San Francisco was winning big at the line of scrimmage, Tyrann Mathieu or Bashaud Breeland was closing to make a tackle to limit the damage to a first down and not points.
It's just harder to spring runners free, particularly at the highest levels of postseason play, when the DBs can zero in on the back because he has to receive the ball via a handoff or backwards pitch. When the skill talent is catching the ball in space as one of multiple options? Harder to triangulate.
And of course, because this style can score more efficiently and quickly it completely negates the effectiveness of the "run the ball, shorten the game, play defense" strategy. When you play that old school way it's hard to build big leads that can survive if something goes wrong and that HUNH spread passing team lands a couple of punches. The HUNH is like a massive right hand that gives any boxer the classic "puncher's chance." You can win every round and still lose the fight if you get knocked out late.
Unlike Pat Mahomes, Jimmy G didn't spend college launching 2-minute drives every week desperately trying to win shootouts. He's not up for it and they don't ask him to hunt matchups in space and win games that way, they ask him to land occasional knockout shots set up from body blows by their TE, FB, and run game. In a late game scenario where Jimmy G would have to make plays in the dropback game, the 49ers were in big trouble. They had a weak jaw and Pat Mahomes has a legendary right hand.
So the 2019 college and NFL seasons have now concluded and both of our champions utilized "Flyover Football" tactics to win. Get used to this because more and more teams are going to try and master this style of using HUNH and spread spacing as a strategy to feed their best athletes the ball in space where they can have the greatest possible chance of scoring points and winning the game.
Read about how this style of football has been developing in the Big 12, ultimately producing Pat Mahomes, in my book: