It's more than a little interesting to observe the TCU-Baylor rivalry these days. The Frogs aren't even really a strictly Texas school anymore, their admission is over 50% comprised of out of state students, and the football program has served them well as an advertisement for kids from California and other locales. Baylor on the other hand is primarily a school for Texas kids.
Despite (because of?) that major demographic difference, they still (rightly) size each other up as each other's main rival within the state. Both are private schools with Christian roots (Baptist for Baylor and Mainline for TCU) and both are along the I-35 corridor in oft-overlooked Waco and Fort Worth. Both have also surged this decade, while the Bears have the upper hand in the rivalry and won two B12 championships, TCU was brought into the conference from the Mountain West and won the Rose Bowl to start the 2010s.
Recruiting has been close between these two squads, Gary Patterson and Art Briles had a hostile relationship that helped foster this rivalry and both are essentially vying to be THE private school in Texas that competes with OU and Texas for 4-star croots and B12 titles. So let's see who won this round…
The TCU Horned Frogs
In terms of building out a "space force," on paper you'd think TCU should be pretty good and well accomplished this decade. There are multiple tackles, cornerbacks, and edge-rushers in the NFL. The missing piece isn't quite WRs either, for the last few years they've been pretty solid there with Jalen Reagor leading the way. The problem has been QB.
Since Andy Dalton graduated and was drafted into the NFL the Frogs had Casey Pachall, who spent time in rehab before coming back to a disappointing conclusion. Then Trevone Boykin took over and they went 23-3 over two seasons before he was arrested and undrafted. Then troubled A&M transfer Kenny Hill took over and had a solid year two going 11-3 with losses to OU in the regular season and then in the B12 title game. Shawn Robinson took the torch next and had a spotty year one with injuries before transferring in frustration, now Max Duggan is at the helm. It's been tumultuous to say the least.
Offense
Tackle
Alrique Barlow: 6-3, 356. 3*** from Catholic HS (VA)
Barlow moves more than quickly enough for his size and power to matter, he's pretty light on his feet out there and I wonder if he was 340+ in the film I watched. He's mostly getting projected to guard, presumably because of the lack of height, I think he could play either guard or tackle based on need or how he adapts to college coaching and strength training.
Brandon Coleman: 6-6, 320. 3*** from Trinity Valley C.C. (TX JUCO)
A big, well blooded run blocker with some skill at offensive tackle that could allow him to compete in the TCU rotation. I think he might play as early as next year at RT for them, LT presumably goes to CSU transfer TJ Storment or one of the up and coming tackles on the team. Coleman could also slide inside but he looks quick and big enough to me that they probably want to leave him outside.
Garrett Hayes: 6-5, 318. 4**** from Athens HS (ETX)
Hayes seems to be one of those guys that gets a lot of credit for moving well on film at 300+, as though some of these 250 pound high schools with wide frames and athleticism weren't going to easily fill out to 300. That said, he's big and promising. He moves well and relishes bullying smaller players (everyone) when he can block at angles. Probably not a LT but a good player to have around.
Michael Nichols: 6-4, 255. 3*** from Northwest HS (DFW)
Nichols is a really aggressive blocker that can bend and play low and is pretty quick. He's got a 7-foot wingspan as well so there's a decent chance he can translate his athleticism into becoming a tackle in several years after he's filled out his frame.
Tyler Guyton: 6-6, 274. 3*** from Manor HS (CTX)
Guyton's film is at DT and it's pretty solid, he's quick off the ball and shows some lateral quicks when he's stunting and looping around edges. Evidently though TCU is going to make him into an OL, where he's much more promising but will obviously need some time. With his athleticism and frame he has obvious tackle upside, he'll probably just need several years to work it all out.
Summary
TCU got a lot of guys here with enough athleticism to at least get a look at tackle before they move to another position, which is pretty impressive. Hayes is the big time recruit and he's a good one, but Nichols, Guyton, and really Barlow as well all have some legitimate upside as athletes with a few years of training. The Frogs have tended to recruit pretty well on OL but this is as solid a group as I can recall them landing.
Receiver
Blake Nowell: 6-4, 180. 3*** from Plainview HS (OK)
I don't know about 6-4 but this kid is definitely fast and has run the 400m in 49.83 seconds, which is very solid. He has good hands and body control at speed as well, most of his clips are him going up to get fades or else turning screens into explosive gains. He's an outside guy and more of a straight line runner but his hands and speed could make him a risk to take the top off defenses.
Caleb Medford: 6-3, 190. 3*** from Henderson HS (ETX)
Medford is a particularly twitchy athlete that was playing QB for his school and terrorizing teams with some cutbacks and keepers that should have never worked. He can change directions and accelerate on a dime, which should theoretically give him a great upside as a WR once he takes that position on.
Savion Williams: 6-5, 205. 3*** from Marshall HS (ETX)
I initially became familiar with Savion when Texas tried to steal him from TCU late in the cycle. Like Medford, Williams played a lot of QB in HS and has some amazing change of direction skills and physical toughness for a 6-5 dude. I've used this analogy in this series before but he reminds me a lot of Lil'Jordan Humphrey, get this guy in the slot at 220+ and he's going to be comparable to having an NFL TE in the middle of the field.
Quentin Johnston: 6-4, 180. 4**** from Temple HS (CTX)
Johnston was another guy that Texas came for late but TCU managed to hold onto. He's a high jumping track athlete and you can see on his HS film he's already worked out a few ways to use his explosive first step in his favor as a receiver to get a release or set up his routes. He also has good hands and is long and tall, the expectation from most is that he's going to develop into a big time player outside.
Summary
Maybe Medford and likely Williams would be best served playing inside but they could be very dangerous there. Johnston is a pure outside receiver prospect and one of the more highly regarded ones in the state. To my eyes he looks like a lot of other (good) guys but he does have some extra height, Nowell is a solid vertical threat, the other two I think are very impressive but obviously raw.
Defense
I've been really curious to see if Patterson messes around more with the three-down defense in 2020. It's been hard for TCU to find great DEs to make their scheme work but they haven't struggled to find playmaking safeties to patrol the middle of the field. They found maybe four, truly high level players for three positions last year and all return. Meanwhile their DEs struggled all year.
Edge rushers
Khari Coleman: 6-2, 217. 3*** from GW Carver (LA)
It was a pretty good cycle for Patterson, stealing Coleman late from Kansas while fending off Texas when the Longhorns tried to pick off some of his best commits. Coleman had 27.5 sacks in high school, he's an ultra-twitchy pass-rusher that can bend around the edge or blitz through the inside and be an absolute nightmare in either scenario. Lotta Eric Striker in his game although he's at least bigger than that.
Summary
That's it, unless 6-5/220 pound JUCO QB Stephon Brown is going to convert to DE for the Frogs. Coleman looks like a great pass-rusher but he's not very big and definitely an awkward fit for a four-down scheme. Reading the tea leaves I'd say a move to three down is pretty probable in Fort Worth.
Cornerbacks
Keontae Jenkins: 5-10, 160. 4**** from Frank W Cox HS (VA)
Jenkins has run an 11.33 100m, which is not great for a cornerback though not really worrisome. He's got some length to him and will fill out heavier than 160 after a few years in TCU's program. Jenkins is already solid in press coverage and appears to flip his hips well and stick on guys. TCU has made pretty good corners of guys like this before.
Summary
That's it, just the one guy. TCU has some other defensive signees that might be pretty good but definitely didn't get many numbers at the two crucial spots that have tended to make or break their defenses in the past.
Could the TCU Horned Frogs win a B12 title with these guys?
Not with their current systems, no. The offensive additions look good for running an Air Raid offense of the sort that they've against running in recent years. Presumably that was because they didn't trust their QBs and Patterson preferred to be conservative on offense and protect the football, we'll see what happens if their QB room cycles back to offering veteran leadership rather than tumult. The defensive additions aren't adding much of what TCU ultimately needs, but perhaps Patterson will evolve the approach.
The Baylor Bears
It's tough to evaluate Dave Aranda too strictly on this class, which was largely inherited from Matt Rhule who had a slightly different vision for the Bear program than Aranda is bringing. He will need to find key pieces from this group though.
In the past Aranda has always put an emphasis on playing man coverage outside and rushing the passer with zone-blitz schemes that emphasize versatile linebackers. The only real exception was the early LSU teams he inherited before he installed his own full system, which relied more on Arden Key off the edge. The new look Baylor offense figures to be similar to the Rhule system, a smashmouth spread combining power run schemes with lots of vertical shots in the passing game.
Offense
Tackle
Mose Jeffery: 6-4, 330. 3*** from Kilgore J.C. (TX JUCO)
Jeffery moves pretty well inside but he was a guard at the JUCO ranks and those usually don't get promoted to tackle when they join P5 teams. He's a better fit for the direction that Baylor was moving towards and that new OC Larry Fedora will reinforce then some of their early signees under Rhule. Fedora follows normal smashmouth spread rules of getting massive dudes that can elimination penetration on inside zone or blitzes and move piles by leaning forward in double teams. Basically building a wall of thick obstacles and bullying opponents in the box while using spread formations and concepts to control the edges. Jeffery fits that vision well and probably competes for a starting guard job in 2020.
Micah Mazzucca: 6-5, 334. 3*** from St. Frances Academy (MD)
Mazzucca is a less developed but perhaps more promising HS version of Mose Jeffery. He can pull and hit guys on the move and he's great when blocking downhill or with angles, really good fit for the Power-O and inside zone run schemes that define the smashmouth spread Fedora is installing.
Btw, LSU utilized the Joe Moorhead run game, which blurred the lines between power and zone with schemes like iso and duo that were built around doubling and leading at the point of attack while extra defenders were controlled with bunch set blocking by WRs or QB RPOs. It was probably the most sophisticated smashmouth spread scheme to date and the main thrust of it was bullying with an OL in which every member was 320 or bigger save for center Lloyd Cushenberry, who was 6-4, 306. That's not really Joe Wickline's MO as he runs more zone-based versions of those systems, but it's something to watch.
Gavin Byers: 6-5, 295. 3*** from Colleyville Heritage HS (DFW)
I find Byers as a 3-star to be kinda weird, frankly. He's pretty skilled as a pass protector, he's big and strong and was competitive at a high level in the shot-put and discus, and he has film where he's beating guys like 2021 4-star Ja'Tavion Sanders to spots in pass protection and chopping him down.
He looks like a legitimate LT prospect, one of the better ones signed in the Big 12 in this class. He's a true athlete with some power and size that will fill out and improve in major ways at Baylor. Byers might even start early, God knows Baylor needs better tackle play.
Summary
Baylor needs tackles in the worst way, they essentially lost their shot at a Big 12 championship and potentially ruined Charlie Brewer's career because their tackle play was so bad in 2019. That said, Connor Galvin, Casey Phillips, and Blake Bedier are all solid athletes in need of reps and now they add Byers to the mix. This will be a very interesting area to watch, Joe Wickline is known as being a hard-nosed, detail oriented, old school drill sergeant and he's going to put their charges through hell this offseason.
Receiver
Seth Jones: 6-0, 180. 3*** from Shadow Creek HS (HOU)
Another big time talent from Shadow Creek HS, a school that was established in 2016 and has already competed in the last two 5A state final games, winning the latter one. Jones tested with a 4.47 40, 4.21 shuttle, and 34.4″ vertical at a SPARQ event. Those are elite numbers for a HS kid and you can see the speed easily on film where he's blowing by defenders. He's not particularly physical going over the middle but on the outside he's hell on wheels. The 3-star rating is curious, but it's a reasonable guess that this was due to him not really having a star role until the 2019 season (220 receiving yard as a junior, 741 as a senior).
Summary
Only one take here, Baylor will need a lot more in the next class. Jones is a really good one though and it's not hard to find fantastic WR prospects in Texas from year to year. This has never been an issue for Baylor since Briles took over.
Defense
Edge rushers
Again, it's not totally clear what the plan will be here. Last year LSU had one of the best edge-rushers in the country in K'Lavon Chaisson…he had 6.5 sacks. No. 2 on the team in sacks was safety Jacoby Stevens with five. The Tigers were mostly a 3-3-5 nickel team but they had some 3-2-6 in the package. At Wisconsin where Aranda was overflowing with good LBs he built a really good "peso" nickel package that was a 2-4-5. He wants interchangeability with the players on the roster for his zone blitzes and simulated pressures so the direction he goes in will likely hinge on whether he's able to more easily load the roster with good LBs like at Wisconsin or great safeties like at LSU.
James Sylvester: 6-4, 225. 4**** from Newton HS (ETX)
The HS numbers for this kid are outrageous. Eight sacks in his sophomore and junior years, 15 as a senior along with 24 TFLs. His numbers and production are basically emblematic of what Newton HS is these days. Namely, a smaller school that's somehow loaded with blue chip athletes and completely overwhelms their competition. Sylvester is pretty raw, his specialty is generating major explosiveness and power within tight areas, he even played some as a 3-tech last year. He'd be a great fit as an OLB that could slant inside to open up an outside lane for one of Aranda's blitzing DBs.
Anthony Anyanwu: 6-2, 231. 3*** from Sachse HS (DFW)
At one point I was double checking whether this kid's film is sped up. On a lot of snaps he seems to operate on a delay, "oh they snapped it?" and then the next instant he's shooting into the backfield. I'd be curious to see a vertical or 40 time on him, I think it might be shockingly high. He was much less productive than Sylvester in HS, albeit against tougher competition, but he projects similarly. Very explosive, raw athlete that can play on the edge or move inside some as well.
Summary
These guys look very much like Peso LBs to me. Baylor has one or two of those already on campus as well so I wonder if that's the direction they'll go in, I think it's Aranda's preference if he can find the players for it.
Here's what the Peso 2-4-5 looks like:
Cornerbacks
Jahdae Barron: 5-11, 175. 4**** from Pflugerville Connally HS (CTX)
Barron ran a 10.95 100m and appears to be the fastest guy on the field in the games he played. He's been using that speed to run by people on go routes or screens and to play deep zone at corner or safety, watch the play develop, and then close and make a play. The question in Waco will be whether his blazing speed can translate to playing as a man corner outside or if he'll end up somewhere like nickel or safety where he can use his eyes more and find the ball.
Devin Neal: 6-0, 192. 3*** from Frederick Douglas HS (KY)
Another SPARQ star/Rhule special who ran 4.41 in the 40, 4.28 in the shuttle, and had a 39.2″ vertical. His Kentucky HS didn't develop a ton of skill in him, but fed him the ball at RB, had him return kicks, and got him close to the action at nickel where he could impact plays with his explosiveness around the box. Other than being from Kentucky he reminds me of several East Texas uber-athletes that had similar profiles out of HS and were molded by Texas into NFL DBs. Such as Quandre Diggs or Mykkele Thompson.
Mike Harris: 5-11, 180. 3*** from Central HS (AL)
Harris was an absolute eraser from boundary safety in HS that Baylor had to beat several good programs for, perhaps taking advantage of the collapse and firings at Arkansas, Colorado, and Ole Miss who were all competing for his signature. He's tested at 4.52 in the 40, 4.23 in the shuttle, and 34.9″ in the vertical which are numbers that could put cornerback in play but he's way too effective at safety to move him, imo. He breaks on the ball and can make plays on either deep passes or in the run game in a way that is truly special. He has the talent to actually help erase spread spacing from safety and not by checking an individual receiver.
AJ McCarty: 5-11, 180. 3*** from Brownwood HS (CTX)
McCarty is a Matt Rhule special. He's a four-sport star who's run 22.28 in the 200m and hit 11.07 in the 100m back in 2017 when he was a sophomore. He played WR and CB for Brownwood and did some things like this: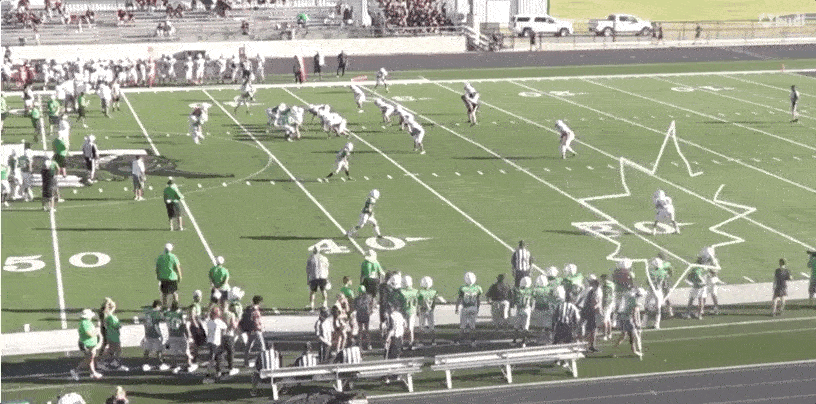 What's he going to be after a few years of focusing on football techniques and development? Probably a pretty good player and potentially an ace cornerback.
Alfahiym Walcott: 6-1, 190. 3*** from Butler C.C. (KS JUCO)
Walcott is a pretty good find, an example of the benefits of JUCO recruiting. He's pretty well developed and uses loose hips and his length to play really strong positional defense while showing mastery of some pattern-matching coverages. These guys that get 1-2 years of full snaps in games are sometimes more advanced than guys who have sat and practiced for a few years, if they made the most of it. He'd be a really solid corner that could move around some, he's also probably a really good fit at the nickel because of his physicality and mastery of how to trade routes in zone.
Summary
This is a tremendous amount of speed and elite measurables to pack into a group with only one player with blue chip ranking. Walcott figures to help them immediately while everyone else will go into the program and figure to come out in 2-3 years as dominant football players rather than just being excellent athletes.
Could the Baylor Bears win a B12 title with these guys?
Definitely. Dave Aranda is inheriting a smart approach from Matt Rhule, who's plan was to get raw, elite athletes into Waco and then trust his own ability to coach and develop to turn them into a team with the kind of NFL athleticism necessary to win championships. This class has more of that and then some extra additions by Aranda that should help as well.
The question will be how long it takes to get their QB/OL infrastructure raised because that was the only real limiting factor in 2019. All the other spots need to be rebuilt from new starters in 2020 but they've been stockpiling Space force cadets for years now.
********
Read about how Gary Patterson's 4-2-5 system drove the smashmouth spread innovations that took over the Big 12 in the 2010s in my book!