Not the state, who's approach to the COVID pandemic under Gov. DeSantis was one that had a sizable chunk of citizens and commentators projecting disaster up until recently. I mean the football program coached by Dan Mullen that is returning their quarterback, four starters on the offensive line, and star "space force dreadnought" Kyle Pitts from an 11-2 team.
At times the Gators seem like one of the most controversial teams in college football for the upcoming season. There are those that think they're wildly overrated with little chance of showing up, and then there are those that expect that they could be "back." In many ways they are the Texas of the SEC East.
There's a dozen things about this team that make them pretty interesting that I wanted to explore. The first one that's worth diving into is the normal, historical challenge that Florida has to overcome in order to win championships.
Florida's big strategic challenge
For whatever reason, while the state of Florida produces a ton of football talent they don't produce a ton of offensive linemen. They're always well stocked with skill athletes at wide receiver and cornerback, they often have some great defensive linemen as well, but when it comes to offensive linemen they just aren't up there.
Check out what blue chip offensive line recruiting has looked like in Florida for the last several years per 247.

Florida produces something like 10-15% of the nation's blue chip recruits in a given year but only about 10-15% of those guys are OL. Keep in mind that offensive linemen represent 22.7% of the 22 people on the field.
Then there are other challenges, like the fact that Florida is one of three big time programs within the state that rely on Floridians to fill out the roster (Miami, Florida State) and that big time programs Alabama, Ohio State, and Clemson are regularly recruiting the state. Between the five other schools I mentioned you should have a pretty good idea of where those four blue chip linemen per year that don't go to Florida end up.
This isn't a new thing either, check out the starting five offensive line groups for some of the state of Florida' most famous champions.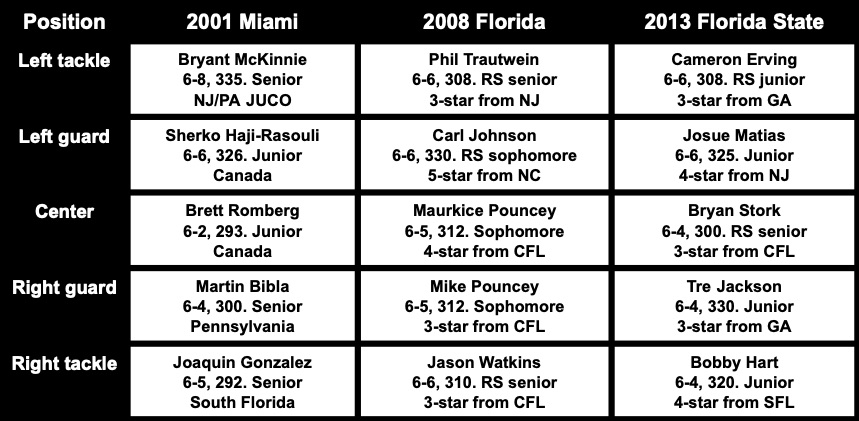 Surprised? The legendary 2001 Miami Hurricanes had more starters from Canada than Florida on their O-line. The 2008 Florida Gators had one of the best rushing attacks in college football history and it was built from national recruiting combined with snagging what proved to be a very talented pair of twin brothers from Central Florida.
The 2013 Florida State line for Jimbo Fisher was plucked partly from Georgia with another New Jersey kid thrown into the mix. Every single one of these lines featured a New Jersey recruit on the left side of the unit, usually at tackle.
All of these lines had to overcome the seldom-mentioned challenge of fielding a championship line while being based in a state that provides every other recruiting advantage that a program could want.
I'm also not sure to what extent there's a relative shortage of offensive linemen as opposed to there simply not being enough to feed all the hungry mouths. Here's an easy comparison, the state of Texas offensive line recruiting over the same period per 247 with the Longhorns in place of the Gators:

Texas has about 29 million vs Florida's 22 million, which doesn't really yield much more football talent but does include a better share of linemen of which the Longhorns get a better chunk than the Gators in comparison. Texas has a little less competition, A&M is the only comparable in-state program but Oklahoma and LSU are regular poachers and Stanford and other also pick off a few here and there. I'd hazard a guess from scrolling through that A&M's share over this period of 247's highest ranking offensive linemen is equal to or greater that of Texas'.
Finally, here's Florida's top SEC East rival's table from that period:

Since Kirby Smart took over things have really picked up for the Dawgs here. Georgia has about 10.6 million people now, so the explosion of football talents from that state over the last couple of decades is considerable. I'd suggest it's actually one of the more influential factors in college football right now.
If you look at the eras of Kirby Smart, Dan Mullen, and Tom Herman you see that Mullen and the Gators are far and away the least likely to fill up on blue chip offensive linemen with in-state recruiting.
The 2020 Florida Gators
Here's the most likely lineup for the Gator offensive line in 2020 that I've seen thus far: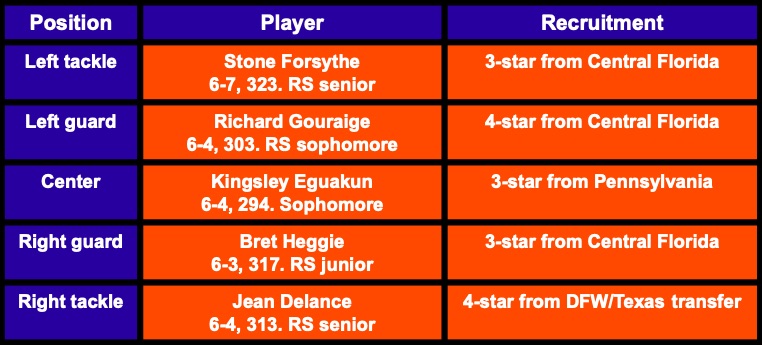 The advantage for Dan Mullen and his Gators isn't what you'd expect. When everyone thinks of Dan Mullen and his offense they tend to think of power-spread and big, running quarterbacks that could go between the tackles like Tim Tebow, Dak Prescott, and Nick Fitzgerald.
While he is 6-5, 240, Kyle Trask doesn't fit that mold at all. When the Gators want to run their quarterback power schemes they sub in 200-pound, Georgian Emory Jones. They ran Feliepe Franks more than they have Trask and he was decently effective at it, but they turned to Trask because of another skill.
Ironically or fittingly, depending on how you want to look at it, the unique story of Kyle Trask is that he was a back-up for his entire high school career. He was still made a 3-star recruit and got a Florida offer based on his work in camps, but he couldn't beat out the other quarterback at Manvel High School at the time, a fellow named D'Eriq King. At the high school level having an elite runner at quarterback is often too big an advantage to pass up, especially if the competition is a guy who's at his best in pro-style passing concepts that are harder to master.
So the trigger-man for the Gators is a pocket passer and their best weapon is Kyle Pitts, a 6-6/246 pound tight end from Pennsylvania who's a brilliant receiver and only so-so as a blocker. We'll talk more on him in the next post.
For now the interesting factor is that the 2020 Gators don't need to be a dominant run blocking offensive line. It's more important that they're reliable in pass protection.
For years, championship Gator lines were built around making the most of Floridian skill talent in power running schemes. Despite serving as an architect for those championship Gator units of years past, Dan Mullen now has Florida on a path to win by unleashing Floridian skill talent with the passing game.
********
Read more about how a region's high school talent pool can have a profound impact on how they pursue winning football games in my book!