Before Urban Meyer's run or the less successful eras of Will Muschamp and Jim McElwain, the original breakthrough Florida Gator teams were the Steve Spurrier squads of the 90s. Those squads won six SEC titles and a National Championship in 1996. Those Gator teams come up tangentially in my book…
…his 95 team went to the Fiesta Bowl undefeated and got absolutely obliterated by the 95 Nebraska team I mention here regularly. To adjust to that whooping, Spurrier hired Bob Stoops to patch up his defense for him, which lead to an immediate title and eventually the Oklahoma head coach gig for Stoops and later the NFL for Spurrier.
Spurrier's teams were famous for taking advantage of the matchups they could get outside from the attention teams were conditioned to give to the run game. The 96 Gators were quarterbacked by Danny Wuerffel, who threw for 3625 yards at 10.1 ypa pitching the ball to Reidel Anthony and Ike Hilliard. That team had a pair of fairly productive running backs, one of which was Fred Taylor, but both finished with < 700 rushing yards.
So they were a "running back by committee" and pass-heavy offense, much like today's NFL teams. Spurrier didn't fare well in the NFL and went back to college (South Carolina), where other teams were starting to catch up to his system.
Since then, the Gators have been known for being, or trying to be, a power run sort of team. By leaning into a different formula in 2020, Mullen is going against type, at least as perceived by commentators that don't recall the 90s as easily.
Pass-first Florida precedent
Manny Diaz once told me that when he first really started studying the game he was fascinated with Spurrier's offense, until he started to break them down and realized that they just threw a lot of curl-flat combinations over and over again.
If you watch their old games on YouTube you'll find that the Spurrier offense was remarkably Air Raidish.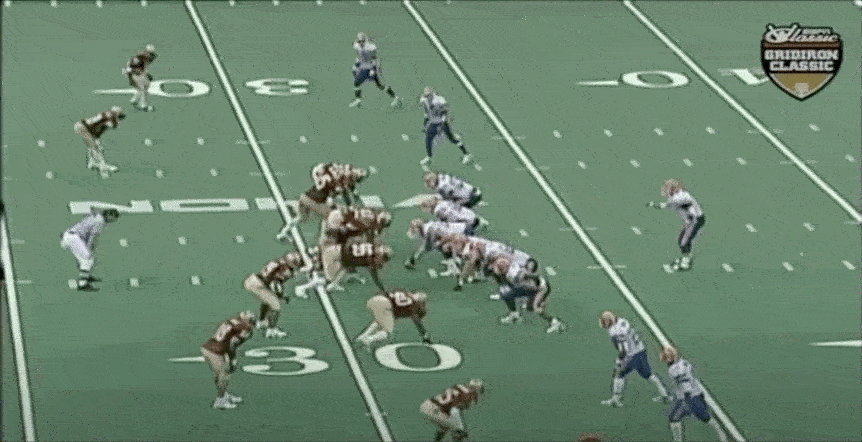 That 96 team in the title game ran a lot of 6-man protections with the tight end (Tremayne Allen) helping their left tackle while three and four receiver sets ran down the field against the 'Noles. The receiver here, Ike Hilliard, was actually plucked from Louisiana much like legendary Canes' defensive back Ed Reed.
The offensive line had a pair of sophomore tackles in Zach Piller (left tackle from the panhandle) and Mo Collins (right tackle from North Carolina). The interior featured a Houstonian, redshirt freshman left guard named Ryan Kalich, a senior center named Wiley Ritch from near Gainesville, and senior right guard Donnie Young from South Florida.
From snapshots of the game, Allen's blocking in protection seems to have been a big key to their success. They leaned less on their running backs in this game, at least early on, and more on overloading the 'Noles secondary by sending three or four receivers into pass patterns every snap. If the back was in he was often helping inside with the tight end subbed out for a receiver.
The curl-flat type concept above was all too easy against FSU bringing a 5-man pressure and relying on what appears to be man coverage with zero safety to the field. Throw it to athletes breaking open into space and let them go do their thing. They won this game 52-20 and their overall gameplan was similar to what Clemson ran to beat Alabama in 2018.
In an era where the game is moving towards being able to just blow your opponents away by chucking the ball to matchup problems in space, the Florida teams are theoretically at a major advantage. Because finding and fielding skill athletes from their recruiting turf isn't terribly difficult.
The Gators perimeter attack
The 2020 NFL draft took a nice chunk of the 2019 Florida space force. Wide receivers Van Jefferson (2nd), Freddie Swain (6th), and Tyrie Cleveland (7th) were selected along with running back La'Mical Perine (4th). On defense they also lost cornerback CJ Henderson (1st) and edge-rushers Jabari Zuniga (3rd) and Jonathan Greenard (3rd). Both of their offensive tackles return, as I mentioned in the last post, and overall they're actually in fine shape here next season. Space force cadets grow on the trees in Florida.
Perhaps more interestingly, the no. 1 target for the 2019 Gators is back after a sensational sophomore season. That'd be 6-6, 246 pound, junior tight end Kyle Pitts from Pennsylvania. Last season he had 54 catches for 649 yards and five touchdowns and was the key piece to most of their passing scheme designs.
They moved him all over the place to generate matchups and stress. Here's an example of how they used him as the feature of the passing game.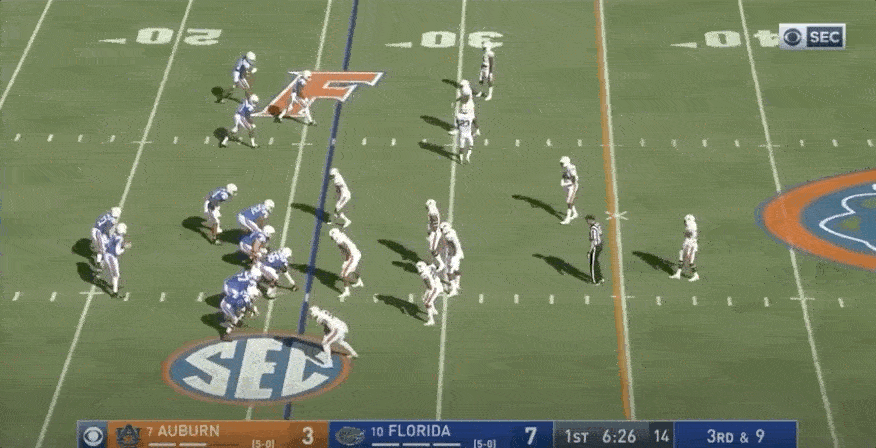 If Auburn had a little more time they might have noticed that the initial formation is illegal because there's only one skill player on the line of scrimmage. They do manage to sort it out okay and get safety Smoke Monday on Pitts when he motions to be the solo side receiver opposite four receivers to the field.
Not ideal though, as you can see from what followed:
This may look like an effective pressure and a rather casual flick of the wrist by Trask that yields nothing, but it in fact yielded a 15-yard DPI penalty and a first down. Smoke Monday was rolled on Saturday.
It wasn't just the passing game that was served by their various deployments of Pitts either. They'd also move him around to create stress on defensive structures that could be exploited by the run game.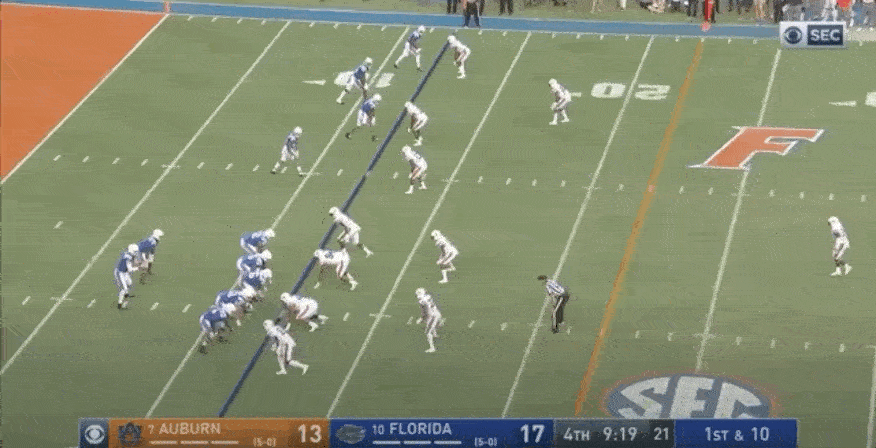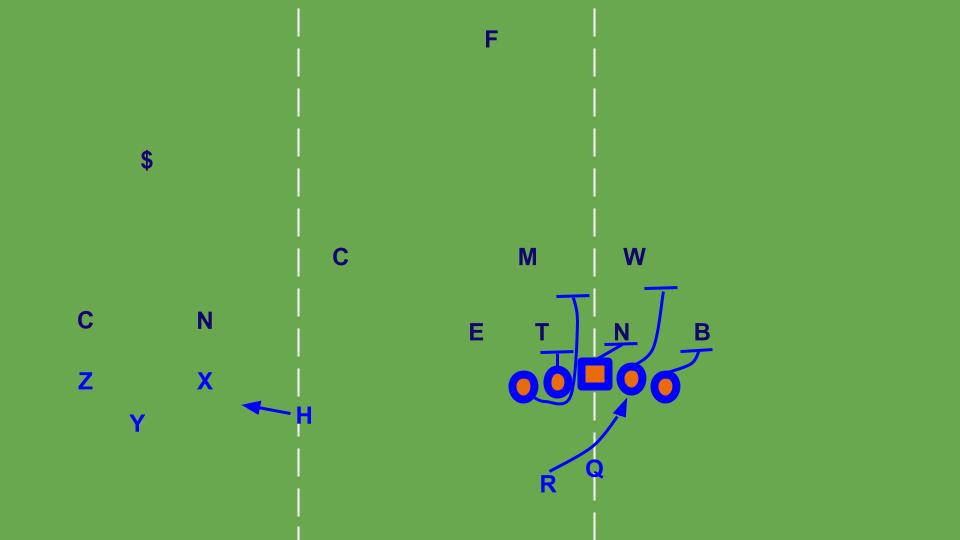 It's a "mid zone" type run, similar to outside zone but the running back is aiming more for the initial C-gap rather than the wide perimeter like on a "wide zone" style of run. Florida leaves the backside defensive end unblocked to "read" even though I doubt Trask was ever pulling that ball unless the end really flew downhill after the back there. And that wasn't going to happen because the defensive tackle was already in the B-gap.
That gives Florida five blockers for five defenders and those blocks go well. The center reaches the nose tackle and that allows the right guard to go find the will linebacker pretty easily. That dude nearly makes a play but can't quite finish…and then Auburn is in serious trouble. The Tigers have the entire secondary committed either to the far side of the field where the tight end and everyone else is flexed wide or to the deep middle. None of those guys are in great shape to make a tackle if they lose in the box.
If you watch Dan Mullen in big games he regularly flexes out his tight ends and running backs in bizarre spots to create major stress on defenses. He destroyed Michigan in a bowl game running Feliepe Franks on some quarterback draws against vacant boxes.
Whereas the Spurier shotgun spread Gators would take advantage of the tight end as an extra blocker that allowed them to buy time for their receivers, the Mullen Gators send that guy out wide as well to create problems with his length and size.
As it happens, Kyle Pitts isn't a terribly effective blocker. He'll probably be better this year than last, but he can get a lot better and still not be great. They could put another tight end on the field to handle more blocking and use 12 personnel but then they'd lose the advantage of being able to flood the field with dangerous skill athletes.
Now that Kyle Trask is at quarterback, it makes more sense to lean into pass-first offensive philosophy and continue to leverage Pitts as a "space force dreadnought" that defenses have to account for in the passing game. A running threat quarterback would also free up Pitts in the blocking game because the Gators could (and will, when Emory Jones is in) option defensive linemen and spare Pitts the onerous duty of blocking them.
What you lose with the pro-spread, pass-first approach is the ability to protect the quarterback easily with the run game and to pick up short-yardage. More on that in our next post.
Replenishing the space force
With Kyle Trask now back as a returning starter, four starters back on the offensive line, and Kyle Pitts back as a junior, the Gators have a ton of infrastructure in place for their offense next season.
Can Stone Forsythe or Jean Delance be NFL-caliber athletes at offensive tackle? Trask had a 5.9% sack rate last season, which isn't great but not calamitous either, and took a few sacks in several big games last season. Marginal improvement here might mean a good enough unit.
The run game will likely involve Emory Jones pretty heavily as needed in key situations, and then backup Dameon Pierce and Miami transfer Lorenzo Lingard should fill that spot out fine. At receiver the Gators still have guys like Trevon Grimes and Jacob Copeland that caught 20 or more balls a year ago along with Kadarius Toney who's 2019 was shortened by injury.
They need a running back who's versatile in the passing game and then for one of their remaining wide receivers to emerge as a go-to guy and they'll be in great shape on offense.
Defensively, space force units are remarkably easy for Florida. In place of the departing 1st round cornerback and departing pass-rushers they'll have a lot of options. On the edge they bring back the 277-pound Zachary Carter, who had 4.5 sacks in spot duty last year as a redshirt freshman, and redshirt senior Jeremiah Moon who had three sacks or Georgia 5-star transfer Brenton Cox who sat out last year after playing some as a freshman for the Dawgs.
In the secondary overall the Gators have something like seven players that have started games for them and several cornerbacks that were blue chip recruits and highly sought after out of South Florida.
In the past it's been defensive infrastructure that has been the problem spot for the Gator defense. They anchored their 2019 unit with West Virginia transfer Adam Shuler and Michigan linebacker (out of HS, not a transfer) David Reese in the middle. But now they have a veteran nose guard in Kyrie Campbell back and add 5-star freshman Gervon Dexter from central Florida.
A Florida team that can hold their own in the box can typically expect to win on the perimeter. All that remains is guaranteeing they can hold their own in the box.