After getting their doors blown off by Ohio State 62-36 in 2018, Jim Harbaugh's Michigan made some big adjustments the following offseason. He hired an up and coming assistant coach from Alabama named Josh Gattis and beat out competitive offers from other schools, including Alabama, by giving him direct control of the Wolverine offense.
Harbaugh has quietly long been familiar with a lot of cutting edge spread tactics. His San Francisco teams utilized pistol/gun-option schemes and incorporated them with Colin Kaepernick in 2012 to reach the Super Bowl where big brother John Harbaugh and the Ravens took him down. Harbaugh also once hosted a joint clinic with Art Briles and interacted with him a lot over a summer in a short-lived news story that has since been memory-holed.
Year one in the new offense didn't go swimmingly for the Wolverines, they had a few hiccups along the way.
Shea Patterson was expected to come alive in the new scheme as a result of Michigan emphasizing something more familiar to what he ran at Ole Miss before transferring. He ended up throwing 381 passes for 3061 yards at 8.0 ypa with 23 touchdowns to eight interceptions. After eventually healing from an oblique injury that hampered him for the first part of the year, Patterson was also able to mix it up in the zone-read game and finished with five rushing touchdowns.
The Wolverines used a running back platoon of Zach Charbonnet and Hassan Haskins and they compiled 270 carries for 1348 yards at about 5.0 ypc with 15 rushing touchdowns. The lead receiver unexpectedly proved to be emergent former 3-star Missourian Ronnie Bell, who had 48 catches for 758 yards and a single touchdown.
That's all solid production, but nothing truly amazing. The Wolverines had to retool their often I-formation or double tight end based approach of previous seasons to emphasize "speed in space" and they struggled to actually use RPOs effectively to get speed into space or clear out the box, mostly because Shea Patterson was (and really always has been) pretty lousy from the pocket.
The team went 9-4 with a blowout loss to Wisconsin, a narrow loss to Penn State, and then another humiliation against Ohio State followed up by an initially solid effort against Alabama in the bowl game that eventually unraveled due to Patterson's crappy play.
From that team, Michigan lost their left tackle, left guard, center, right guard, quarterback, X receiver, and tight end. The four offensive linemen were all drafted, the receiver Donovan Peoples-Jones was drafted, tight end Sean McKeon signed quickly after the draft as an undrafted free agent, and Shea Patterson was signed by the Kansas City Chiefs. It'd be easy to project that Michigan would take a step back in year two, I think the opposite is actually most likely.
The spread offense checklist
As I've been getting better at detailing for the last year, spread proficiency tends to come down to infrastructure and then having an elite "space force." Infrastructure means things like:
-A strong offensive system and program that is well understood, has practiced procedures for attacking different defenses, and can fashion role players in a given year.
-Players that fit in supporting positions to allow the team to make the most of their featured weapons. This is truly an underrated component.
-A quarterback that knows where the ball is supposed to go and can make on time deliveries.
-Competency across the offensive line. It's better to have five guys that work well together and don't have glaring weak spots than to have a couple of aces and then some schmucks.
The "space force" is where elite teams can stand out, these are the guys that take advantage of strong infrastructure and give an offense some teeth. These are all the positions where you can't have a hard-working role player because they're going to need to win matchups in space against other top athletes.
-The left tackle is one, he needs to be able to hold up on the edge against top edge-rushers and wide side blitzes.
-The wide receivers are another. If you have two guys that need special attention from the defense to effectively cover, you're in business.
That's it. A running back who's a major weapon in the passing game is exceedingly valuable, but not necessarily. As long as those guys can chew up yardage against light boxes and run hard between the tackles, you're set. A dominant flex tight end is worth as much or more than a great receiver, but a great receiver will do.
Here's how Michigan stacked up to the checklist for a great offense in 2019:
The receivers were armed but never effectively fired because the launch platform (Patterson) was faulty and the protection was spotty at times and at other times it was fine but Patterson would bail out of the pocket anyways.
But with all of those pieces exiting, how does the unit shake out for 2020?
Michigan's prospective 2020 offense
As I've noted here before, anticipating O-line play with new starters is very difficult. People regularly will ding a team for having low numbers of returning starters and often miss as a result of doing so. Having lots of experienced linemen is good, but sometimes that's not indicative of a healthy program that is churning out well developed and trained players.
If a guy has a gazillion starts under his belt at guard, there's a good chance that's because the team was weak on the line and he had to start early in his career. If a redshirt junior that's finally emerging to take a job hasn't been seen much before, that might simply be because the players developed ahead of him were good and reliable.
On the surface it looks daunting that Michigan is replacing four starters that were all drafted. On the other hand, perhaps the replacements will actually be quite good now that they don't have NFL-bound upperclassmen ahead of them.
As mentioned above there are two dimensions to this. You want five guys that are well developed and trained within your blocking schemes and then you want at least one truly athletic guy on the edge at tackle. The guy who contained Chase Young in 2019 wasn't Runyan but Jalen Mayfield, albeit often with assistance from the backs, tight ends, or guards. Interestingly enough, as of now Mayfield is slotted to return to his position at right tackle rather than sliding over to the left side. Instead that position will be filled by Ryan Hayes, a 6-7, 300 pound converted tight end who had two starts in 2019 when Runyan was injured.
Everyone that figures to play for Michigan on the offensive line in 2020 had a redshirt and a few years with their S&C program and line coach Ed Warriner. A likely lineup is Hayes (4-star) – Karsen Barnhart (4-star RS freshman) – Zach Carpenter (3-star redshirt freshman) – Andrew Stueber (3-star redshirt junior) – Jalen Mayfield (4-star junior).
The particular circumstances of Mayfield remaining on the right side after a strong inaugural season despite being the only returning starter is a good sign that the Wolverines like the athleticism and preparedness of Ryan Hayes.
In terms of ancillaries, things are very interesting here for Michigan in 2019. You could consider them to be worrisome or highly promising depending on your perspective. For the first time that I can recall, Michigan does not have a dual-threat tight end with obvious NFL potential. What they do have is Nick Eubanks, a 6-5, 240 pounder who caught 25 balls for 243 yards and four touchdowns in 2019. Eubanks is a legitimately talented receiving tight end but he's not the blocker that previous Michigan tight ends were and he's not going to fit into the role that RPO/play-action spread teams require of a mobile blocker that broadens the run game arsenal.
Michigan's best running play last year was the pin'n'pull/sweep scheme, which requires that the tight end execute the pin down block that creates space for the pulling guards to lead through. Would Eubanks be reliable here? I dunno, I certainly have some doubts.
On the flip side, the Wolverines also return fullback Ben Mason, a 6-3, 260 pound senior bludgeon. Here's Mason doing work in the bowl game once they finally moved him back to offense after he spent much of the year trying to offer depth at defensive tackle: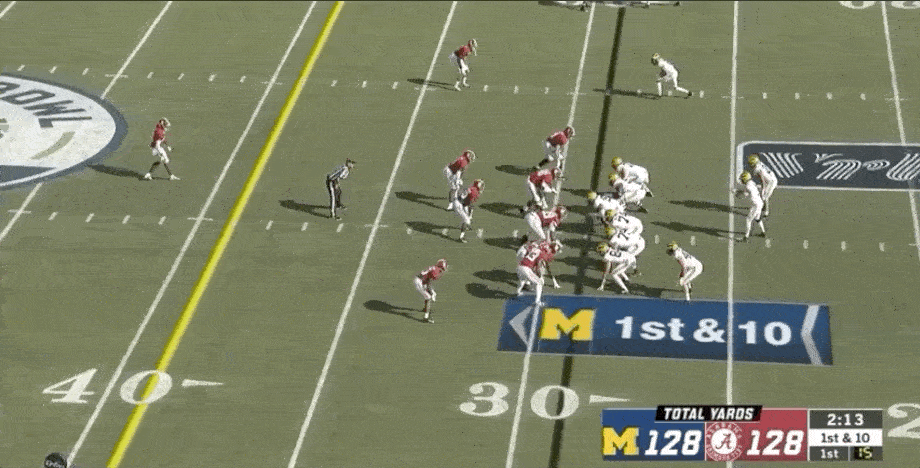 Counter scheme that pulls Mason to lead through the hole where he finds 244 pound freshman linebacker Christian Harris of Alabama and neutralizes him. Watch that full game and you'll find Mason repeatedly clearing out Alabama players of various sizes for the Michigan backs to turn 21 carries into 145 yards. You'll also see Shea Patterson repeatedly missing receivers unless he's throwing on the move.
On the perimeter the Wolverines return their two best receivers, outside target Nico Collins and slot receiver Ronnie Bell. They also have some additional explosive targets rising up the ranks recruited to be "speed in space" such as Giles Jackson and Mike Sainristil.
Quarterback is the big question. There's presumed to be a battle between Dylan McCaffrey and Joe Milton, McCaffrey seemed ahead heading into last season but there haven't been many details. Both of them are very physically gifted with strong, accurate arms and running ability. McCaffrey is built like his dad Ed, speedy but ultra wiry at about 6-5 maybe 220, while Milton is 6-5, 245. Both of them can pull the ball and get to the edge on a zone-read, which makes things extra interesting in terms of their packaging with Eubanks and Mason.
If your tight end is better as a receiver and iffy as a blocker, it's not hard to give him manageable and productive roles in the run game with option plays. Against a team like Ohio State they can run their zone-arc schemes and have him climb up to pick off a linebacker in space.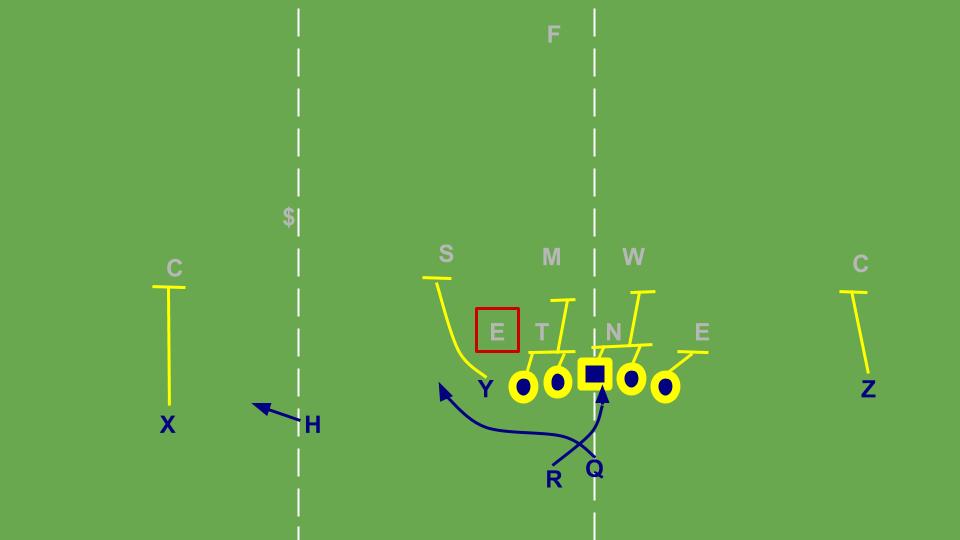 Or they could play with Ben Mason in 20 personnel and use his strength as a blocker to run power RPO schemes.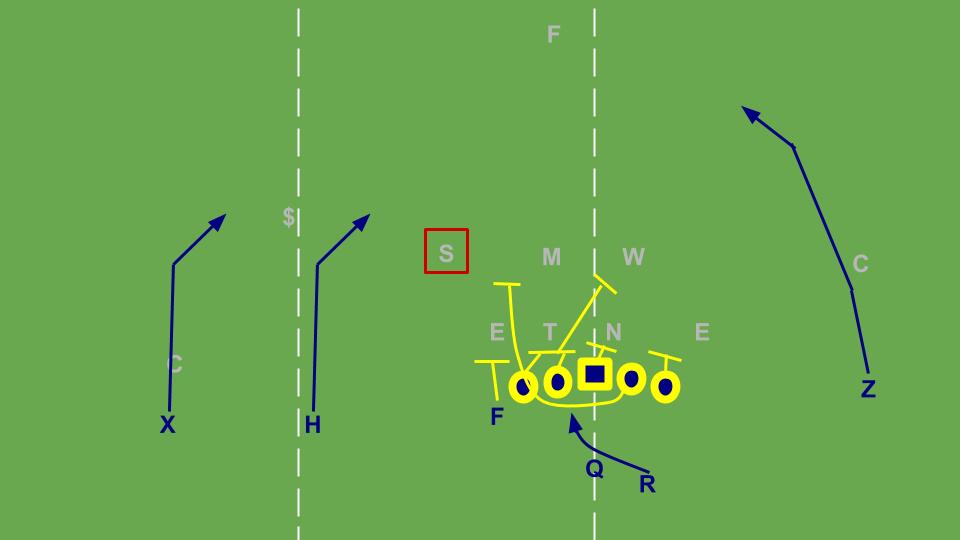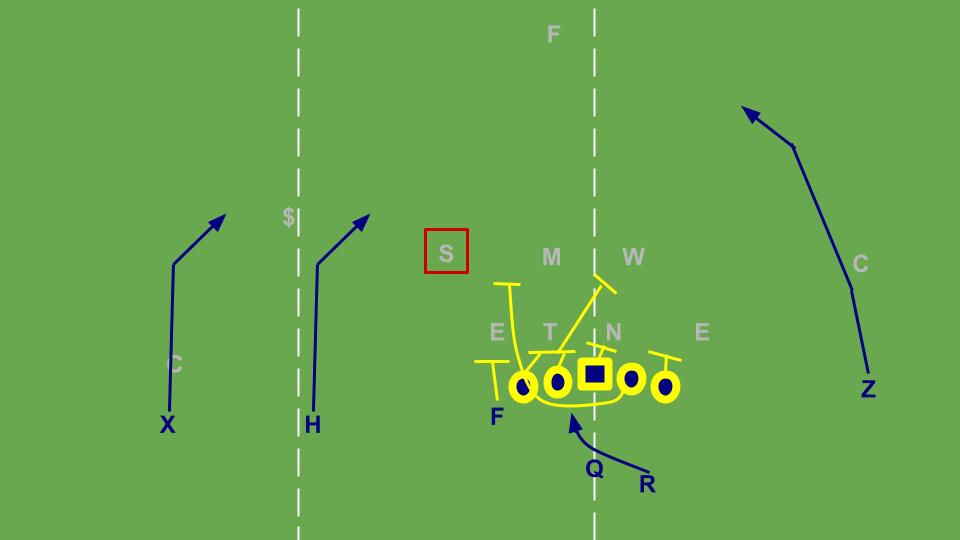 Or of course, they could play in 21 spread personnel and let Eubanks either run routes as an inline or flexed out tight end or go pick off linebackers while Ben Mason takes on the more onerous blocking assignments. That was Oklahoma's play in 2017 and likely what they'll do in 2020 as well with fullbacks like Brayden Willis and then "Y receiver" Austin Stogner who's better as a target than a blocker.
Michigan has the personnel to be one of the better 21 personnel spread teams in the country. Their quarterbacks can execute either the zone-option or the RPO option schemes, their line is big and athletic, and Ben Mason is one of the best blocking ancillaries in the nation while Eubanks has major potential as a big flex tight end. And again, the outside receivers in that scenario Ronnie Bell and Nico Collins are actually two of the better players on the whole team.
The pieces for the 2020 Michigan offense could fit together better than they did in year one of this system. There's more homerun potential at the skill positions, more talented quarterbacks rising up in the ranks, more athletic play on the line, and some real talent in the ancillary spots if they can develop their personnel packages and roles.
Michigan was missing infrastructure in 2019 to execute the RPO spread offense. In 2020 they'll be closer to achieving something solid there, which could reveal that the burgeoning space force in Ann Arbor has more firepower than anticipated.
********
Read more on how modern spread offenses have developed to this point in my book: