There were only three games in the Big 12 this week, but all of them were pretty significant and a couple of them had lines that I thought were pretty silly heading into the week. Oklahoma and Baylor both -11 was a bit much and sure enough, neither covered although both pulled out some wins.
Iowa State blistered West Virginia, which was unsurprising given that the Mountaineers were coming off a home game against Texas where they spent all their shot. Texas Tech took Baylor to overtime at Waco in a closely contest game with multiple officiating snafus, including a missed intentional grounding on Jett Duffey late in the fourth and then a Baylor fumbled snap in overtime.
It probably evened out in the end and Tech should look back to Matt Wells' decision to kick a field goal in the 2nd OT on 4th and 2 rather than running the ball again with SaRodorick Thompson, who'd already taken 28 carries for 153 yards and converted some short-yardage opportunities earlier in the game. Including a 4th-and-2 earlier in overtime and a 3rd-and-1 that sprung free for a 30-yard TD that sent the game into overtime in the first place. Oh yeah, and Baylor's star middle linebacker Clay Johnston had been knocked out of the game earlier.
Oklahoma sacked Sam Ehlinger nine times and out-gained Texas 511 yards to 310 yet only won 34-27 due almost entirely to Longhorn effort and Jalen Hurts miscues. Lincoln Riley's Sooner staff out-coached Tom Herman and the Texas counterparts for the second consecutive game. The rest of the season will be a battle from Austin to get back to the Big 12 title game in hopes of evening this series back out.
Here's some notes from the weekend's action.
Contrar-Ian says the glass is half empty
I was skeptical of the Oklahoma defensive backfield, Jalen Hurts, and Baylor in general coming into a Saturday in which both were favored by 11 points in rivalry(ish) games. Coming away from Saturday, I'm still generally skeptical of all three believe it or not.
The Oklahoma defensive backfield was far and away the best of those three, showing some great awareness of the Texas playbook and showing a few different looks out of a base, press-quarters scheme. The Sooners predictably determined to play a lot of sky coverage to the field with Brendan Radley-Hiles staying on the slot and strong safety Delarrin Turner-Yell playing inside of him while playing mostly "cone" to the boundary with the free safety Patrick Fields sitting on inside post routes from the X before closing on the run.
In other words, two-deep coverages designed to take away easy pass options before closing on the run game. They played it quite well and were helped by strong play up front and also a notably horrible offensive gameplan from the Longhorns.
Jalen Hurts was true to form. Terrific runner, very capable of delivering the ball to his first read, extremely questionable in a hurry if his read is confused and he's contained in the pocket. Lincoln Riley mixed in a variety of sweep motions with CeeDee Lamb and option run schemes to play to Hurts' strengths and he was able to get the job done and really torched Texas on the ground with a few scrambles.
Baylor won a sort of pyrrhic victory over the Red Raiders. The loss of LT Connor Galvin showed up a handful of times, including a fourth quarter sack that nearly buried the Bears. The ugly loss in this game was MLB Clay Johnston injuring his knee again. I broke down the essential role Johnston was going to play this year after Big 12 media days, and shared a quick exchange I had with him in which he expressed excitement about his health and asked for prayer that it would continue.
Currently the Bears still have a winning formula and a situation that has them very firmly in the Big 12 title hunt. It's hard to cover Denzel Mims and Tyquan Thornton and the Bears found some answers in the middle of the field when those two vertical weapons were taken away against Tech, in particular hitting the RBs six times for 85 yards, including a couple of big ones to Trestan Ebner that made the drive which forced overtime.
The defense is also still in okay shape, particularly with James Lynch absolutely dominating up front. The Bears currently have a tie-breaker over Iowa State and they get both Texas and Oklahoma at home later in the season. The worry is the same one I mentioned a week ago. They're bleeding key players to injury and maintaining health and fresh adjustments in the month of November is a challenge that has taken down many a Big 12 title contender. The big one I'm still watching is trigger-man Charlie Brewer, who's been dinged up a couple of times and had 13 rushing attempts and two sacks against the Red Raiders.
The Bears' hope of reaching the B12 title game rest in large part on the OL running the ball more effectively without using Brewer's legs and then also protecting him, particularly if the solution for bracket coverage on Thornton and Mims is going to be slower-developing routes to the RBs.
QB health is also something to watch for Oklahoma. Jalen Hurts is up to 74 carries so far, which he's translated into 630 yards at 8.5 ypc and eight touchdowns. The Sooners' collection of POP passes and various play-action schemes had Texas playing a lot of match coverage that took the LBs away from the box and turned their backs some to the ball, the overall need to keep up with all of OU's weapons tends to generate a lot of scrambling opportunities for their QB, who has as much running ability as most any RB.
Hurts is probably up for this, he's about 220 and extremely strong in the lower body. His freshman year at Alabama he had 191 carries over 15 games, but it's still something to keep an eye on.
Contrar-Ian says that glass is half empty too
For the second consecutive contest, the Texas defense was unable to take away the strength of the Oklahoma offense AND the Texas offense was out game-planned by the Sooner defensive staff.
Ruffin McNeil made some big changes for the Sooners heading into the Big 12 title game last year and played a 4-3 with Caleb Kelly and FS Robert Barnes alternating between serving as an extra man in the box to handle Texas' two-back run game from 11 personnel while moving cornerback Tre Norwood to SS in order to keep a good coverage bracket over Lil'Jordan Humphrey. Texas took a half to adjust and weren't able to score enough to follow the formula of winning via shootout.
This year, Texas had a lot more RPOs worked into the two-back offensive mix that could ostensibly serve to punish a similar approach by the Sooners. The Sooners did indeed follow a similar formula but with a better front, nickel personnel rather than 4-3, and a really good pressure package utilizing improved speed across the DL and Kenneth Murray. Texas eschewed many of the main, base RPOs and calls and totally abandoned the empty passing game that had been torching opponents all year in order to trot out a transparent 21 personnel look that put Devin Duvernay in the backfield only to regularly swing him back out to the perimeter.
It very much looked like Lincoln Riley had worked his way into Tom Herman's head and the game shouldn't have even been as close as the final score save for Jalen Hurts' poor ball security contrasted with Sam Ehlinger's typical refusal to surrender the football. But as bad as that was, there are plenty of adjustments there to be made for the Longhorn offense, such as sticking with the base system.
The bigger concern was the Mike Stoopsian results produced by defensive coordinator Todd Orlando, who's been doubling down on bad tendencies for about two seasons now. His Longhorn defenses stand in stark contrast to the Alex Grinch Oklahoma unit that regularly has good gameplans that play to his teams' strengths and allow them to attack opposing weaknesses from a base look that sees minor modifications from week to week. Texas has run what has basically amounted to six different defenses in six games while demonstrating poor tackling technique. It's not a lack of physicality but almost the opposite extreme, players regularly ducking their heads to try and land kill shots that have often had the effect of leading to a failure to break down and get ballcarriers down OR the injury of the defensive back.
Eight different Texas DBs have been injured to some degree or another so far this year, including a few of their best starters lost for an extended period of time.
Assuming they can rebound on offense and finish in the top two of the Big 12 (pretty likely), Texas still has systemic problems on defense that can't be truly solved until the offseason.
Who won week 7 in the Big 12?
Alex Grinch is the big winner. He's now made it through three games without experiencing the "Air Raid baptism" in which an attempt to play defense by non-Big 12 rules gets a new DC absolutely murdered by a Big 12 offense. Perhaps he received the baptism enough in spring and fall camp from Riley that he was able to emerge from the waters cleansed.
I think it's probably still coming though, it always comes, but it didn't come against Texas in the Cotton Bowl and that's a huge win.
Grinch is running your best practice, 4-2-5 quarters schemes from nickel and he's been working to get the most out of his personnel this year. They're using the 5-1 front not only as a way to overwhelm lesser fronts in the run game as they did prior to the Texas game but also to bolster their pass rush, which clobbered the Longhorns.
Here's an example from Texas' first drive of the second half before they finally got rolling: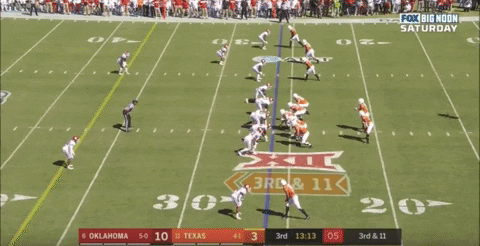 The key to this look is that all five OL are covered up at the snap, so the twists and stunts they use to free up Kenneth Murray are difficult to pick up because he's the secondary concern of whichever OL he ends up attacking while hunting for space over the middle.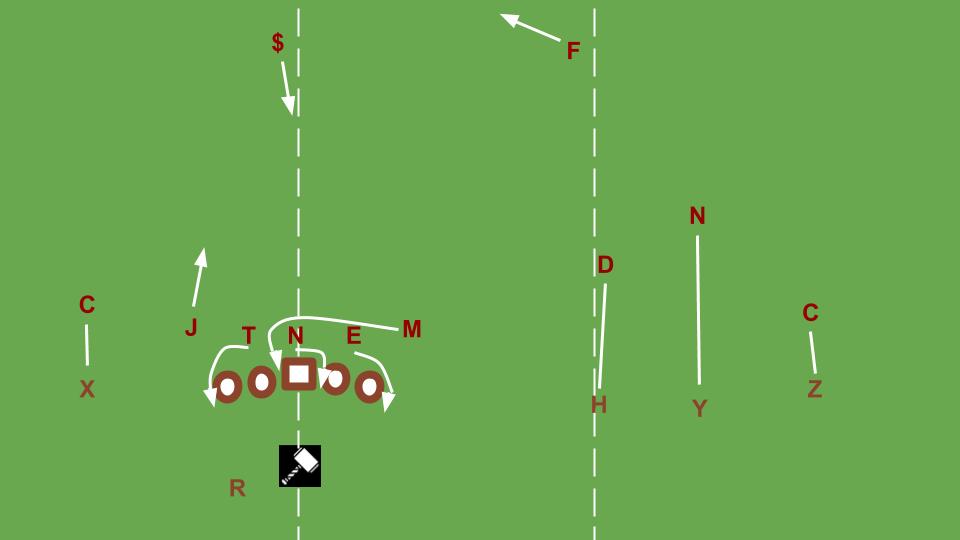 It's not "rocket surgery" or anything terribly complicated, it's just a simple scheme that helps put playmakers in position to make plays. The left guard trades the tackle to the left tackle and then puts his eyes on the jack linebacker. The center focuses first on successfully passing nose tackle Neville Gallimore to the right guard, and Gallimore had been giving them trouble. No one picks up Kenneth Murray long-sticking from the opposite edge until it's late and the RB struggles to do so as well. It was a tough game from Texas' RBs in terms of pass protection.
When Ehlinger is completing his drop he's seeing Murray coming free so it was also successful in generating the pressure you need to help the man-1 blitz structure behind it hold up. The Sooners were also in dime, trading out the weakside LB for Jaden Davis.
Grinch is basing out of a normal, 4-2-5 press quarters scheme with a few handy blitzes and then some fronts designed to make the most of OU's superior athleticism at nose, mike LB, and then DEs like Ronnie Perkins and Jalen Redmond. Texas didn't handle the front well and weren't able to attack the back end, often coming within inches only to see receivers like Brennan Eagles and Jake Smith (also Collin Johnson in one spot) drop deep shots that could have undone the structure of the defense.
Grinch will have a few more challenges this year. If Oklahoma State can get their act together on offense they have some weapons that could isolate and attack weak spots in a defense that's been very good at avoiding exactly that. Baylor and Iowa State also have enough optionality in their offense to try and arrive at that outcome and Texas will presumably give a better effort if there's a rematch, but for now Grinch continues to make the most of the hand he's been dealt.
********
Read about some of the other coaching battles between Oklahoma and Texas over the 21st century in my book: