Of course the Baylor staff is as well aware of the 2018 defense's shortcomings as anyone in the media and understand that there's an opportunity with the 2019 schedule to make another leap as a program if they can solve some of their problems from a year ago.
The Bears play seven home games in 2019 and have some gimmes with SFA, UTSA, @Rice, and then @Kansas to close the year and potentially lock up bowl eligibility if it's still in question. To reach bowl eligibility they need to find two wins from Iowa St, @K-State, TTech, @Ok St, WVU, @TCU, OU, and Texas. The road trip to K-State and home date with West Virginia stand out as some very good opportunities to pick up wins five and six, then you're talking about a big road win, or even better, a home win against one or more of the three teams picked atop the league to get to >6 wins on the year.
To be 7-5 with a win over Oklahoma or Texas, or honestly even a road win over OSU or TCU if those programs have good years, would be a non-trivial improvement over 2018. Obviously there's even more possible as well if the Bears can just play some defense. Giving up fewer big plays would be a useful first step that could potentially be the difference between another 5-7 win season and an 8-9 win breakthrough.
Rhule has a plan to achieve that that I discussed with him and Clay Johnston at Big 12 media days. Let's start with the head honcho:
Matt Rhule
Ian Boyd
Coach you mentioned in the presser using more 3-down this season, in this league that can mean a lot of things. That can mean, you know, the weak side end is standing up and you're still playing over or under, or it can mean something modern/hybrid like Iowa State or Texas do. For you guys, I don't know how much you want to divulge…
Matt Rhule
No, yeah, I don't care about that (divulging), we've, you know we've always, I mean I played, when Lincoln Riley was at East Carolina, when Justin Fuente was at Memphis, we ran (our defense) out of a 3-2-6 dime stuff a lot so it's always been that we're a 4-down team that's mixed in that 3-2 or 3-3 nickel stuff, I just think after going through the conference last year when we went back and watched our cut-ups, and when we were in that 3-down stuff, um, Clay Johnston had elite games, we eliminated the explosive plays, we had a little more speed on the field so we've just kinda flipped it. We're still going to do both but instead of being based out of the 4-3 and mixing in some 3-down stuff, I just think that Phil has said, let's base out of the 3-down and then we always have the ability to put the 4th rusher in and get after the QB so. Just a philosophical approach not to anything other than who we have. We've got a bunch of really fast guys that we want to get on the field.
Alright let's pause that conversation for a moment and talk personnel and formations. As Rhule noted here, the Bears have always had a 3-3 or 3-2 package in the playbook. The way they've tended to play it is by replacing a DT with a safety. In that case, you could be looking at having Christian Morgan on the field and then either Bravvion Roy or the weaker of the two DEs relegated to the bench. I think ideally, and certainly in 2018, the nose would be manned by James Lynch.
Ian:
Does that mean also flipping? Like…last year y'all played a lot of Tampa 2, sometimes Clay is dropping back and then he's getting caught in the run…does that mean flipping that where maybe a safety is the middle defender…
Narrator pause: Talking this…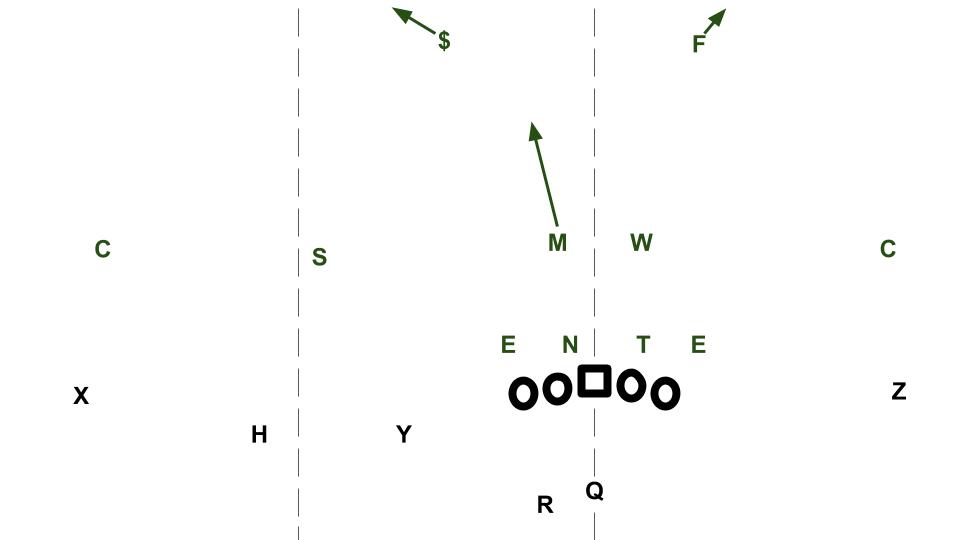 vs this…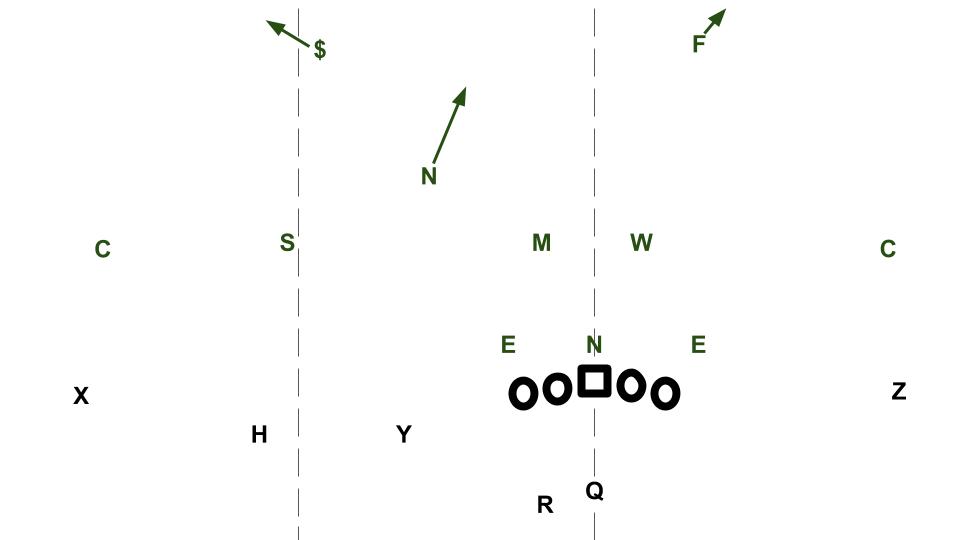 Rhule:
Yes, safety will be a middle defender and Clay…I don't think we're as much a Tampa 2 team as we have been, we'll probably be much more of the kinda hybrid dime stuff.
Ian:
Like Iowa State where the middle dropper starts deep and then…
Rhule:
I'm probably not going to give that much detail (chuckling) you know what I'm saying? But things of that nature, like you know, it's what West Virginia does it's what Iowa State does, we've done it but we've done it probably 30% of the time and now saying hey let's get up to like 60% and just try to get more speed on the field. And if we can hold up in the run game with the big guys, if not, we'll put a 4th down lineman in to play.
So, it would seem Baylor wants to play with personnel that is either 3-3-5 or 3-2-6 depending on how you want to define the 6-3/220 pound Blake Lynch who's a S/LB hybrid at the sam position. For further details on this new development, let's talk to Clay Johnston:
Clay Johnston
Clay Johnston:
(turns to me) Wassup bro?
Ian Boyd:
In high school you ran one of the best shuttles at the SPARQ event…
Clay Johnston:
Oh shoot that's way back, man!
Ian Boyd:
We wanted, I cover Texas, and we were writing like the Texas staff needed to…
Clay Johnston:
look at this guy?
Ian Boyd:
…look at this guy and then…
Clay Johnston:
I remember getting recruited by Texas.
Ian Boyd:
(smiling and pausing)…well…why'd you end up at Baylor? (laughing)
Clay Johnston:
(also chuckling) Well I grew up near Waco and I love the waco area, my family moved here and I just wanted to be closer to them.
Narrator pause: Not to take away from Clay's answer here but I'm pretty sure the Texas staff failed to prioritize Johnston in that recruiting cycle. He was a 6-2 or so and 195 pound dude that ran a 4.07 shuttle and was obviously the kind of laterally quick project that everyone should be targeting at LB. He didn't have a reported Texas offer and the Longhorns instead signed Malik Jefferson, Anthony Wheeler, Cameron Townsend, and Cecil Cherry. Only one of those guys proved a better B12 LB than Malik and even that could be overturned by this coming year.
Ian Boyd:
They coulda used you some of those last couple of years. Baylor though, you're, well I don't want to misspeak, early on you were playing jack outside linebacker…
Narrator pause, read up on that here.
Clay Johnston:
Yeah it was weird, bruh.
Ian Boyd:
It was working, it seemed like.
Clay Johnston:
Yeah…it was unique, I'll say I didn't know defense until Coach Rhule was here. And now I started learning true defense and what it is to play actual defense and like, defensive vernacular so to speak. The language they use, and so it's freaking awesome.
Ian Boyd:
Was that way simpler back then under Bennett?
Clay Johnston:
Yeah, I mean, seriously I didn't know anything about defense back then. And just having Coach (indiscernible) and Coach Snow implement the knowledge they know and pour it out into me, it's such a blessing. I love it and I'm so thankful.
Ian Boyd:
Are you feeling comfortable now at middle linebacker for this coming season?
Clay Johnston:
Oh yeah I feel healthier than I ever have in my life, I've never, I remember playing Texas and was really banged up. And, shoot man..
Ian Boyd:
I remember you had to sit out a couple of plays…
Clay Johnston:
Yeah, and my knee, throughout the season…I hurt my knee in fall training camp but right now, I feel like my freshman year. I feel healthier than ever.
Ian Boyd:
How much, you mentioned the 3-4 defense, how much does that change your role even in the same position at inside linebacker?
Clay Johnston:
It puts more stress on linebackers, because a lot of linebackers have to two-gap areas, they have to handle two-gaps. But we have the senior group of linebackers that can handle that and so, you got Blake Lynch, you got me, Terrell, guys like Pitre that are going to help us catapult into the season. And so if you have guys that can handle that, we'll be solid.
Ian Boyd:
Thanks Clay, good luck this year, hope you stay healthy.
Clay Johnston:
Hey man appreciate that, hey say a prayer for me.
Ian Boyd:
Will do.
Alright, let's talk about two-gapping linebackers, shall we? I've been watching some cut-ups of their 3-down defense they played last season to get a good idea of what Johnston was talking about here.
The key seems to be that the preferred 3-down system that Rhule and Snow play leaves two bubbles up front over either guard.
The ILBs in particular have the tough job. The DEs play by 4-3 DE rules and the nose in these clips I saw got to lag into the backside A-gap and try to close both of those gaps or else tie up the center and backside guard to help the backside linebacker. The play side linebacker has it really tough, he has to try and fit the gap the RB's trajectory seems to most threaten while a guard gets a free run at him.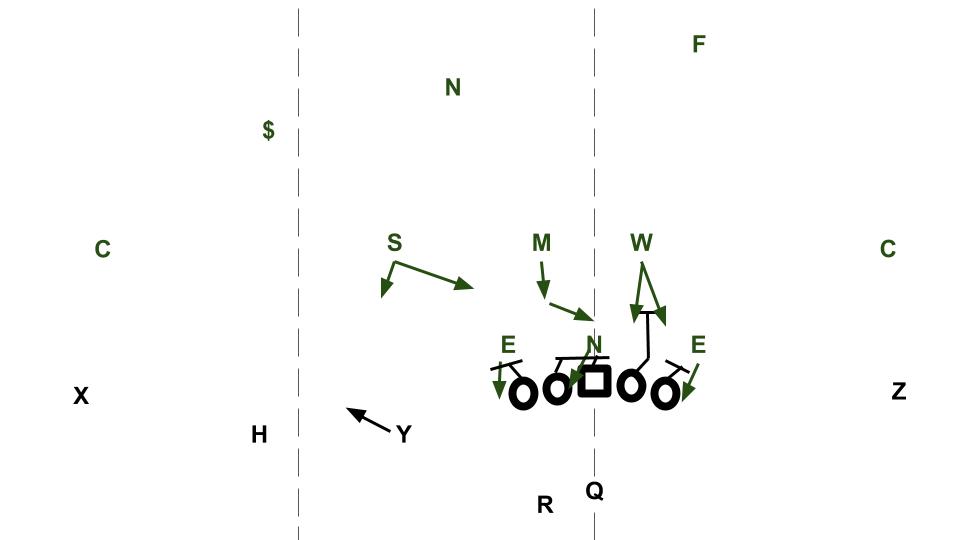 As Clay noted to another reporter, "it's very much a live another day defense," meaning that inside runs will often tend to pick up easy 3-5 yard gains on occasions when Lynch doesn't blow up the play or a LB doesn't make a good read and knife through with quickness to make a stop.
In the past, Rhule has also been prone to using two other tricks to prevent these apparent gaping holes from becoming a problem. One is to show a prevent defense and then sneak eight into the box late so that guys shoot through free and make the tackle before any damage can be done. The other trick, in the same vein, is to show that eight man front to discourage a run before dropping everyone late into coverage.
This has always been the year when Baylor expected to have the kind of inside backer play they'd need to make the defense really hum, although last year they didn't have the play at safety to make their defense into much of anything at all. With Terrell Bernard and Clay Johnston back inside and star DL Lynch moving to nose tackle, it looks like they're going to lean on them to do all the heavy lifting for this defense in order to allow them to feature speed everywhere else to outnumber offenses and take away space.
Here's my hang-up though, I'm all in on the strategy of playing dime defense and using disguise and some major bend don't break looks to force teams to beat you slowly but surely in the trenches, where you then aim to field some legitimately great players. That's the way to focus the game back into the trenches where a team that prides itself on building big, tough, physical players can expect to win and also where you can avoid getting gashed for huge plays by spread passing attacks.
However, I don't know if Baylor's preferred 3-down fronts set up their NT and MLB to dominate the box. These are tough techniques to play and don't necessarily play to the advantage of personnel that are better known for their explosiveness than their sheer strength. Here's how it can look when things go wrong:
The nose doesn't hold a double team and the play side LB is swallowed by the uncovered guard. Cue the fight song.
If, alternatively, the Bears utilize more 4i-techniques so that the LBs "two-gapping" consists of filling a single gap downhill on inside runs and a single gap on the perimeter against outside runs…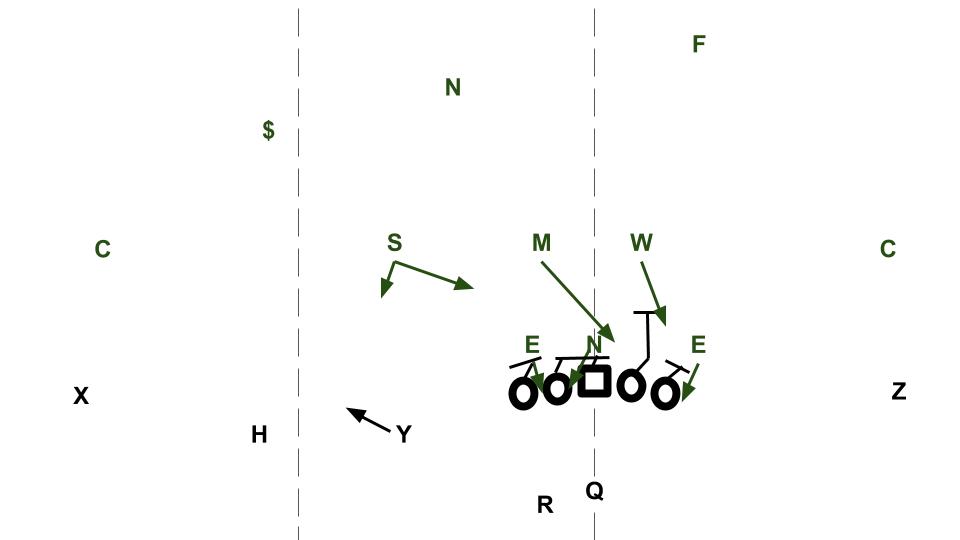 …or if they otherwise mix in a DT playing a 4i or a "heavy" 5-technique to try and close gaps and help their ILBs out, perhaps this can work out okay. I'm just parsing Clay's comments and looking at previous years' film for clues on what they have in mind, but this is an extensive package that will probably be even bigger now that it's the base defense.
Ultimately, Baylor is clearly all in on using a 3-down dime structure to erase space, prevent big plays, and put the game into the hands of their best players (Lynch, Johnston, other Lynch) and that's the best way to do it. If it works…Baylor breaks through again with further improvement and then Rhule will have additional leverage to either secure an NFL job and hand off a well stocked Baylor team to his successor or stick around for a chance at a major breakthrough with a senior Charlie Brewer and fourth-year roster.