Greatest college offense of all time?
There's no question that that was literally the hardest offense to defend that we've ever seen. The way their passing game attacked the full field while giving Joe Burrow options and answers to most any problem the defense could present made it the most complete and fully modernized system we've seen yet at the college level.
The 2019 LSU Tigers also likely beat any other champion you can name from history. There's no other team that could prevent them from forcing the game to be determined on the perimeter and then once there, Burrow throwing to J'Marr Chase and Justin Jefferson vs your defense while your passing game tries to keep up working against Derek Stingley, Grant Delpit, and K'Lavon Chaisson is a losing proposition. You're not going to be able to settle the game in the trenches and you aren't going to come out ahead in space.
For the last five years, Dabo Swinney has gone 69-5 with five ACC championships and two National Championships because the SC Tigers were relying on the same strategy.
"We're going to field the best skill athletes in this game and we're going to utilize strategies that force you to beat us in space."
They were the first to win the race to develop a "Space Force" that was designed to settle contests out in space that could then establish supremacy on any other field of battle. That was the strategy for Dabo's Tigers. Alabama couldn't handle it and now LSU, forever home to as many or more NFL WRs and DBs than any other school in the nation, has adapted it as well and the Tide had to bow out of the playoff picture.
From now on every blue blood program is going to need to work to catch up and develop their own "Space Force" or they risk being left behind in the modern game. Here's how the LA Tigers dethroned Dabo's champs and established space supremacy.
Brent Venables' MAD defense
The most devastating weaponry in LSU's "Space Force" is their precision strike capacity that I detailed in one of my previews. The LA Tigers have a real knack for using tempo and 11 personnel to get into wide open spread sets that put their best vertical threat receivers in the slot where they can run fade routes into open grass. It's a brutally effective strategy because the defender can't jam the receiver out of bounds and constrict his space, there's just way too much of it.
My suspicion was that Venables would reveal he had lifted Iowa State's inverted Tampa 2 coverage to allow his safeties to sit on those routes from the hash marks and force LSU to work their way down the field in the run game and throwing their underneath option routes.
Instead, Venables downsized even further, playing a 3-1-7 package that doesn't even have a universally accepted name like nickel or dime. I've heard penny, quarter, dollar, etc. In keeping with our theme today, we'll call it MAD (mutually assured destruction) since the goal was to attack Burrow mentally and physically with disguise and pressure.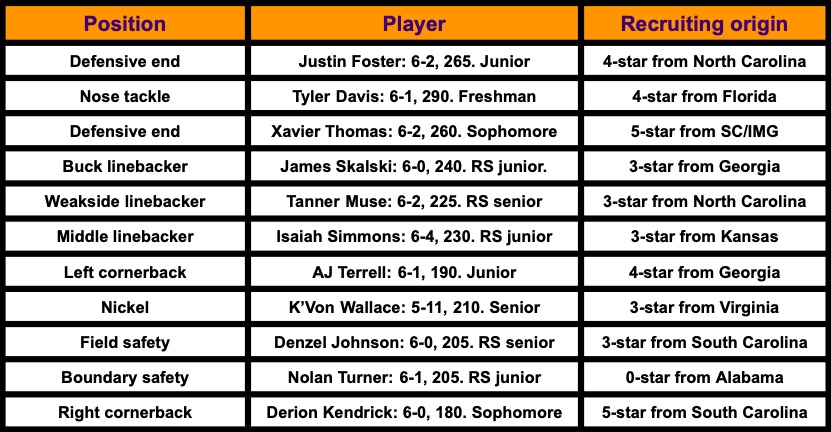 The interesting thing about the package for the SC Tigers is that Isaiah Simmons and Tanner Muse are both as big as linebackers, so this really doesn't look like a wild sub-package when you put it in table form. James Skalski lined up as a sort of inside linebacker but like the Auburn guys he was stunting or blitzing on nearly every snap and becoming a de-facto DL. Tanner Muse handled the weakside coverage assignments and Isaiah Simmons handled the strong side, when they weren't also blitzing.
That put Venables' Tigers in great shape to match up and cover LSU's various underneath option routes and they'd obviously put a lot of work into recognizing the LSU schemes and positioning themselves to jump routes. I think landing a few picks on those was an essential key to their gameplan. Two things went wrong though, one was losing Skalski to a targeting penalty. They lose even if he stays in the game and were losing by a margin their offense wouldn't overcome regardless, but evidently their back-up at that position was Jake Venables and he couldn't fight through LSU's OL like Skalski.
The other big problem came from their attempts to defend LSU's vertical passing game, especially the precision strike slot fades. Here was the first big punch landed by the LA Tigers on Clemson's aggressive gameplan.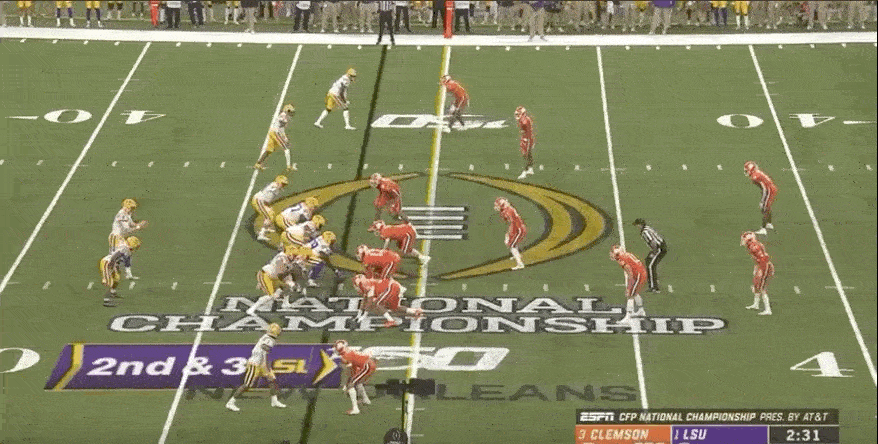 The SC Tigers are playing their "bracket" quarters coverage, in which the safeties sit on the hash marks and help on in-breaking routes or the run fit. The problem with this coverage is that it doesn't give any help to the cornerbacks down the sidelines and the Clemson CBs couldn't keep up with J'Marr Chase.
Here are a couple of slot fades, the second of which is the same play that they used to bust Oklahoma with: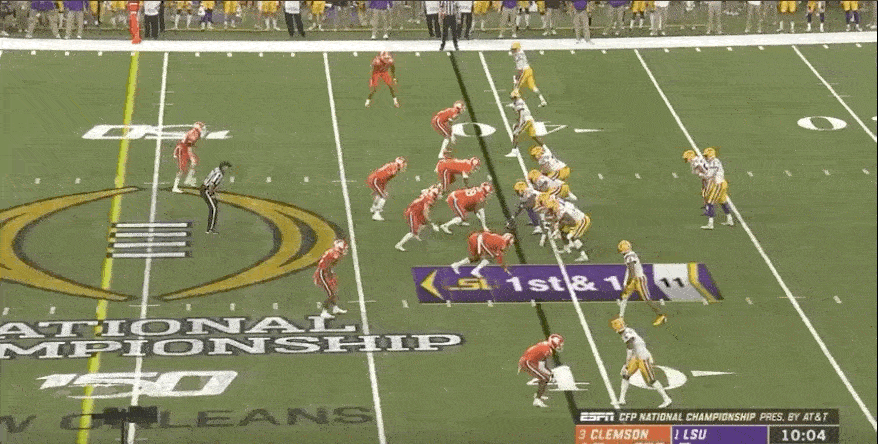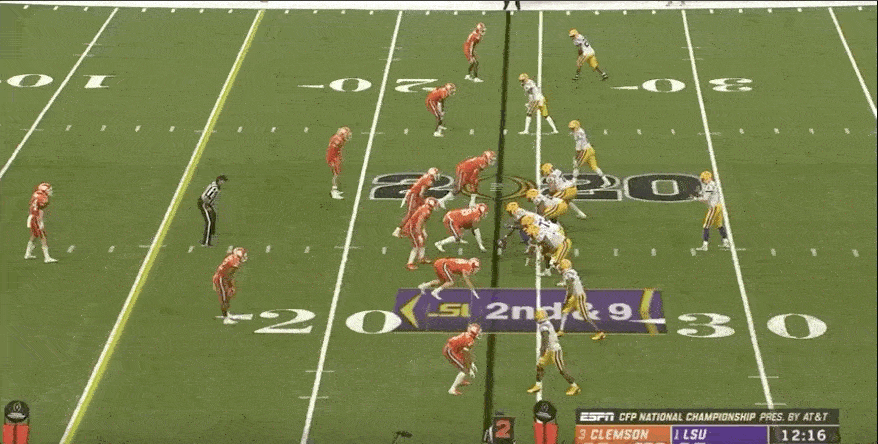 In both instances the LA Tigers bumped a RB or TE outside so that the vertical threat outside WR would be running a slot fade with tons of open grass towards the sideline. Clemson's solution to these wasn't to get a safety over the top but instead to rely on the fact that if they bumped out the guys matched up on TEs and RBs they were still just flexing out DBs.
"You want to flex out your RB into space? That's fine, we've got a safety on him anyways, our CB will slide inside and stay on your WR."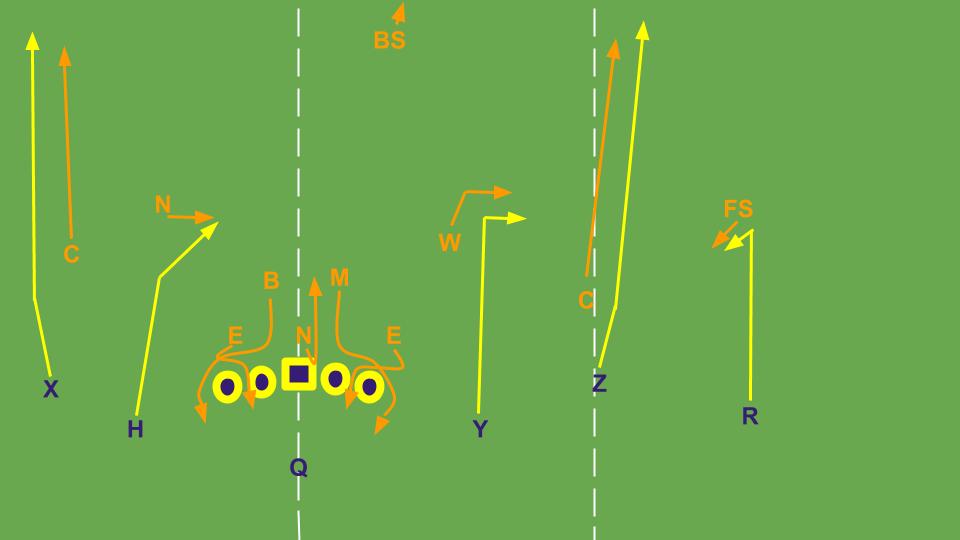 They've got Wallace on Jefferson to the left, the CBs on Chase and Marshall, Tanner Muse on the TE, Denzel Johnson on the RB, Isaiah Simmons and James Skalski blitzing, the nose tackling dropping to spy Burrow, and Nolan Turner over the top. Pretty good setup, except the Clemson CBs couldn't cover these guys 1-on-1 in isolation on those routes with Joe Burrow throwing the football and Turner couldn't reach them from the middle of the field.
They hit J'Marr Chase on fade routes for TD strikes of 52 and 14 yards and then that slot fade for a 56-yard gain that put them in 1st and goal at the three (they'd convert with a QB draw). That slot fade to Terrace Marshall diagrammed here added another 24 yards and a TD.
Four plays, 146 yards, and essentially four touchdowns. On the day, Chase had nine catches for 221 yards and two touchdowns. LSU won by 17 points.
Clemson needed to deny those passes to have a chance in this game unless they were going to keep pace with their own offense. They couldn't keep pace because (underrated storyline) Derek Stingley completely shut down the right side of the field for LSU. There was a skill talent gap…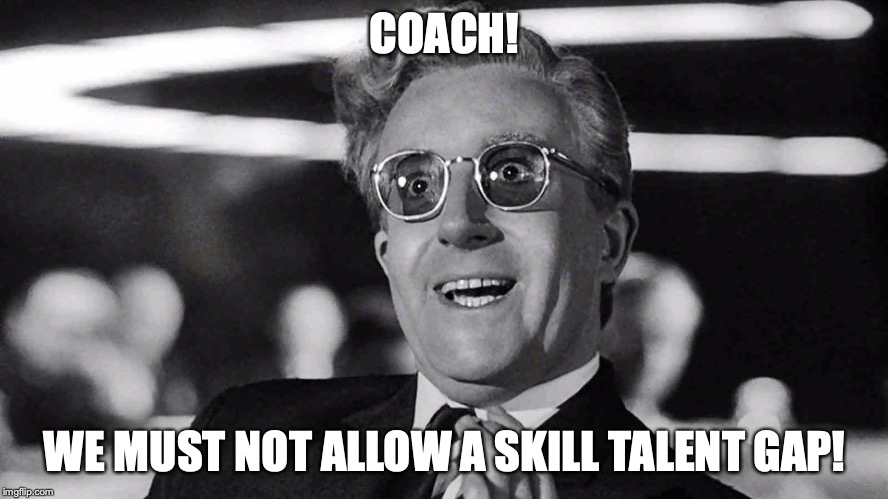 Space supremacy established.
What are our takeaways?
A common takeaway is going to be that Clemson did all the right things and were simply defeated by a historic team. That's the wrong takeaway.
Clemson played a sub-package to match up as best they could, they brought some diverse pressures, and they got five sacks on Burrow and maybe even broke a rib. By normal metrics, that's winning football.
Texas had a similar story to tell after playing a 3-2-6 and bringing some nasty zone-blitzes all night only to be taken down for similar reasons plus an inability of their ILBs they didn't sub out to cover the middle of the field. Auburn also originated the 3-1-7 approach and did the best job of the three but were similarly taken down while giving up some outside throws to Chase and Marshall. Essentially every team matched the Texas strategy except they kept downsizing their personnel to avoid getting torched underneath.
What'd they all get wrong?
All of them tried to use sub-packages to allow them to attack LSU in the box. Most of these great defensive coordinators fashion themselves as offensive coordinators that happen to be on the other side of the ball. Read the commentary on these guys or their quotes and it's filled with maxims like "solve your problems with aggression." That's what gets people fired up as well, emulating the style of taking it to the offense and not allowing them to dictate the terms.
That's the MAD defense, designed to either get beat quickly over the top or to land crushing shots on the QB and turnovers that put you ahead in a shootout.
Well, Clemson gave up 628 yards and in a sub-package designed to force LSU to run the ball surrendered 31-49 passing for 463 yards at 9.4 ypa with five TD passes and zero INT. They pressured Burrow, pressured the underneath routes, and got beat over the top without securing an INT or managing to get key stops.
Defensive philosophy needs to adapt to the next level and adapt a "Strategic Defensive Initiative."
Teams need a truly a defensive mindset, "how do we stop the quick strike plays?" so that we don't run the risk of getting blown to smithereens? DCs need to give up on beating the offense before it can start with their blitz packages and figure out how to bracket or deny the top receivers and route combos before worrying about getting pressure or stopping the run game.
If your offense is designed to drop precision guided bombs on vulnerable targets in space while your defense is designed to stop the opponent from doing the same, you win.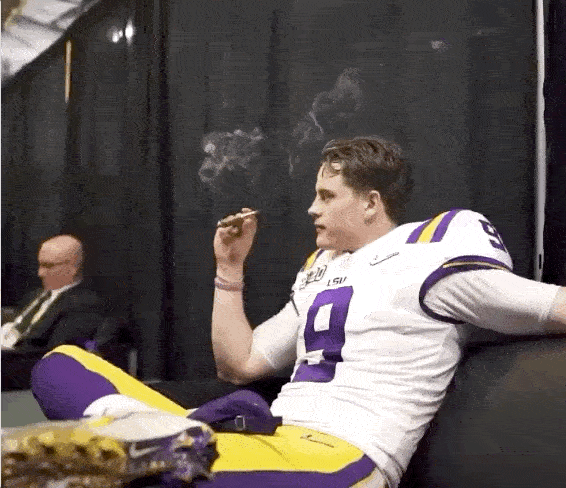 ********
How did we get here? When did the flip switch and offenses start building pass-first systems that could torch even the most cutting edge defenses? Well, it was your classic "gradual and then all at once" process and I describe much of it in my book:
There are an awful lot of parallels between the 2019 LSU Tigers and the 2000 Oklahoma Sooners who appear in an early chapter. The Sooners were in year two with the Air Raid, which Bob Stoops hired Mike Leach to install, and they too had a transfer QB (Josh Heupel) who was in year two running the system.
The adjustable vertical routes in the Air Raid completely devastated the speedy but pressure-oriented defense that teams like Nebraska and Texas employed and the Sooners ripped off a 13-0 season that included top 25 wins over Texas, K-State, Nebraska, Texas A&M, and K-State again before concluding with a 13-2 victory over Chris Weinke and Florida State.
Read about it in the book and understand how college football arrived at this point because this wasn't a one-off and things won't go back to normal now that Burrow is off to the NFL. Build your space force or get nuked into oblivion.