I've been trying to find the right words and analogies recently in order to explain why it is that I'm so confident in the emergent supremacy of spread passing offense, particularly pro-style spread passing.
The Big 12 and Flyover Football is often dominated more by smashmouth spread systems that emphasize the run game in order to create opportunities to throw adjustable vertical routes off play-action.
LSU's approach was more pro-style and one comparable approach to their system was one that comes up in my book…
…with a team that narrowly missed managing to break through the glass ceiling for spread passing teams, the 2008 and 2009 Colt McCoy Texas Longhorns.
The McCoy Longhorns had a few concepts but the main component to their offense was the Y-stick concept, usually run from four-wide but occasionally applied from empty formations to attack opponents. They beat the Buckeyes with it in the 2009 Fiesta Bowl…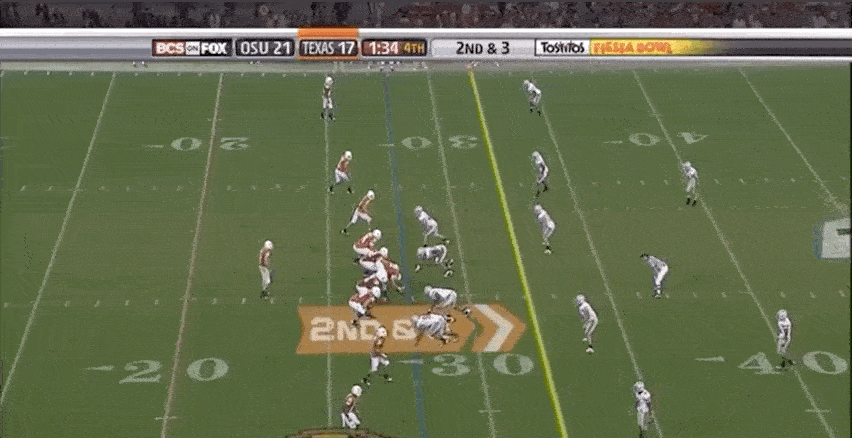 …and ultimately overcame Oklahoma, Nebraska, and nearly Alabama with it as well.
The Y-stick combination includes a fade, a flat route, and then the stick route by the innermost receiver that is essentially an option route but is typically a quick hitch or out. On the backside they had a few different combinations but to overcome Ohio State (and OU the following year) they would line up one of their best guys in the boundary slot so he could run a slop (slant-option) isolated against the weakside linebacker.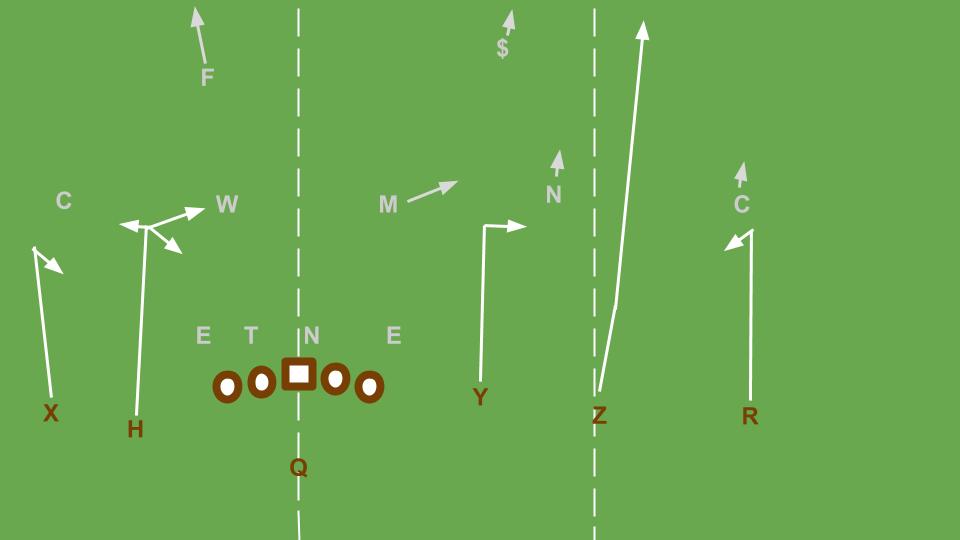 Texas threw that "slop" a couple of times to Quan Cosby on the game-winning drive, including on the final play when Ohio State brought a zero blitz. Colt threw the quick slant, the free safety came down on Quan and missed the tackle, and Cosby housed it for the game-winning TD.
I wonder if the slot fade on this illustration would have been open though. After all, does this concept by Texas look familiar at all? Here's some help…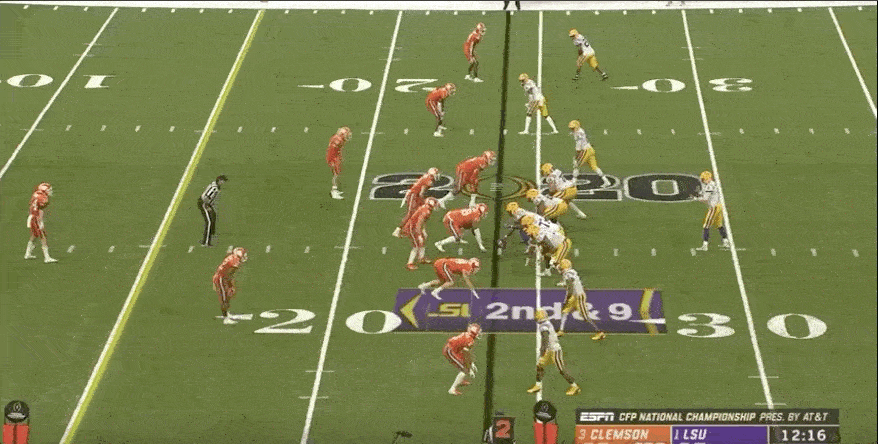 This is the Sean Payton version of stick-slop, which is similar to how Greg Davis ran it at Texas and was brought to LSU this season by Joe Brady.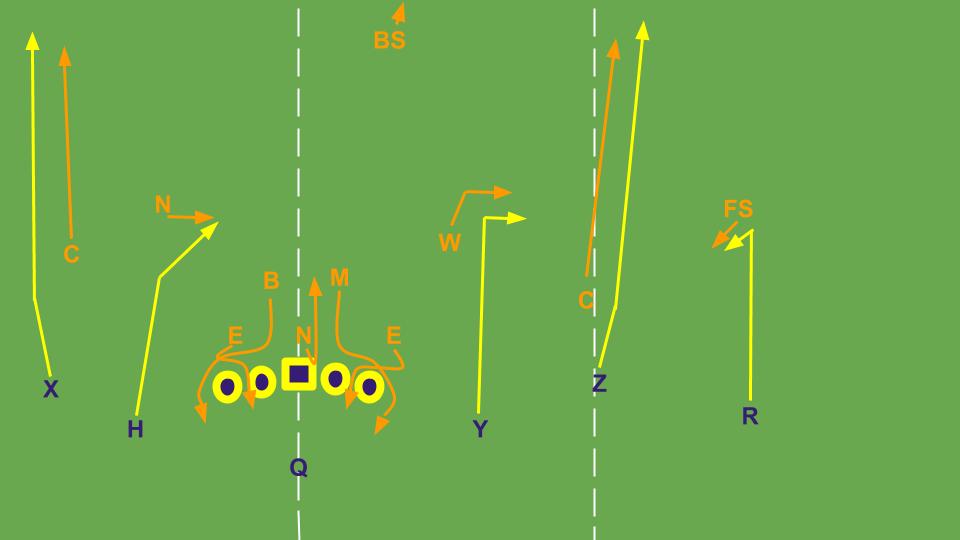 Very similar setup but LSU frequently used it to throw slot fades whereas Texas normally had Quan Cosby running the fade route at the X while Jordan Shipley ran the stick route at the Y. Texas' means of taking things up a notch was often to move one of those two star players into the H position to run the slop route. They weren't as aggressive at chucking it down the field as the Tigers and they didn't have a TE to do all this from 11 personnel after Jermichael Finley left for the NFL and Blaine Irby blew out his knee.
In either event, both college teams were using a pro-style passing concept with multiple layers and variations and then option routes at key positions in order to feature their best players in space with favorable matchups. Colt McCoy and Joe Burrow both excelled at making pre-snap reads and either getting the ball out quickly and accurate to the right guy and then buying some time outside of the pocket before hitting a target if their initial assessment was off.
It was exceptionally hard to match up against these offenses because of their ability to flood the field with competent targets and a few exceptional ones. If you put iffy coverage defenders on the field they could get them isolated and space and hunt them off the field. Ohio State played a 4-2-5 and ultimately went down against Texas in that Fiesta Bowl due to McCoy hitting speedy receivers underneath for 414 yards.
Clemson ran their 3-1-7 and still couldn't avoid getting beat for big plays when their CBs couldn't hold up in isolation against J'Marr Chase.
But none of this is the end point of the space force approach.
Pat Mahomes and space supremacy
One of the stars of the playoffs has been Tennessee Titan RB Derrick Henry, who's always been an impossible talent. Henry measured in at the NFL combine at 6-3, 247 and ran a 4.54 40 with a 4.38 shuttle and 37″ vertical. With his size and first step explosiveness, Henry fills out the variables in the F=MA equation in a way that is truly rare and exceptional.
His Titans beat the Patriots in the first round while he turned 34 carries into 182 yards at 5.4 ypc with one TD. He followed that up with 30 carries for 195 yards at 6.5 ypc against the Baltimore Ravens. What's truly remarkable about Henry though are not the numbers, which ultimately pale in comparison to numbers like LSU got from keeping the ball in Joe Burrow's hands. It's the fact that he's able to be remotely efficient with such a high volume of work and given the nature of the work.
Tennessee's best work with him has been to play with 12 or 22 personnel (1 RB, 2 TEs or 2 RBs, 2 TEs) so that they can create extra gaps up front for defenses to have to worry about filling with big bodies. Then they do what they wanted to do all along and have Henry cut into the A and B-gaps behind a fantastic interior OL and sometimes a lead insert: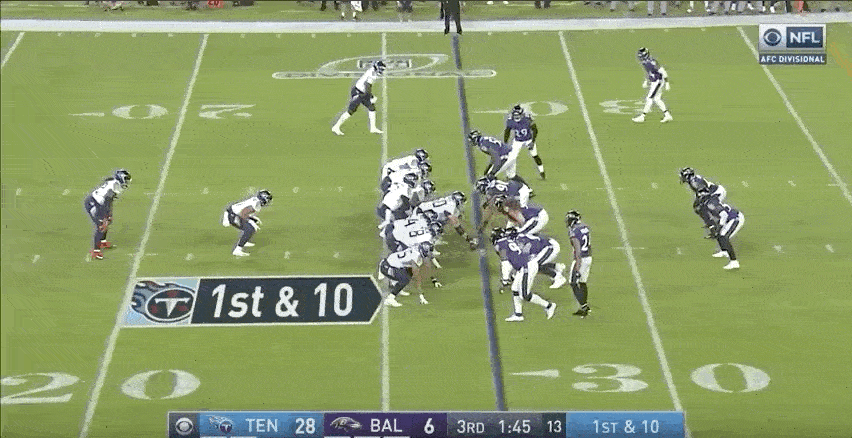 While the Titans have been good at blocking paths for Henry in this postseason run, he's almost always receiving the ball in the tackle box and his access to space is essentially a range of options that require him to power his 6-3/247 pound frame through narrow spaces in between 300+ pound people.
In the combine after Derrick Henry's in 2016, a young man named Pat Mahomes worked out at 6-2/228, ran a 4.8 40, 4.08 shuttle, and had a 30″ vertical. That's a pretty impressive collection of quickness, power, and size but nothing really to boast of in comparison to Henry. The difference of course is that Mahomes throws the ball unlike few other players in NFL history.
In their playoff game last weekend against the Texans Mahomes completed 23 of 35 passes for 321 yards at 9.2 ypa with five TDs while also running the ball seven times for 53 yards. Unsurprisingly that prodigious production allowed the KC Chiefs to score 51 points and erase a 24-0 deficit in what ultimately proved to be a comfortable victory.
Mahomes has a remarkable arm that can hit targets all over the field with touch or zip and he combines it with that size and quickness to be able to hit throws all over the field from different arm angles, on the move, and from different areas of the backfield. Unlike Henry, who can only hurt you after securing a handoff from a fixed point in the backfield that then dictates his trajectory, Mahomes can hurt defenses from anywhere on the field and consistently involve other athletes into the process.
Athletes like Tyreek Hill, who ran a 4.29 40 at the combine, or the 6-5/260 pound Travis Kelce who ran a 4.61.
Every step that Henry takes eliminates options for where the ball can go and narrows the amount of field his opponent has to cover and defend. The steps and movements that Mahomes takes seldom restrict his own options and often recover options that the defense had initially denied. You have to defend virtually the entire field ALL the time up until the moment the ball crosses the line of scrimmage. The geometry becomes impossible.
Ultimately, defense of the passing game has tended to trust in two things. One, that QBs couldn't consistently hit particular throws down the field, and two that if you could pressure the QB you could eliminate his ability to get throws off. Well Mahomes and many a modern QB CAN consistently hit throws down the field and pressuring this guy is rather difficult. Even if you can get to Mahomes early, the Chiefs and his scrambling ability can wear out your pass-rushers over the course of the game.
So you have to figure out how to take away some of his most favorite targets and then live with the rest of the Chief offense. That's rather difficult as well though, one of the Chiefs favorite setups this year is their "Y-iso" formations with TE Travis Kelce flexed out as a single-side WR opposite trips receivers.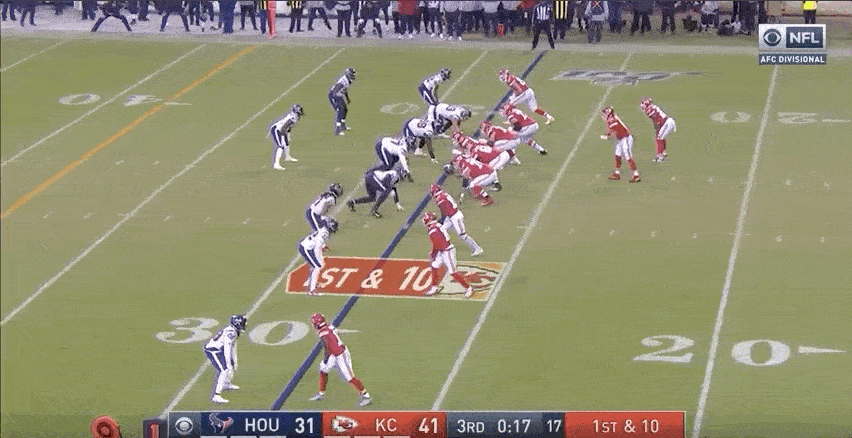 This was similarly invaluable for the New England Patriots when Rob Gronkowski was the best version of himself. From this alignment Kelce can maul DBs that try to match him up in man coverage, or cross over the middle to create rubs for burners like Tyreek Hill or Sammy Watkins.
God only knows what those two outside receivers are doing on this play but you have to cover them on those verticals because Mahomes throws such a great ball, leaving you with fewer defenders to try and defend against that crossing action over the middle between ultra-quick Tyreek Hill and then Kelce finding space over the middle.
The Chiefs run this stuff at you all day. The New England Patriots received some laud last season for running the ball and controlling the clock but they actually gave up a huge lead in the fourth quarter and only won by pulling Ground out of the garage and using their own spread passing game to score the crucial points late. Even if Derrick Henry dominates the game with 35 carries for 200 yards and the Titans build a 21-0 lead, it could all evaporate in just a few possessions at any moment. Meanwhile, with Mahomes flinging it around the Chiefs are never truly out of the game.
This is the future for football. Athletic QBs that can launch footballs all over the field and buy time against pressure throwing to unique athletes of all types working in space. Derrick Henry is one of the most talented backs I've ever seen for executing the traditional approach but the math and geometry of the game is changing and I expect that to be apparent in Arrowhead this weekend.