Now that we've gone through every Big 12 recruiting class, I guess it makes sense to grade them all in comparison. This is a little tricky since each team has different goals for their program and different approaches to getting it done, but I'm basically going to rank each class on how likely it is to be a driving force in that program winning a Big 12 title.
In doing so, I'll try to divorce that class from the greater context of the program. For instance, Oklahoma is the most likely of every school to win a Big 12 title over the next five years. I don't think you can find a five year stretch they've had under Bob Stoops in which they didn't win at least two Big 12 titles. So if you went off "which of these classes is most likely to graduate with a B12 championship ring" then we'd have to grade OU no. 1 whether this particular class has much to do with a conference title or not. They still may be no. 1, I'm writing this intro before compiling the grades, but the point is that this ranking will be based solely on how likely each class is to be a crucial component to a Big 12 title. All clear?
Here we go, I'm including the overall grade, offensive and defensive breakdowns, and their 247 composite rank for some overall context. To get my ranks I compiled all of their grades and then triple-weighted QB and double-weighted OL and all of defensive units. I also adjusted some of the Texas grades for this since I put those together before breaking down the other classes. They went down overall, as you might guess from their finish.
Here are the results: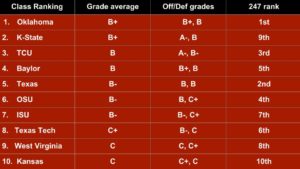 Basically the takeaway is that I don't see as much separation between all of these teams as you'd think from normal rankings, although my order is similar to what the services make of these classes. My main adjustment is to view the K-State crew as a group that's likely to win a lot of games which I think will hold up provided they don't overhaul their coaching staff and go in a wildly different direction in the coming years.
I also knocked the Longhorns down quite a bit. The 247 guys would say that Texas has a higher percentage of blue-chip talent in their class than do the Bears or Frogs, and I agree some of their athletes are a notch above, but they didn't secure many high-level athletes in the trenches and took lower numbers this year.
Oklahoma's gap was narrowed considerably because I didn't weight all of the WRs and RBs they signed as having nearly as much value as the services would attribute to them. However, they still finish high because they got a bunch of big bodies on OL and DL. I think we all understand that's why Oklahoma tends to win, anyways.
Baylor was rewarded for taking lots of guys that seem to be good fits with high upside. It's a bit of an unfair advantage in comparison but the criteria of "most likely to be a crucial component in a B12 title" means that taking more numbers has to be rewarded so long as you aren't filling up on bread. The Bears took a ton of OL and DL that will be redshirted and provide the infrastructure of the team down the road.
I liked Sam Ehlinger, Shawn Robinson, and Sammy Wheeler the most of all the QBs in this class and you'll notice that each of them bring a lot of value-add in the run game but are also capable in the passing game. That's the way to win titles in the Big 12, everyone can throw the ball around but not everyone can also run the ball well and play defense.
Just about everyone scored pretty well on offense but defense is what will separate the wheat from the chaff.
Here are the class breakdowns if you missed any!