Now that we've finished examining the cadets for every Big 12 program, I like to try and wrap it all up while linking all the breakdowns in one place. Here are the breakdowns:
As a reminder, since I still get notes from fans of various teams complaining that I left out their star DT or RB, here's the underlying argument of this whole project.
It's hard to glean the quality of infrastructure pieces from HUDL highlights.
Recruiting rankings and glimpses of HUDL highlights aren't great for telling you which teams are filling out their infrastructure positions with winning talent. For starters, you can't gauge a player's toughness, feel for the game, or ultimate growth potential when paired with good coaching, training, and fit from a 2-minute highlight clip.
If I was studying full games for these players that would be easier to arrive at, but it's not feasible to do that for all 200+ players signed in the Big 12 every year. In fact, these teams are filling out their support staff positions with multiple full-time workers in order to do exactly that for their own team. Some are successful, others are not.
Additionally, some teams have the program culture and coaching systems to turn athletes into effective college football players and others struggle. Some teams like to prioritize guys with a great feel for the game (K-State, Iowa State) and then make the most of their abilities, others will grab raw athletes and teach them how to play the game (Baylor, TCU). It's hard to measure which teams will work it out best over time, it's easier to just note which teams have a knack for building deep teams with solid role players and guys that know their role in the system (Oklahoma State) and which teams don't (Kansas).
Championships aren't won by infrastructure but by combining it with NFL athletes.
This has always been true, imo. As I noted with the legendary 95 Nebraska Cornhuskers, the key wasn't brilliant recruiting and the stockpiling of elite talents. Nowadays people talk about those Nebraska teams as though they had all these advantages by being able to recruit Prop 48 partial or non-qualifiers or stocking up with walk-ons on local scholarships and consequently built the most talented teams in the country.
When I went back and studied those championship rosters that's not at all what I found. Instead I found a team that was largely assembled out of local players recruited from a state with a population of about 1.5 million people. The key to the Nebraska strategy wasn't the assembly of an immensely talented roster, but the careful construction of a system and deep roster of role players that could turn NFL caliber athletes like Tommie Frazier or Lawrence Phillips (sometimes these guys were partial qualifiers, sometimes not) into unstoppable machines.
Baylor's Big 12 championships in 2013 and 2014 were remarkably similar. The Bears weren't loaded with the most talented roster in the Big 12, what they had was a bunch of cogs plugged into a highly efficient machine with high level athletes in key spots.
The positions that matter are the positions that allow a team to win games with the passing game.
In my book…
…I noted that one of the details that truly ended the Nebraska run of dominance is not really what people tend to refer back to. Normally people talk about how Texas crushed Nebraska by insisting on rules for the Big 12 that eliminated the signing of partial qualifiers, or people talk about the retirement of Tom Osborne and the inability of Frank Solich to keep up the system. Those all mattered, but Nebraska also took it on the chin when Oklahoma went Air Raid and B12 North rival K-State took their QB run game and fleshed it out into a fuller system to use against them.
From then on the league was ruled by teams using spread spacing and throwing the football with increasing precision and lethality.
So it's not at RB where your star skill athletes need to line up but WR. I always face resistance on this point so I'm going to reveal some of the best seasons this last decade by a B12 RB and the result: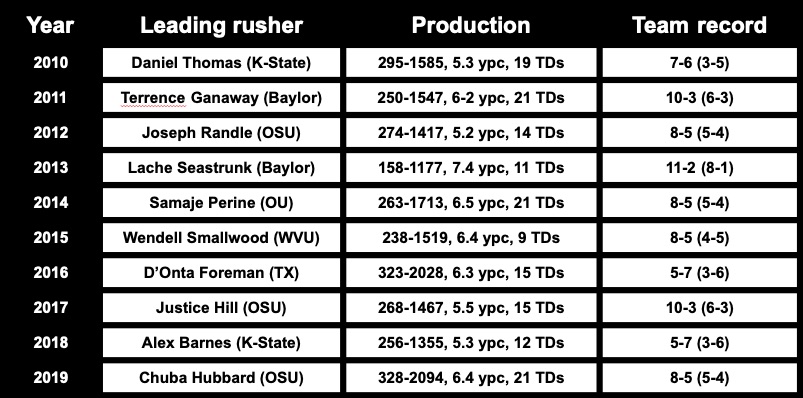 The two best rushing seasons by a Texas or Oklahoma RB this decade coincided with the worst seasons by those two programs. Oklahoma State normally has pretty good rushing production but the years in which the RB was THE guy for their offense were typically also the years in which they weren't as good.
Here's what powered the decade's B12 champions:
Most every Big 12 champion this decade had a very effective 1-2 punch at WR. If you have just one truly great deep threat wideout that can open up your offense for either a star RB or another WR, Oklahoma has often had all three but generally it's been the second wideout that makes the crucial difference.
The 2013-14 Baylor teams notably had no. 3 and even 4 wideouts with comparable numbers to the no. 2 guy. In 2015 it was mostly just the top guy Corey Coleman, which wasn't enough. The 2012 K-State Wildcats and 2019 Oklahoma Sooners had some of the least production at wideout of all these teams and both of them A) had supremely talented wideouts at no. 2 that just didn't get a lot of targets and B) had QBs with over 200 carries in Collin Klein and Jalen Hurts.
If you REALLY want to emphasize running the ball, you want a running QB. That's the only way to guarantee regular success and gears to your offense that will allow you to control the ball and outscore B12 teams. Otherwise, you want a pair of dynamic wideouts to allow you to put lots of points on the board.
The positions that make the difference in fielding or stopping a championship level passing attack are OT, WR, edge-rusher, and CB.
The defensive component may need adjustment. The Big 12 has yet to be conquered this decade by a team emphasizing defense rather than offense and the closest we've come was last year's Baylor team, which did it with the inverted Tampa 2 D that is designed to de-emphasize the need for dominant edge-rushing or lockdown cornerback play.
What has really caught flak from this final piece of the argument has been the lack of emphasis on QB play. Quarterbacks drive modern teams and you can't win without good QB play. But here's the crucial point, good college QB play is a lot like good guard play in NCAA basketball. You want either a really savvy, nearly NFL-ready underclassman at the helm or else an experienced veteran who understands the system and the coach's plan for winning ball games. Also, this guy doesn't need NFL physical talent, he just needs to know how to distribute the ball.
If you have an NFL tackle protecting him while top level athletes work to get open then he doesn't need to have elite talent that pops out on HUDL. The Big 12 championship QBs this decade have been Landry Jones, Brandon Weeden, Collin Klein, Bryce Petty, Baker Mayfield, Kyler Murray, and Jalen Hurts. With the possible exceptions of Baker Mayfield (looking shaky) and Kyler Murray, that's basically a list of eventual coaches and XFL players.
So QB is important, essential ultimately, but it's important in the same sense that it's important to have good guards and linebackers. You need guys there that understand the system and play well in a team concept, you don't need elite talent.
Alright, let's rank who did the best job of recruiting those crucial spots in 2020.
I used a 4.0 grading scale for these teams with a grade for each of the four spots. Then, since offense matters more than defense, I took the two offensive grades and averaged them out to create a fifth grade. Here were the results: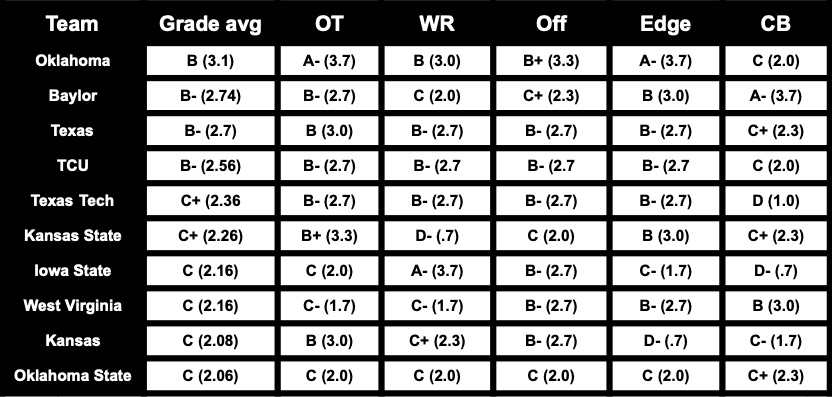 Alright, now allow me to slide in with some notes before the breakouts.
-Yes I know that Baylor's class wasn't rated highly, I don't care. I'm not evaluating the same thing here as the services.
-Texas landed some pretty impressive prospects, but the bulk of their class and high rating came from assembling an OL of run blocking maulers to pave the way in a few years for 5-star RB Bijan Robinson. As a Texas alum, that was fairly disturbing to really put together. They didn't recruit to maximize QB Hudson Card but RB Bijan Robinson. That was a mistake. Fire away with your hate tweets, Texas fans. The evidence is all laid out above.
-All that said, of course Texas still did pretty well. If Prince Dorbah and Kitan Crawford both hit their ceilings then it'll look like this class should have been rated no. 1 or no. 2. I dinged them though for lack of depth.
-I know I was high on West Virginia and kinda low on Texas Tech in the write-ups but not in the actual grades. I think WVU's infrastructure is better developed and coached with Neal Brown than Tech's with Matt Wells. Also I was impressed with the caliber of athletes they got on D. They didn't sign many WRs or any particularly imposing OTs but they have some promising youth there from the 2019 class.
-Don't get too hung up on the order. There's a thin margin between most of these teams, there always is, and one recruiting class doesn't make a champion. OSU is low here, but their space force cadets in 2019 or 2021 might be wildly better than the average B12 team.
-Oklahoma finishing no. 1 usually feels about right.
Alright, fire away with your complaints or comments!